By Dave Bahde
---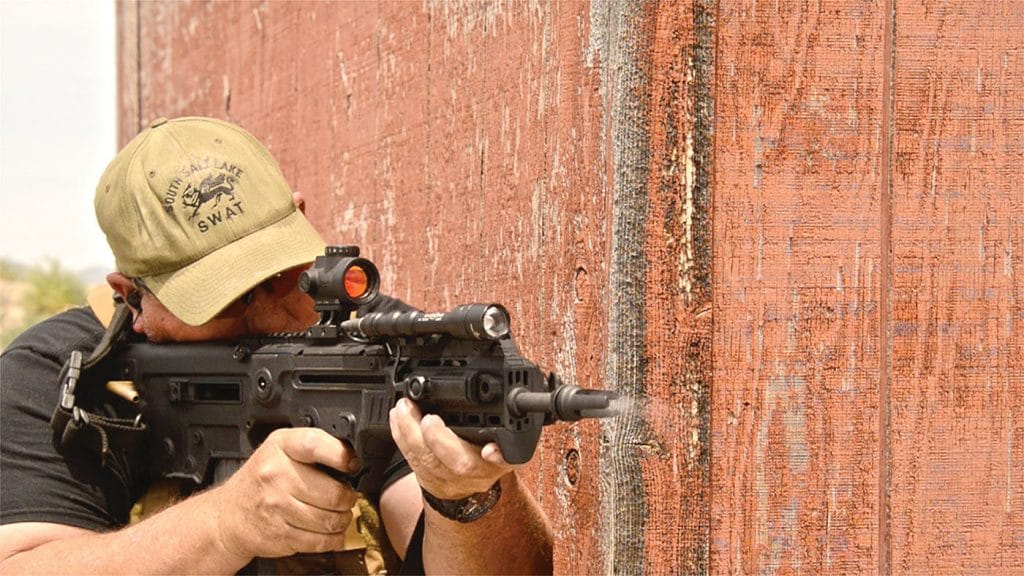 Rifles suitable for use by a patrol officer are equally capable for personal defense. That's why the 5.56mm carbine is so popular. It's versatile, ammunition is readily available and it is adequate for most tasks. A fixture in the police world, the 5.56mm is not going anywhere soon. Its only real drawback is ballistic efficiency out of short barrels. Working a 10-inch barrel inside a structure, around your car, or in tight spaces is just plane handy. With most deployment distances well under 100 yards the 5.56mm still works, but it has drawbacks. Function can be problematic with some ammunition, muzzle blast is crippling, and suppressing them can be a nightmare. The ideal is a 5.56mm carbine with a 16.5-inch barrel that handles like a short AR, and IWI USA has just the ticket. Their new Tavor X-95 handles like a 10-inch AR using similar controls while maintaining the ballistics of a 16.5-inch barrel.
IWI Tavor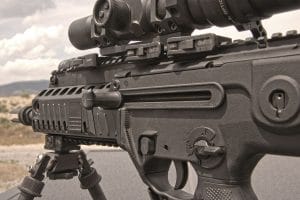 As one of the first writers to test the Tavor SAR it became one of my favorite carbines. It has yet to fail, is plenty accurate for street work, and feels like a shorter carbine. The factory trigger was horrendous and the handguard problematic, requiring aftermarket additions. Fans of the bull pup design lined up but it remained problematic for many. IWI's new Tavor, the X-95, has addressed those issues making it ready out of the box for most applications.
IWI set out to address most of the concerns of the U.S. end user, the trigger pack being the most noticeable. At a pull weigh of 5 to 6 pounds, it's half that of the SAR. The difference is palpable and shows up at every turn. Take-up is long put the trigger is much better. Replacement becomes a choice instead of a necessity. Rather than being slanted, the handguard is flat using removable panels covering rails at the 3, 6, and 9 o'clock positions. It facilitates a light or bi-pod easily.
The reversible (left or right) charging handle is moved back. QD sling cups sit on either side of the buttstock, as well as the front of the handguard and just behind the charging handle, allowing you to switch among them. A standard pistol grip is available. The bolt release is in the same place, just smaller and lower profile. Magazines are released using buttons placed similarly to an AR on either side of the grip. Back up sights remain hidden in the top rail. The 16.5 inch cold hammer forged CrMoV 1:7" twist barrel is capped with an A2-style flash hider. Overall length is the same as the SAR, but the stock area is trimmed a bit providing a flatter feel that shortens the actual LOP. Left side eject, switching barrels and changing calibers remain possible (9mm and 300BLK coming soon). The top rail accepts red dots, magnifying optics, even AR-style iron sight if you like. It ships with one 30-round Gen 3 PMAG.
Testing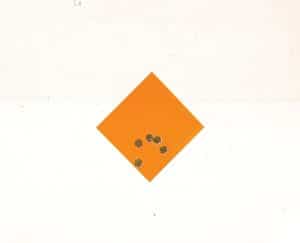 My additions for testing were minimal. Trijicon's MRO was used for CQB, my U.S. Optics SR6 1.5-6x scope was used for long-range accuracy testing. An Atlas bi-pod was added when needed. Surefire's Scout light and remote switch stayed attached throughout testing. Geissele's Super Sabra 2-stage trigger ($350) was added later and Blue Force's Vickers sling was used. Initial accuracy testing was accomplished with the factory trigger then re-tested using the Geissele. If you have the latest generation aftermarket trigger packs in your SAR they will transfer, but first generation trigger packs will not work. Geissele's trigger bow will work. Silencerco's ASR three pronged flash hider was used along with their Omega suppressor. Lastly, the standard style pistol grip was ordered from IWI and installed.
Range Time
For group testing at 50 and 25 yards we used the used the Trijicon MRO. The U. S. Optics was used at 100 yards. Neither Tavor was designed for shooting itty bitty groups. This is a combat rifle. That being said I was still able to get on 12" steel at will at 200, 300 and 400 yards. Shooting at 650 yards took some effort on the same target, but was possible with solid wind calls.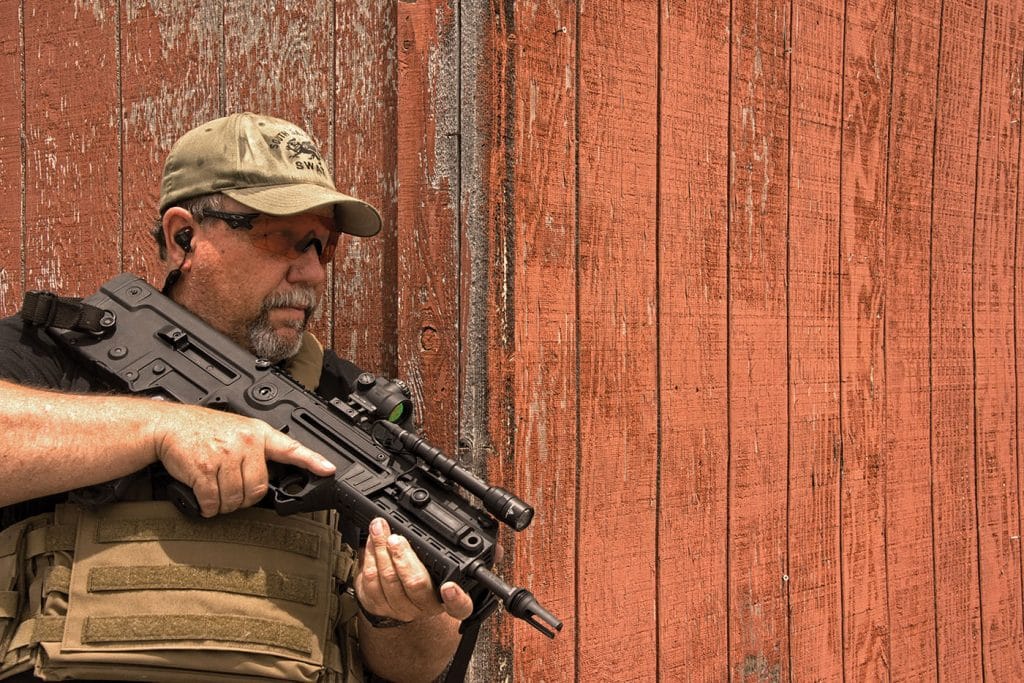 My best group came using Black Hills' 60-grain V-Max, measuring 1.30 inches. Nosler Defense 64-grain soft point was also very accurate. Black Hills' 69-grain TMK grouped at 1.60 inches and the 77-grain 1.75 inches. The best in the heavies was the Hornady 75-grain Superformance 5.56mm NATO. Moving to the Geissele trigger tightened everything up by about 1/4 inch, a bit more in one case. I was able to produce a couple 1-inch groups with the 60-grain V-Max load and the 69-grain TMK tightened up to 1.30 inches. Not sure the Geissele makes as big a difference locked in prone, but it proved valuable during more rigorous training.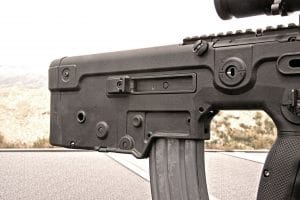 Department firearms training was around the corner and was completed with the red dot sight. The first thing you notice is how easy the X95 is to maneuver and work from the ready position. It may be heavier than some ARs, but you would not think so using it. With less weight forward of the grip it comes up quickly and swings between targets sharply. Recoil is minimal and the Geissele makes for fast split times and excellent control. My long held preference for a two stage meant the factory trigger bow was fine. It never seemed to slow me down and provided some added take-up for use with gloves. Brownell's Aluminum 30-round GI magazines were used with zero issues, including repeated drops on asphalt.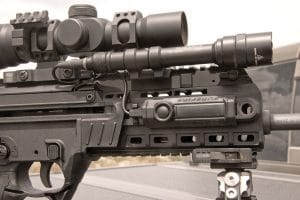 Over insertion never occurred, and all mags dropped free and never malfunctioned. Barnes Range AR 52-grain OTFB was used and performed flawlessly. During the entirety of testing the only issue that arose was shooting left handed with right ejection. There were no malfunctions, but the red hot brass bouncing off my chin was annoying. Galloway Precision's angled shell deflector ($20) took care of that. It takes less than a minute to install and it made a huge difference. Short of putting your cheek over the port it no longer hit me in the face. (Editor's Note: We've suggested to Dave that next time he order the dedicated left-hand model, available at the same price!)
Other Considerations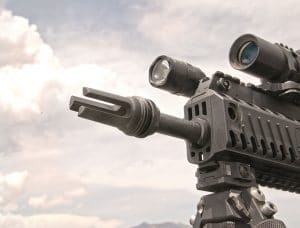 Silencerco's Omega suppressor worked well, with little back pressure and no change in operation with any of the ammunition. Recoil is increased like most piston guns and it ran dirty, but that's the joy of running suppressed. Testing with a Surefire RC2 and Gemtech ONE, they worked well with all ammunition. It still remains handy, but you suck up more gas during training.
Adding the standard-style pistol grip proved advantageous, especially for the range officers. Its nice to see that trigger finger above the guard. Admittedly skeptical at first it grew on me quickly and will stay. Running a range its nice to see it covered and it was just as solid on barricades, working in obstacles. My guess is most agencies and the U. S. market will prefer it. You just need to be careful running up against walls not to whack your knuckles.
Final Thoughts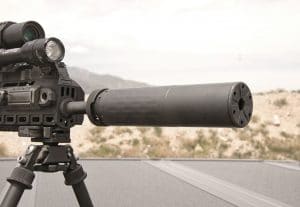 I started this as a Tavor fan, and the X95 only increased my affinity for it. Never an AR fanboy, I've deployed many different weapons over the years. This X95 is the most useful to date. Add a sling and RDS and go to work. It's also easier to use. Transitioning from an AR is easy, and it is perfectly suited to urban work. It fits in more bags, trunks and cabs. Using a lock takes some work but it can be done. If you're already a Tavor fan, then you will really like the X95. IWI USA has done a great job with this rifle, good enough that they will not get it back anytime soon. See it at your gun shop ($1,999), or contact IWI USA, Inc., Dept. OT; Tel.: (717) 695-2081: Web: www.iwi.us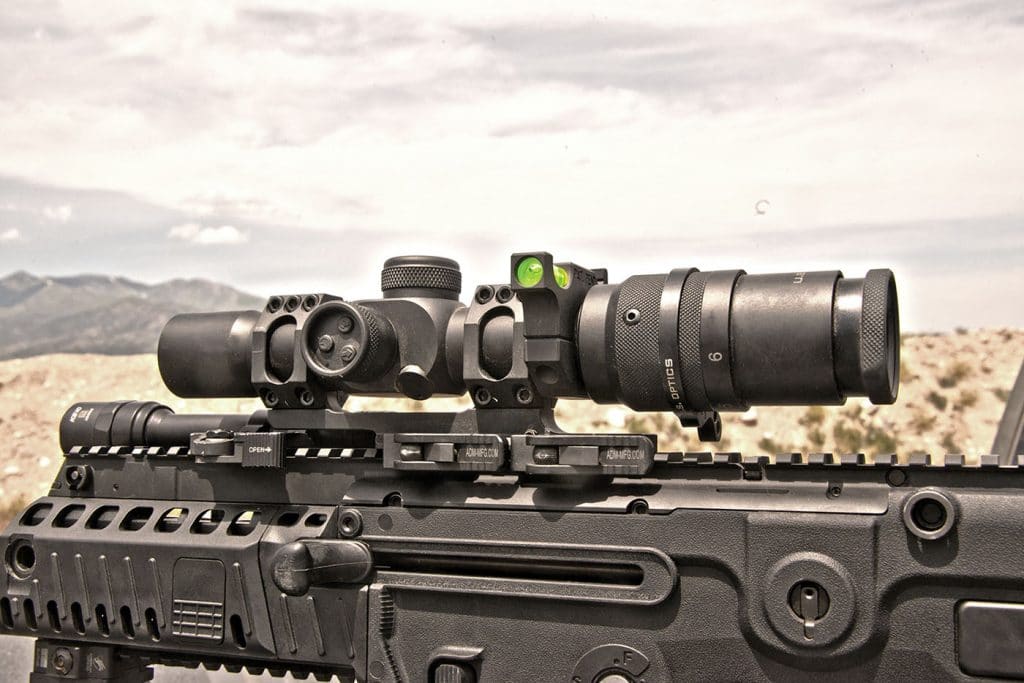 Specifications:
Caliber/Gauge:          5.56mm NATO
Barrel:                        16.5 Inches
OA Length:                26 Inches
Weight:                      7.96 pounds
Sights:                        Optics rail/built in BUIS
Stocks/Grips:             Factory polymer/pistol grip convertible (closed grip used)
Action:                        Semi-Automatic/Rotating Bolt/Long Stroke Piston
Finish:                        Black Polymer (also available in OD green and FDE)
Capacity:                    Accepts standard AR 15/M16 magazines
Price:                          $1999.00
---
Performance:
Load                                                                      Velocity             Accuracy
Black Hills 69-grain TMK                                            2,800                1.30"
Black Hills 60-grain VMAX                                          2,850                1.00"
Hornady 75-grain 5.56mm NATO                               2,825                1.35"
Black Hills 77-grain TMK                                            2,650                1.50"
Nosler 64-grain Bonded SP                                        2,750                1.40"
Velocity measured in feet per second by a Pro Chrony Digital chronograph. Accuracy is the average in inches for three 5-shot groups at fired at 100 yards. Groups fired from prone using a sandbag rest.
Source Article from http://ontargetmagazine.com/2017/05/iwi-tavor-x-95/