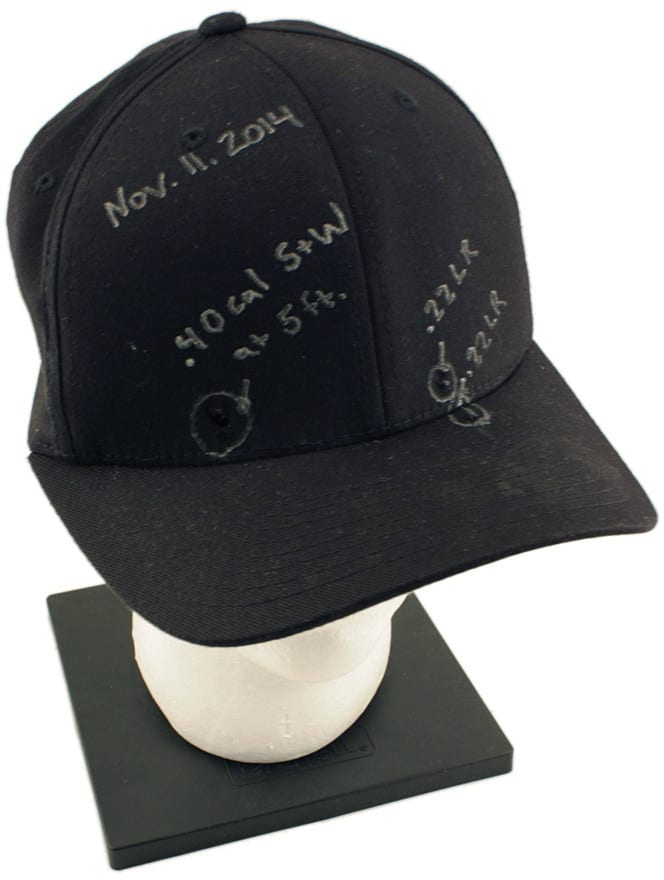 BulletSafe is working on a new type of personal body armor for the discreet cop, guard and individual in the form of a baseball cap. The BulletSafe Bulletproof Baseball Cap doesn't provide a huge amount of protection but it does put it in a very important place, right in the center of your forehead.
Right now BulletSafe is hosting a Kickstarter campaign to get its product off the ground, to test the waters for public interest in the project. The good news is that, just a few days into the campaign, BulletSafe has already reached their goals for the BulletSafe Bulletproof Baseball Cap.
That means new supporters are guaranteed to receive awards for adding support to the cause. Backers can pledge as little as $1 for the good feels while $50 donations will be used to provide a 50 percent discount to Detroit police officers looking for a BulletSafe Bulletproof Baseball Cap of their own.
Backers who throw in $99 will receive a BulletSafe Bulletproof Baseball Cap fresh off the line as soon as it gets up and running, and for those who don't feel their forehead needs the extra level of protection, a $15 pledge will secure a "really nice" low-profile black baseball cap without a ballistic insert.
The BulletSafe Bulletproof Baseball Cap is designed with a National Institute of Justice IIA forehead plate capable of withstanding common handgun rounds including 9mm, .40 S&W and .45 ACP. It's a Hail Mary contingency, but given enough people over a long enough timeline, it's guaranteed to save lives.
Ballistic headgear is nothing new as police have been using surplussed military armor for a long time, but nothing says "militarized police" like a cop in a helmet and that's BulletSafe's primary concern.
"This project began in January of 2014," said Tom Nardone, BulletSafe president. "The initial spark occurred at a trade show when I was repeatedly asked if we made ballistic helmets. I thought 'Yuck! I don't want to make those, they look ridiculous in a civilian environment.' But ignoring a number of customers is always a bad idea. I decided to develop something different."
People don't want to see officers wearing Army helmets under most circumstances but that doesn't mean they shouldn't have ballistic head protection. BulletSafe is tendering to a small, but important, market, and the people have spoken.
The BulletSafe Bulletproof Baseball Cap will be a reality in the coming weeks and months, the question is, how much more support do you want to give to the cause?
Backers can get BulletSafe Bulletproof Baseball Caps in advance for $99, but they can also get custom embroidered hats for $149. These caps can read "POLICE," "SECURITY," or "WRITER" for "Castle" fans or anyone else. Teachers, truckers and taxi drivers inquire within.
Retailers can get in on the BulletSafe Bulletproof Baseball Cap action early with a pledge of $280, which will secure four caps and a display for your friendly local gun store or police supply shop.
It will take time to deliver on the upcoming headgear with the final product expected to ship in November, next year. However, people who pledge the $15 to support the project in return for a plain, un-armored ball cap will get theirs sometime in February 2015.
The actual costs of re-tooling to produce the BulletSafe Bulletproof Baseball Cap isn't anywhere near where the Kickstarter goal rests at over $19,000, but Nardone is only asking for moral support at this point.
"In late November I was ready to get tooling estimates for the production tooling," said Nardone. "The best estimate was $19,000. It was too much. I thought the project was done.
"That evening my wife told me not to give up on the bulletproof hat," he added. "We decided that Kickstarter might save the project. Your pledges to buy could provide some of the capital required to start the project and your votes would demonstrate support."
With the full project now under way the only question that remains is how many of your hats are bulletproof, and why don't you have more bulletproof hats?
Source Article from http://www.guns.com/2014/12/22/is-your-hat-this-bulletproof-video/