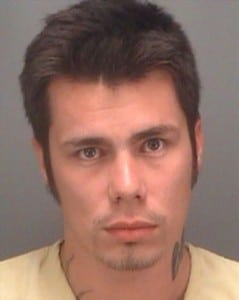 Although the homeowner may have admired his entrepreneurial spirit, he refused Bryan Remley's offer to mow the lawn. (Photo: Tampa Bay Times)
A 25-year-old man is facing burglary charges after breaking into a St. Petersburg, Florida, home early Wednesday morning, despite his plea to the homeowner to let him mow his lawn in exchange for letting him go.
It was about 4:30 a.m. when Joseph Cihak awakened to use the bathroom. Cihak's home had just been broken into less than a week prior, so he started keeping two guns in his bedroom and carried one with him, the Tampa Bay Times reported.
While up, Cihak heard unfamiliar noises in his home and rustling in the living room. When he went to see what the commotion was, Cihak found Bryan Remley rummaging through his belongings.
Cihak fired two shots at Remley. However, he missed and his gun jammed. Remley then ran towards the kitchen in an attempt to get out of the house and Cihak ran to retrieve another gun.
When Cihak returned, he found Remley lying on the kitchen floor, although he was not injured. Cihak trained his gun on Remley, who then offered to come back and mow his lawn if Cihak would let him leave before the police arrived. Although tempting, Cihak declined.
Cihak's wife, Colleen Traversa, had already heard the earlier commotion and called 911.
Traversa explained to the dispatcher that they had been the victims of a break-in and now kept the guns nearby for protection. Traversa heard the gunshots while on the phone with 911. Then moments later told the dispatcher, "He's got the guy! He's got them at gunpoint!"
Authorities arrived about 20 minutes later and discovered that Remley had a 4-inch pocketknife. Remley, who already had an outstanding warrant for theft and was in violation of his probation, was arrested and charged with armed residential burglary.
The post Intruder held at gunpoint offers to mow homeowner's lawn in exchange for freedom (VIDEO) appeared first on Guns.com.
Via:: Intruder held at gunpoint offers to mow homeowner's lawn in exchange for freedom (VIDEO)