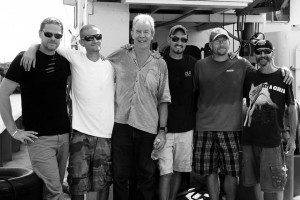 By Chris Eger
The Aqua Quest Six after returning to the U.S. in July after spending 52 days in a Honduran jail on bogus gun charges. From left to right: Michael McCabe, Devon Butler, Robert H. Mayne Jr, Nick Cook, Steven Matanich, and Kelly Garrett. (Photo: Aquaquest International)
Guns.com first reported on the plight of six American salvage workers in June who were arrested on gun charges following a boarding of their U.S.-flagged vessel by the Honduran Navy. The men, who had gone to a remote part of the country on a prearranged project to improve the plight of Miskito Indian fisherman and divers, found themselves mired in a legal standoff with a local judge and prosecutor over the guns that wound up with them. They were imprisoned and their boat seized.
We remained with the story of these men, the "Aqua Quest Six" after the name of their ship, as it evolved and they continued to maintain their innocence through nearly two months in prison.
Now freed from jail after a unanimous decision by a Honduran appeals court, the men are back in the states and their captain, Robert Mayne, Jr, talked to us Friday about their Central American odyssey.
Q&A
Chris Eger: Welcome back from your extended stay in Honduras. First off, let's talk about carrying guns on the high seas.

Robert H. Mayne Jr: Five guns for the six crew members on board. I've done this many times in many countries. In Mexico, in the Dominican Republic, the Bahamas. The protocol set up under the United National Convention on the Law of the Sea is always the same. The Port Captain is the only one authorized to come on board the vessel until you are cleared into the country.
We are like a small piece of America, not much different legally from that of a U.S. embassy if you will. When the Port Captain arrives aboard, one of the questions they always ask is if there are guns and they either seal them in our gun locker or collects them and gives us a receipt.
Chris Eger: Have you had any run-ins in the past with modern day pirates or hijackers that let you to carry guns on the boat?
Robert H. Mayne Jr: About 15 years ago, we had to brandish a weapon to prevent us from being boarded by pirates off the tip of the Yucatan peninsula. At the time, we had four guns in the gun locker: a .44 carbine, a 12-gauge shotgun, a .22 rifle, and a .357 magnum revolver. We had cleared the guns through the Port Captain in Progresso who sealed our gun locker. Fortunately, they let us keep the guns on-board.
We were at anchor and this boat came up and dropped their hook about a hundred yards from us. Then these four guys get in their wooden rowboat and start coming across to us, wanting to board the boat. I could tell they were trouble and I went up and broke the seal on the gun locker, loaded the .357 and put it in my pocket. One of them started to come on board and I kicked him back and pulled the handgun.
Mayne went on to describe how the same boat stalked them, just over the horizon until after dark. Unable to lose the mysterious vessel, Mayne posted sentries that night and lit every light on the ship. He explained that had the vessel been dark and quiet that night, the four men would likely have tried to board the ship again.
Chris Eger: The U.S. Embassy has a travel warning for U.S. citizens in the country that states, "Since 2010, Honduras has had the highest murder rate in the world." Were you concerned about your safety?
Robert H. Mayne Jr: When you get around the Yucatan and Central America, it's a dangerous area. In my mind, it would be a gross dereliction of my duty as a captain to not have those guns aboard the ship when traveling through that part of the world.
Chris Eger: We were led to believe that the issue of the guns on board the ship was the entire reason for the seizure of the vessel in Honduras in May. Was that the case?
Robert H. Mayne Jr: This was not about guns. That was just the excuse they used to arrest us. We fell into a spider web of a criminal judge and prosecutor that saw an opportunity to extort Americans. The issue of the guns is a red herring; it's not what the issue was about. We see these comments out there on different news articles about the case that say 'Did they think that just because they are Americans they can just walk around with guns?' and it's just a complete misunderstanding of the issue.
Number one: we never attempted to bring any firearm on shore nor would we ever. They were to be kept in the gun locker as required. The idea that we were smuggling is ludicrous because when the Navy boarded us initially, they asked to see our firearms. We took them from the gun locker, laid them on the bunk, and one of the officers took a picture with his cell phone. Then the captain of the naval base said we could put them back in the gun locker then we could proceed up river to the Port Captain and clear customs. Everything was normal.
However, due to a bad pilot by the time they arrived eight miles upstream at the village of Ahuas the port captain there was wrapping things up for the day and advised Mayne that they would clear the ship through customs at 6 a.m. Nevertheless, that morning would be very different from what Mayne had anticipated.
Robert H. Mayne Jr: This guy that took the picture sent it to the prosecutor directly. By 9 o'clock at night, the navy vessel pulled up alongside us and beat on the hull. They said we had to pull up anchor and go to the dock. We went to the dock and this launch shows up with two plainclothes officers from the prosecutor's office who says 'We are going to arrest you for attempting to smuggle firearms.'
Chris Eger: And these officers did that without even going on the Aqua Quest to see for themselves if you had guns?
Robert H. Mayne Jr: Yes. They scared the hell out of us. Then they went away, talked to the navy personnel, came back ten minutes later, and said 'Well, maybe we can work something out and make your problem disappear.'
Chris Eger: A shake down?
Robert H. Mayne Jr: Yeah. This is what they do. They said 'We are going to take care of your problem.' They went to the mayor of the village we were going to be working with and told him that, for $17,500, they were going to make our problem go away. When the mayor told them neither them nor us had that kind of money they offered to lower the price to $12,500.
Chris Eger: At least they were negotiable.
Robert H. Mayne Jr: Yes, but then they explained the figure would only cover their costs. In addition, we would have to pay the judge, the police department, and the navy. It was bullshit extortion was all it was.
Chris Eger: How did that make you feel?
Robert H. Mayne Jr: I was infuriated. We came down there to do this great project and these scum balls were trying to do this to us. I refused to pay. Then things went from bad to worse to us being thrown in jail. We thought at the initial hearing in six days that they would free us. We had good testimony from the Port Captain. But the judge refused to listen and decided to hold us in jail until we paid the money.
Chris Eger: What were prison conditions like?
Captain Robert Mayne looking around the primitive prison yard in Puerto Lempira, Honduras, where he and five other Americans have been jailed since May 5 on weapons charges. (Photo: Michael McCabe)
Robert H. Mayne Jr: I can laugh about it now but it was just physically uncomfortable. I was in a 12×12 cell with 15 men. There was no bathroom. No toilet. I had to sleep on a concrete floor at night and during the night, the inmates that had to urinate would go to the steel door and try to piss into a bottle. I would pull my blanket up to my chest to try to keep from being splattered.
The mosquitoes were terrible. They feed 100 people on just six pounds of beans and six pounds of rice per day. You get a little handful three times a day. After 52 days, you never want to see beans and rice again. The toughest part was psychological. Not knowing if you are going to get out.
Mayne said that luckily they were able to improve their conditions through the help of a missionary in the village who held their valuables and would bring the men food and books from town every other day. He detailed that the six Americans all lost tremendous amounts of weight, some nearly forty pounds. The men were finally able to bunk together as a group after they sublet a ramshackle cabin at the prison from a convicted murderer named Blanco for $20 a night. However, their biggest concern was not the other prisoners but the guards, many of whom were drug addicts.
Robert H. Mayne Jr: This one night we heard gunfire. Previously two inmates had tried to escape so we figured it was another attempt. So the next morning I asked the guards who tried to escape and they said 'No. That was Norman. He gets to smoking the crack and he gets paranoid and he thinks he sees people escaping so he starts shooting.'
Chris Eger: We noted here on the site how you guys set up a crowd sourcing campaign to help fund your defense. How did you finally win your freedom?
Robert H. Mayne Jr: Republican congressmen and senators really pushed hard to get us free. The person that really did the most was Congressman Mike Fitzpatrick from Pennsylvania. Our local Congressman here Gus Bilirakis. Then Marco Rubio, the local senator here, lambasted Honduras over this. We know that Joe Biden called the Honduran president personally and asked to let us go.
We appealed the decision and the appellate court found that this judge and prosecutor ruled 3-0 to release us and on top of that ruled that it was an illegal detention. They were forced to give the guns back to us, which infuriated them. The prosecutor had already called dibs on the Glock .45 and was forced to give it back. He protested the ruling and the court had to reconvene, but in the end we were released on July 4.
Chris Eger: What's next for the AQ team?
Robert H. Mayne Jr: We have a slam-dunk $2 million civil suit against the state of Honduras. We can also go after the assets of the judge and prosecutor since they don't have immunity. But we have bigger dreams than that. We still want to do this beautiful project. We are requesting a concession on doing this work from the central government and not have this kind of problem again. Then we want to get the judge and prosecutor brought to justice.
Chris Eger: What would you tell Americans traveling on the high seas about carrying guns on-board their vessel for protection?
Robert H. Mayne Jr: Get with the local embassy and make sure of the local laws beforehand if possible. Perhaps the easiest gun to get into the port with legally is a shotgun. Handguns and semi-automatic rifles get the most scrutiny. Everyone needs to understand that you can't carry any gun ashore without a local permit. This incident is not going to prevent us from carrying guns on the boat; we are just going to make sure we are going to get written permission beforehand, although it's not required.
***
Thanks to Capt.Mayne for taking the time to answer the questions. The interview has been edited for clarity and brevity.
You can find out more about the continuing adventures of the Aquaquest team at their website and Facebook pages for Aqua Quest International and Aqua Quest Films.
The post Interview: 52 Days in Honduran jail for Americans on bogus gun charges appeared first on Guns.com.
Via:: Interview: 52 Days in Honduran jail for Americans on bogus gun charges