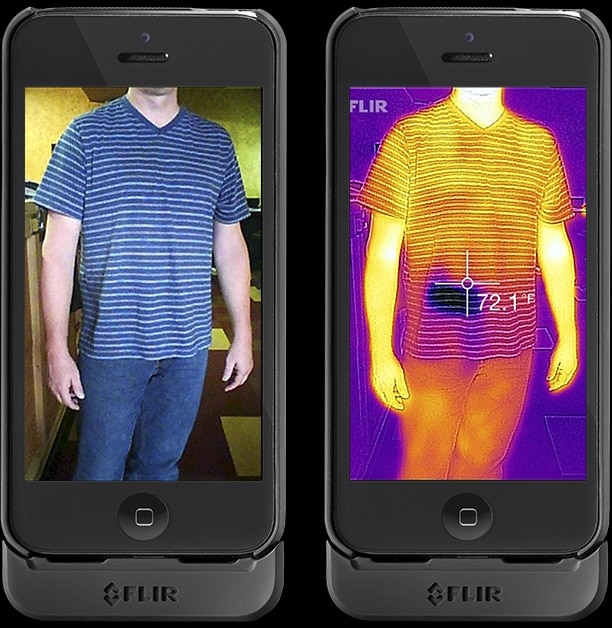 You may remember that we did a review on the Inteliscope at the end of August. Since then we have been talking to the team to share our thoughts with them and get the word on new products in development.
When you look at the software and hardware required to make the Inteliscope work there is no surprise to me that, the creators of the company are working overtime to bring more exciting things to market.
As we mentioned in the article one of the concerns, we had with the product was battery life. The team at Inteliscope agreed with that and has been working hard to integrate a charging solution into the product. Having the ability to store 1 or 2 full charge cycles to your device to extend use is a great idea, and we are super excited to see that product hit the market.
What is even more exciting however is the partnership between Flir and Inteliscope. You maybe aware of Flir by now as this product has made a huge wave on Facebook, CES and many other places.
Flir has an IR based sensor placed over the camera lens on an Iphone 5 and 5s (Other devices in the works). The unit is designed in two parts. The adapter shell snaps over your phone and then snaps into the main portion that houses all the electronics. Both parts are plastic and have a tactile rubber finish nearly identical to the Inteliscope products. We have found this finish to be very durable and feels rubbery to the touch.
This technology allows you to see disturbances in heat signatures. Those of us in the shooting community might already start to see the advantage that can offer in hog hunting for example.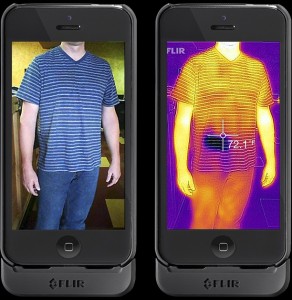 Here is a great video of how the device can be used in the outdoors:
Inteliscope is currently a licensed dealer of the Flir One and offering the product combined with the Inteliscope app and mount in a discounted package deal that will save you $50 over buying them separately.
We are working with Flir and Inteliscope to get a product in for review. Once we do you can be certain that we will be sharing images on Instagram with a full review to follow on this blog.
Comment below with your thoughts. Do you want one of these and if so what would you do with it?
Flir One Intelliscope optics Thermal Imaging 2014-09-18
Source Article from http://248shooter.com/index.php/intelliscope-and-flir-team-up/