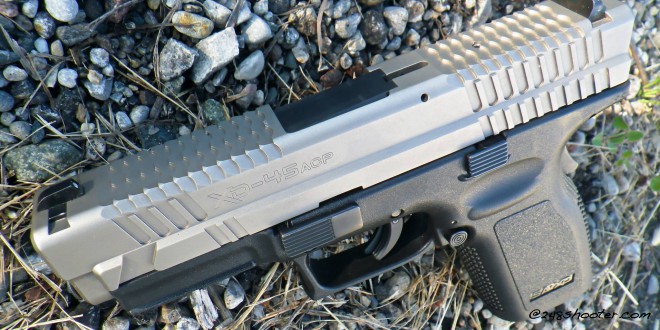 Necessity is the mother of all invention and was the basis for the formation of Innovative Gunfighter Solutions. John from right here in Oakland County is a certified instructor working with Brad at Patriot Defense Training in Jackson Michigan. John realized that the current serration's on the most common guns is not as useful as it can be. Though techniques exist to rack a slide one handed it takes a lot of training and can often be very difficult.
This is where John reaches out to his buddy Jeff who is an incredibly talented machinist. Together Jeff and John break out of the typical mold that most machined slides fall into.  Instead of either copying the work of others or cutting fancy but ineffective designs that create a cool but useless look, with Jeff's skills with metal and Johns years of firearms training experience they develop a patent pending technique that creates a truly useful grip system. Some would go as far as to say that is creates Gription!
Designed on a per gun basis specific to the size and model and currently only available for the Glock, M&P and XD/XDM series of pistols Innovative Gunfighter Solutions has developed a one of a kind serration system that is unique in it ability to allow you to rack a slide one handed from either a soft or hard surface. In a real gun fight the chance of being injured is high. Many who have trained only in ranges will be ill equipped on what to do with a malfunction or environmental conditions such as rain or blood that limit their ability to properly grip their firearm. Taking these real world problem as the basis for the design John and Jeff have developed a series of  techniques that will aid an operator in a defensive situation. The leader of these changes is the ground breaking Radius Serration's that you can see in the Gallery below. IGFS is the only company on the market doing this and the process is currently pending a patent.
Innovative Gunfighter Solutions has been around about a year now and has been growing like wildfire. Currently they have a 4-6 week turn around on slide work which is actually better then the average. All the work is done in the Milford Michigan plant they have opened and coatings are done by another nearby company making Innovative Gunfighter Solutions an Oakland County based operation that is employing local Michiganders.
As a licensed FFL they can handle transfers as well as both send and receive firearms via UPS. In shop drop off or mail in your slide either way they are here to help you. They do not have a website up right now but we will attach a copy of the order form so you can see the pricing and send in an order if you are interested.  You can also check them out on Facebook here.
After speaking to John yesterday I was convinced to finally take the plunge and get one of my EDC weapons treated. In 4 – 6 weeks or so I expect to be able to give a hands on review of the work they did with a full gallery of what they did.
One of the things I like about IGFS is how they support those who support you. They are a Michigan based company employing Michigan workers, using machines and coatings made here in the USA. They offer a 10% discount on top of any existing discounts they offer to Active Duty Military, Veterans, Police, Firefighters, EMS and other first responders. When you take into consideration that IGFS is the only company doing what they do and they do it for less then many of the frivolous options out there it is clear this company is going to be a big hit.
Check out this awesome gallery of the work they have done.
You will notice that some of the above pictures have some very aggressive grip stippling. Though it is not their primary business they do offer grip stippling as an additional feature. I have not gotten any stipple work from the companies I have sent out mags to yet but we will be doing an in depth article on the advantages or myth's behind stippling in the coming weeks.
You will also notice they do RMR, Dovetail and other optic based mounting cuts. They will refinish your gun with either QPQ Nitride or Nickel Boron (Nix-B).
If you have a gun you carry everyday and want to increase your confidence IGFS is a company to consider. We look forward to getting our hands on some of thier work at the PDT training course coming up next weekend and even more so to see the change to the Glock they are working on for us. John has been fast to respond and very helpful in all of our dealings together and is a person I can recommend doing business with.
Purchase order