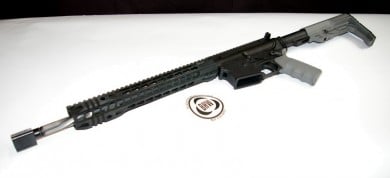 At this point, I've tested all four of the original HiperTouch HiperFire triggers, and they have all performed excellently, including the newest edition, the 24 3gun model. In fact HiperFire triggers are one of my favorite trigger brands. HiperFire just introduced the brand new 24 3Gun which is the sublime 24C trigger with a standard curved trigger shoe instead of a flat blade trigger shoe.
If you have not heard about the HiperFire line of Single-Stage triggers, you should seriously consider them. They are absolutely revolutionary, from the HiperTouch 24 to the enhanced HiperTouch 24E, to the full blown super tuned 24C competition and new 24 3Gun models. All sport a game changing cam-action trigger design.
After the introduction of their 24C trigger, HiperTouch had a huge outcry from shooters who loved the 24C, but for one reason or another wanted a standard curved trigger, thus the 24 3Gun was born.
I installed the HiperFire 3Gun trigger in a custom Aero Precision build I was working on, which featured SLR extended forend, a crazy Bird of Prey compensator, Black Hole Weaponry Fluted barrel, YM bolt carrier group, and Mission First Tactical grip and stock. Definitely a high end build with a high potential for premium accuracy. The HiperTouch Hiperfire's 24 3Gun Trigger Fits Right In
HiperFire's founder, Terry Bender, had an idea to overcome many of the shortcomings of "match" triggers. Terry is not just some guy filing down sears and swapping out are triggers with low power springs in his garage — he is a mechanical engineering consultant. The approach to the HiperTouch design was new from the ground up, based on a cam'ed system.
The ultimate challenges for a great tactical/hunting trigger are to deliver a smooth, fast, and flat pre-travel, with very fast trigger reset, minimal lock time, a crisp light break, and with no noticeable overtravel; and you have to do it all with a high hammerfall impact. With match target triggers, the goals are the same but with even more refinement of all the above, with no perceptible pretravel.
The problem is that many of these trigger design goals are opposing forces. A smooth, fast, and flat pretravel and crisp light final break all require low forces at the sear, which equates to the need for lighter hammer and trigger springs which can lead to light hammer strikes and less reliable ignition. In standard trigger designs, very fast trigger resets, minimized lock times, and high hammerfall impact require heavy springs which creates a crappy feeling, heavy trigger. The final dimension is tuning out pre-travel, overtravel, and ensuring a crisp trigger break, which are all impacted by the above light or heavy springs. Bad tuning can further impact reliability and safety. The end result is that trigger engineers have their work cut out for them to strike a balance for a great trigger.
The compromise has been either a great single stage trigger that may have a light hammer strike here and there with hard primers, or a 2-stage which delivers a 1st stage pre travel which some claim slows down followup shots.
The magic of the HiperTouch design is in its spring cammed pressure on the hammer, which counteracts much of the hammer spring force within the first couple of degrees of movement around the point of sear engagement. This delivers the perfect situation for a great feeling trigger and break. After the hammer begins to move forward, the cam applies pressure the other way and greatly increases the hammer force. This increases hammer fall force, decreases lock time…etc. it's a best-of-both-worlds trigger design that is totally new.
The HiperFire has three spring sets (light, medium-light, and medium). Initially, I though the heaviest strongest spring would deliver the heaviest trigger pull but it is the other way around. The strongest spring exerts more pressure on the cam and delivers the lightest trigger feel and also the heaviest hammer fall impact. This is what the dual spring and cam design of the HiperFire triggers does. It's a mind screw when you first pull back the extra force hammer and have such a light trigger pull.
Some may want to use the lighter tuning springs and the HiperFire trigger provides that option, but in all my setups I have always used the silver spring to deliver the lightest trigger feel and heaviest trigger fall for improved reliable ignition.
Via: All Outdoor
Category: Shooting, (WC1500), 24 3Gun, HyperFire, Trigger