This ROBAR-re-finished, Magpul-shod AK is quite possibly the most abuse-proof defensive rifle in On Target's armory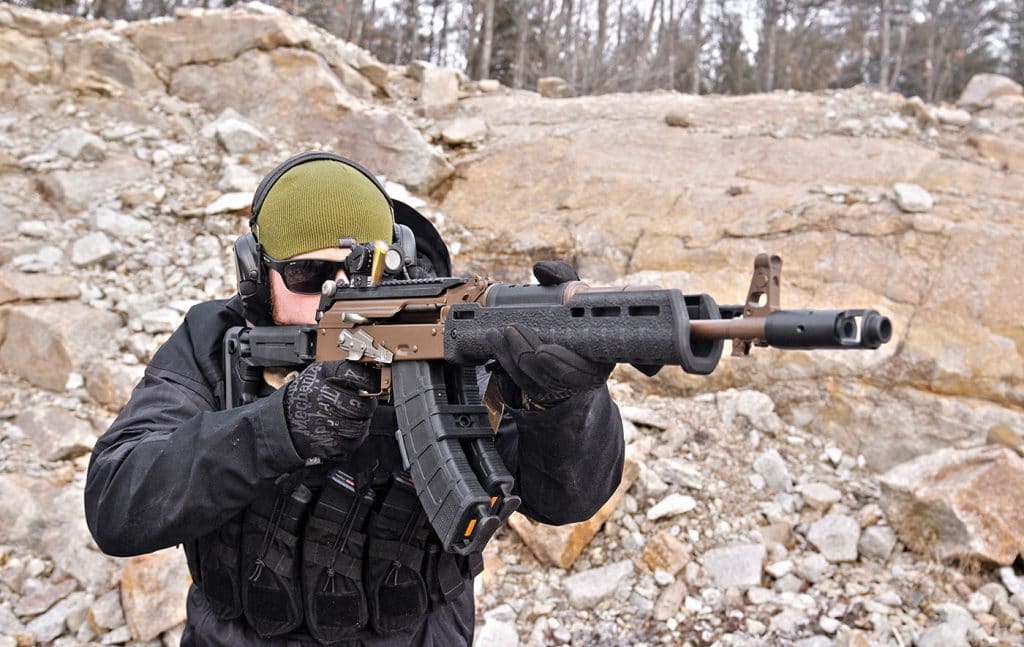 Several of out staffers hold the attributes of the AK-47 platform dear to their hearts, and in a healthy percentage of these cases, even prefer it to the AR-15 (I don't happen to be one of them). Recognizing that many readers also favor the AK, however, we decided to build the ultimate AK as an illustration of what can be accomplished with this iconic defensive rifle.
We started out with a staffer-owned Arsenal, Inc. SLR-107—the company's most basic model from several years ago—with a fixed stock and stamped Russian receiver chambered in 7.62×39. The fixed-stock version has been discontinued, but the identical gun (SLR-107FR) with a Bulgarian stamped receiver (the Russians remain embargoed) and left-side folding stock retails for $999.
Our SLR-107 is represents one of the finest AK platforms available to U.S. consumers today, with a cold-hammer-forged, chrome-lined barrel, and top-quality U.S. made components, like the anti-slap, double-stage trigger group, 24mm removable muzzle brake and right-side-mounted scope mount, and it's reasonable price (in comparison to a quality AR-15) made it a good "starter AK" for this project.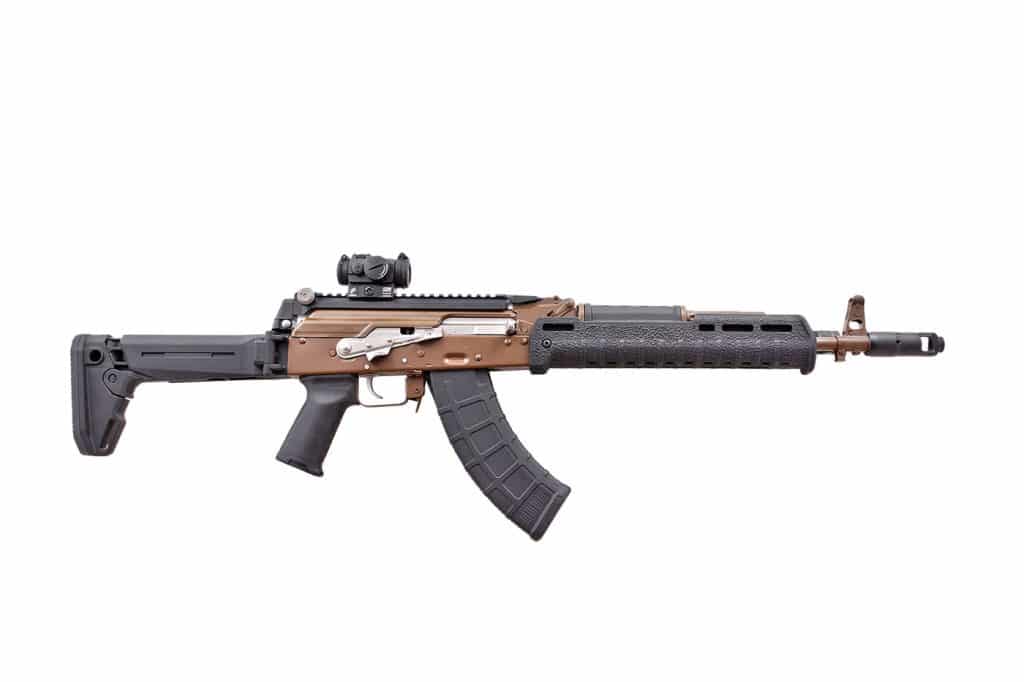 The Magpul Connection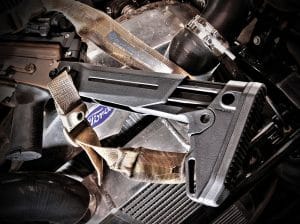 Like many reading, we're sure, Magpul is one of our go-to sources for AR and AK aftermarket furniture and accessories. In this case, we started with Magpul's awesome-new Zhukov-S left-side-folding, collapsible buttstock ($99.95) in black. FDE, Stealth Gray, OD green and Plum are also offered. It features QD sling mounts, modular cheek risers, five length adjustments over a range of 2.6" and a shock-absorbing rubber butt-pad. Weight is 15.0 oz. Snap-on polymer check risers are available in 0.25", 0.50" and 0.75" heights in all five colors at $9.95 each.
Moving forward we chose a Magpul MOE AK+ rubber-covered polymer pistol grip ($24.95). It's also available in the same five colors as the Zhukov-S buttstock. The Magpul MOE AK+ provides outstanding grip traction and contains a roomy storage compartment.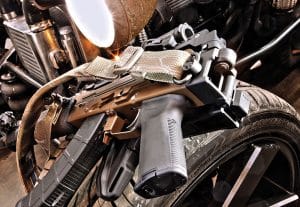 Magazine choices for the AK platform abound, but we chose the PMAG 30 AK/AKM MOE. This inexpensive ($13.95) lightweight, high-reliability, 30-round polymer magazine was designed specifically for Kalashnikov pattern rifles in 7.62x39mm. It's become our AK magazine of choice, and has never let us down. It's available in black or FDE.
For a handguard, we chose Mapul's extended-length Zhukov polymer model ($99.95). It features an aluminum chassis for strength and heat dispersion, a comfortable injection molded exterior for superior ergonomics, and M-LOK slots at the 3, 6 and 9 o'clock positions for optimized accessory attachment. It weighs 15.1 oz. with top cover and is 11.7" long. We also picked up an M-LOK Cantilever Rail/Light Mount in black polymer for mounting a Surefire weapon light ($17.95). The total tab at Magpul was $256.75. Contact Magpul Industries, Dept, OT; Tel.: 877-4MAGPUL; Web: www.magpul.com.
Other non-Magpul accessories we installed included a Krebs Custom AK top rail ($310; www.krebscustom.com) and a Blue Force Gear Vickers 221 QD sling ($80; www.blueforcegear.com).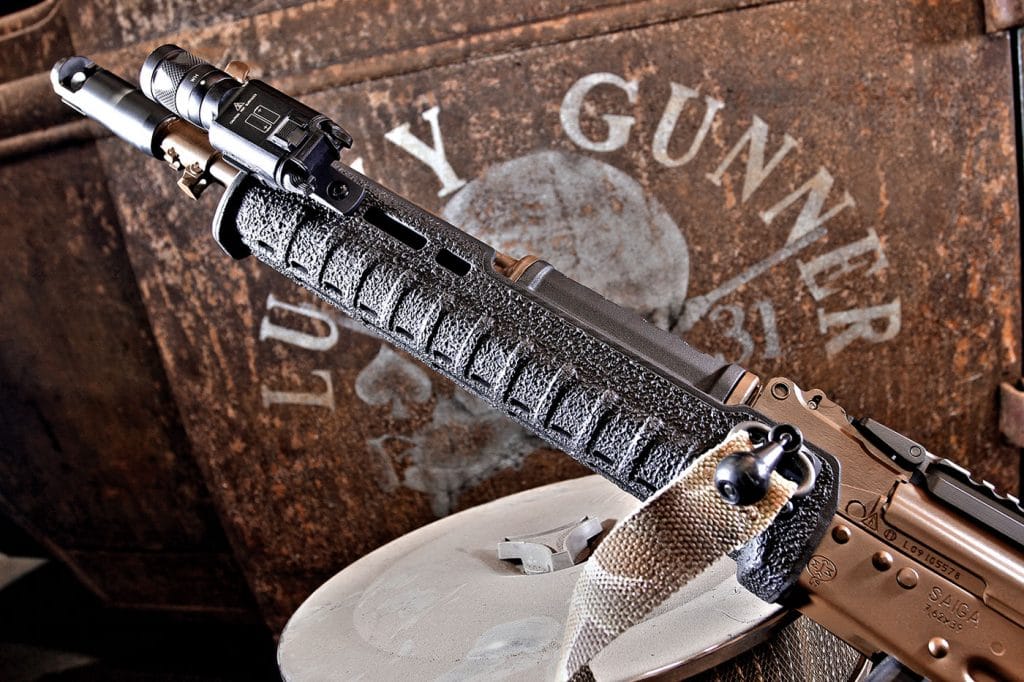 The ROBAR Job
We've learned that if you want a firearm to remain rust and corrosion free for a life time, ROBAR is a great place to start. Their Poly-T2 is a PTFE based modified epoxy coating specifically designed to provide lubricity and corrosion protection for metal components exposed to harsh environments and demanding service conditions. It provides the corrosion protection necessary to exceed 1,000 hours salt-spray exposure per ASTM-B-117. It also provides excellent abrasion protection and impact resistance, galling, seizing and fretting. Poly-T2 is virtually unaffected by atmospheric and fretting corrosion, as well as exposure to solvents, acids, oils and degreasers, including all of the MIL-PRF-46010G Table 1 Test Fluids. ROBAR is so confident in the performance of Poly-T2 that it offers a lifetime warranty.
We had ROBAR apply Poly-T2 in their new burnt bronze color to all major components, including the receiver, receiver cover, gas tube, barrel and front sight post. Everything else was coated with ROBAR's electroless nickel-based NP3 finish that co-deposits sub-micron particles of PTFE (a/k/a Teflon) with electroless nickel. NP3 permits firing for longer periods of time between cleaning, as dirt and powder residue have no wet or oily surface to cling to. When cleaning is required, the effort needed is minimal, usually requiring only a soft cloth. NP3 is highly corrosion resistant. It provides a high lubricity and low friction co-efficient, greatly increasing the life expectancy of a firearm due to reduced friction wear. NP3® is a satin gray, non-reflective color ideal for all firearms. The bolt and its small parts, bolt carrier with gas piston, the entire trigger group and time pins, The sight adjustment dial on the Krebs Custom AK top rail, the Magpul folding stock pins and the safety/bolt hold back were all coated in NP3.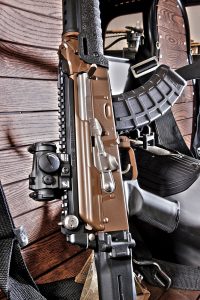 Anything we wanted to remain black—the Krebs Custom AK top rail, muzzle brake and a variety of internals—got ROBAR's matte Roguard coating, the best black finish available anywhere. It's a hard, durable, molybdenum-disulfide based polymer finish specifically designed to provide lubricity and corrosion protection for metal components exposed to harsh environments.
Finally, ROBAR installed all of the aforementioned Magpul and Krebs Custom accessories, and applied its excellent non-slip finish to the Magpul Zhukov forend. The total tab at ROBAR was $580. Contact The ROBAR Companies, Dept. OT; Tel.: (623) 581-2648; Web: www.robarguns.com
All told, we invested $1,226.75 (plus the original $750 cost of the gun) to create the ultimate AK for under $2,000. It was a fascinating project that produced a great looking gun, and one of the most rock-solid, abuse-proof defensve rifle's currently in On Target's armory.
Source Article from http://ontargetmagazine.com/2016/05/hot-rodded-robar-ized-kalishnakov/