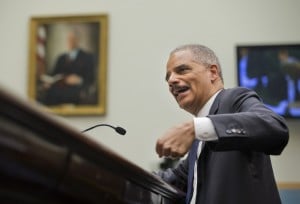 As part of the massive trove of documents disclosed to Congress are emails in which Attorney General Eric Holder criticizes Rep. David Issa (R-Calif.) and his "idiot cronies" probe into the "gunwalker " scandal.
The Department of Justice, as ordered by a U.S. district judge, Monday turned over 64,280 pages of documents pertaining to Operation Fast and Furious to the House Oversight and Government Reform Committee.
The Congressional investigation is part of the ongoing saga of the Bureau of Alcohol Tobacco Firearms and Explosives program that allowed the transfer of as many as 2,000 guns to drug traffickers in Mexico. The investigation started in 2011 after whistleblowers tied the guns to the death of Border Patrol Agent Brian Terry as well as others in Mexico.
In the documents, now being poured over, are emails from Holder to three senior members of the DOJ in which he is critical of Rep. David Issa, who chairs the investigation.
"Isa and his idiot cronies never gave a damn about this when all that was happening was that thousands of Mexicans were being killed with guns from our country," Holder wrote on April 15, 2011."All they want to do– in reality — is cripple ATF and suck up to the gun lobby. Politics at its worst — maybe the media will get it."
The massive assortment of documents still may not be all that the DOJ has in its archives and Issa promises to continue on his quest to uncover what really happened.
"When it comes to Brian Terry, his family, and so many people across the border who were affected by not just the activities of Operation Fast and Furious but the lies and cover up by the Attorney General's staff, we need to continue seeking justice," Issa posted on his Facebook page Thursday morning.
As for the gun industry, Larry Keane, general counsel for the National Shooting Sports Foundation, weighed in on the newly disclosed email.
"We look forward to the day when that only Attorney General ever to be held in contempt resigns from office," Keane told Guns.com.
Source Article from http://www.guns.com/2014/11/06/holder-email-calls-fast-and-furious-investigation-a-suck-up-to-the-gun-lobby-by-congress/