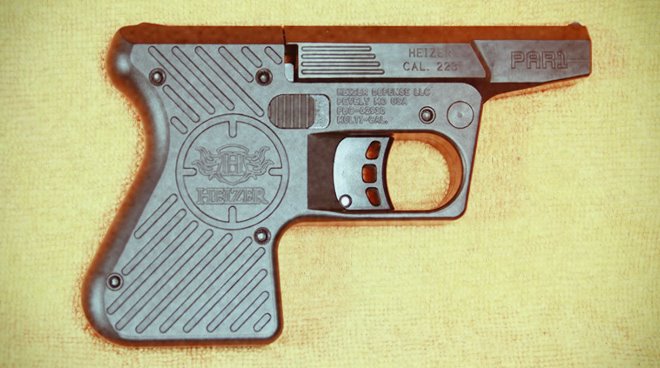 Heizer Defense, best known for a .410-bore/.45 Colt single-shot "Pocket Shotgun" derringer, announced that its "Pocket AR" PAR1, a similar single-shot pocket pistol chambered for .223 Remington, is now shipping.
The company earned a very loyal following after launching their unusual PS1 .410-bore/.45 Colt derringer. With .410 shot shells the gun is a fun shooter and in a pinch, even a single round of modern .45 Colt loaded for self-defense has a good amount of "get off me" in it.
The Pocket AR is a lot more single-minded chambered for the popular intermediate cartridge. This is a straight-up fire-baller designed to make noise and put smiles on faces at the range.
While any gun  may be used for self-defense, given the amount of barrel .223 Remington needs to get up to speed, the pocket AR is more of a threat to boredom than it is to anything else. A quick glance over the numbers by Ballistics by the Inch should paint a picture of the muzzle energies the Pocket AR will generate, and they're more .22 than .223.
Of course, when shooting a pistol that's only 0.7 inches wide with a grip under 4 inches tall a lot of projectile force will wreck your day so it's not a bad thing that the PAR1 isn't going to put a lot of heat downrange. With the PAR1, the heat hangs out at the muzzle to send a shockwave of light and noise to anyone who happens to be nearby.
Heizer's Pocket AR weighs a little more than the Pocket Shotgun at 23 ounces as it has a slightly longer barrel and considerably smaller bore bringing the overall length to just over 6 inches.
The design is almost begging for a concussive muzzle brake or ported barrel to enhance the lateral effect of the boom it's guaranteed to create each time someone pulls the trigger.
And if you think the PAR1 will have a lot of fireball potential just wait, there's more. Heizer Defense will be following the .223 model with an even bigger .308 Winchester "Pocket Sniper." For those who think it's a good waste of AR-15 ammo, which can be hard to find, they're also working on a 7.62×39 "Pocket AK" that will be less expensive to feed.
It's true that there is some market and some purpose for derringers in the 21st century but most people are better-served by the hundreds of pocket pistols and snub-nosed revolvers that can be carried discreetly with ease and have much higher capacities, too.
Heizer's over-the-top derringers reflect that, which is why they're made to be fun to shoot, not the last, tiniest thing to count on to ward off a grizzly fate.
With a suggested price of $399 for the PAR1 and real-world prices considerably less this isn't the most expensive range toy by far. It's not quite an impulse buy but given its flamethrower potential it's literally got a ton of bang for the buck. The PAR1 will be available with user's choice of black or stainless finishes.
Heizer has posted a warning on its Facebook page about the Pocket AR. "Caution: This gun is too much fun to shoot!" That is, naturally, by design.
"The PAR1 Pocket AR pistol has had an unbelievable response from the industry as well as from consumers," said Eric Polkis, director of sales for Heizer. "We have a small iPhone-sized pistol chambered in .223, it is a fun gun to shoot and there is simply nothing like it on the market."
Source Article from http://www.guns.com/2014/12/18/heizer-defense-pocket-ar-now-shipping/