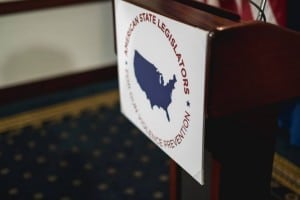 In a response to the debut of American State Legislators for Gun Violence Prevention, a group of some 200 lawmakers from all 50 states, a prominent Second Amendment activist is calling for a list of members.
The group — of which only eight members, mostly Democrats, are known — said at its initial press conference Monday that it will not yet publish the list of members, fearing political backlash. This doesn't sit well with gun rights advocates who contend that both the secret roster and the undisclosed funding behind the new organization, be made public.
"Private lobbying organizations might expect to have some degree of privacy," said Citizens Committee for the Right to Keep and Bear Arms Chairman Alan M. Gottlieb in a statement obtained by Guns.com, "But when an organization consists of elected public officials, there must be complete transparency. The public deserves to know who belongs to this organization, and who is providing financial support."
Gottlieb argues that elected officials who take a stand to promote an agenda that takes a stand on constitutional rights should be prepared for a backlash that comes along with such actions.
"Gun owners in all 50 states deserve to know, before legislative sessions begin next month, which lawmakers in their states will be pushing this new group's agenda," Gottlieb continued. "And they also deserve to know who is paying for it."
Other national gun control groups composed of elected officials take great pains to make their membership known.
Former New York Mayor Michael Bloomberg's Mayors Against Illegal Guns Organization, which claims at times as many as 1,000 members, has since its founding in 2006 listed its membership by city on their website. This list constantly shifts which has led to incidents of misidentification, roster removals, and disavowals.
In September, when the new Prosecutors Against Gun Violence gun control group was formed, it immediately announced the roster of its 23 big name criminal prosecutors and has maintained a running tally on its social media accounts of new members and board.
Even the little-known National Law Enforcement Partnership to Prevent Gun Violence, composed of an alliance of various police chief lobbying groups, publicly details both its leadership and agenda.
However, the new ASLGVP group, led by New York Assemblyman Brian Kavanagh, D-Manhattan, is largely an unknown quantity, with the exception of the eight members named this week.
Its mailing address is a post office box in New York City's Madison Square Station.
The group's website is registered to Kavanagh through a discount domain service and was only set up on Dec. 4, a week before the group was formally announced. Its social media account was created the next day and is awash with questions from posters asking for more information about just who is a member of the organization.
Guns.com reached out to ASLGVP for comment on its funding source and roster information and is awaiting response.
Source Article from http://www.guns.com/2014/12/12/gun-rights-advocates-decry-apparent-secrecy-behind-new-gun-control-group/