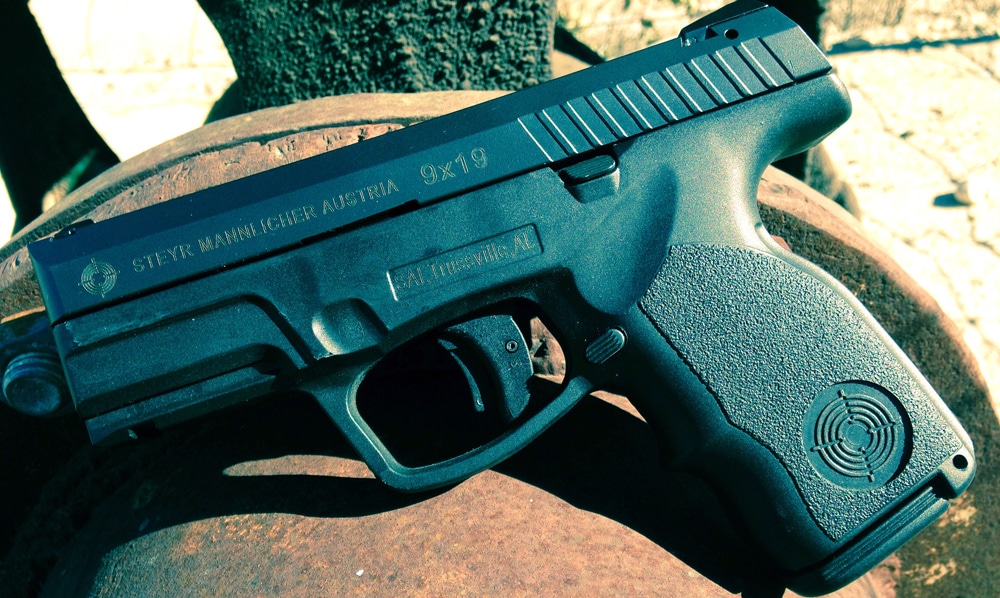 Steyr-Arms has made a worthy contribution to the polymer pistol market with a follow-up to its popular M series, the Steyr C9-A1. Although its design deviates from the norm, there's a lot to like about this mid-size gun — that's in no way short on features — starting with a unique range experience.
The gun has a futuristic profile that has been referred to by more than one range observer as a "ray gun" due in large part to the deep grip angle, which places the web of the shooter's hand well under the rear of the slide in order to minimize recoil. It's a hallmark of Steyr's polymer pistol line and, in short, it works. Muzzle rise is minimized and sight picture is quickly re-acquired between shots. Despite its compact 92mm (that's 3.62 inches for American users) barrel, the C9-A1 shoots with the ease and accuracy of a comparable full-size handgun.
Shootability is further enhanced by the trapezoid sights, standard on the C9-A1.  The cut-away view facilitates acquisition of small targets as distance increases, as there is nothing to block vision to the left and right while aiming on center.  The white highlights of the rear and front sights align to create a triangular point on target.
As we might expect in modern polymer-lower pistols, the mag release can be oriented for left-or right-hand operation with a few minutes of labor, a light rail is incorporated in front of the trigger guard, and the bottom corners of the grip have a small hole for a lanyard or sling.
The pistol is equipped with a locking mechanism, which requires a key to operate, that renders it useless (or safe, depending on your perspective) by internally locking the trigger and garnering it California-legal. The key insertion point is located directly above the trigger on the right side of the frame and directly behind the takedown lever.
Takedown is quick and easy, putting the act on par with its Springfield XD and Glock competitors. It breaks down into four easy pieces — frame, barrel, recoil spring and slide — for cleaning. Users (can we assume they'll be women?) who are concerned about their manicure will want to use a tool such as pen tip, without the ink point exposed, to complete the disassembly.
Reassembly doesn't require button manipulation. In this regard, the Steyr is easier on the hands than a Glock and on par with the Springfield XD series.
Potential owners of this gun should note that, when a magazine is inserted while the slide is in lock-back position, more often than not, the slide closes — and loads the chamber — automatically. Whether this represents convenience, danger or a quirk will of course depend on the shooter.
Although boxed with two 10-round magazines, C9-A1 9mm pistols also accept higher-capacity magazines made for Steyr's other A1s, making the gun one of the few that can easily transition from a daily carry role to range practice gun.
Mags are stamped and drilled on the left side to show odd-numbered rounds — five, seven and nine — and on the right with even-numbered rounds and corresponding holes, four through 10. It may confuse shooters accustomed to Glock or Springfield XD magazines.
The minor inconvenience in making the transition to the C9-A1 is readily overcome by the gun's non-selective appetite for ammo.
During testing, two brands of hollow point cycled flawlessly on a 15-round test for each, as did a hundred rounds each of two brands of lower-end, brass-cased FMJ — TulAmmo and Winchester white box, to be exact.
The major caveat to the otherwise respectable performance and portability of this gun is what can best be described as extractor interference. 
The slide must be rather forcefully racked to eject a chambered round. During testing, this was the case with every type and brand of ammunition.  The extractor seems to be slightly oversized, and a round will simply rest on it if the slide is pulled or held in the rearmost position in any manner other than forcefully. While this may be a break-in issue, older models performed similarly.
The industrial-strength design of the gun also demands industrial-strength handling of the slide, so shooters with weak hands or who are uncomfortable with assertive slide operation will probably want to pass on the C9-A1.
But for those willing and able to consistently run a slide with assertiveness, the C9-A1 delivers the ease of shooting a full-size pistol with a compact profile suitable for concealment or automobile carry. For that, it's hard to beat. MSRP is $649.
Source Article from http://www.guns.com/review/2015/02/12/gun-review-the-steyr-c9-a1-pistol/