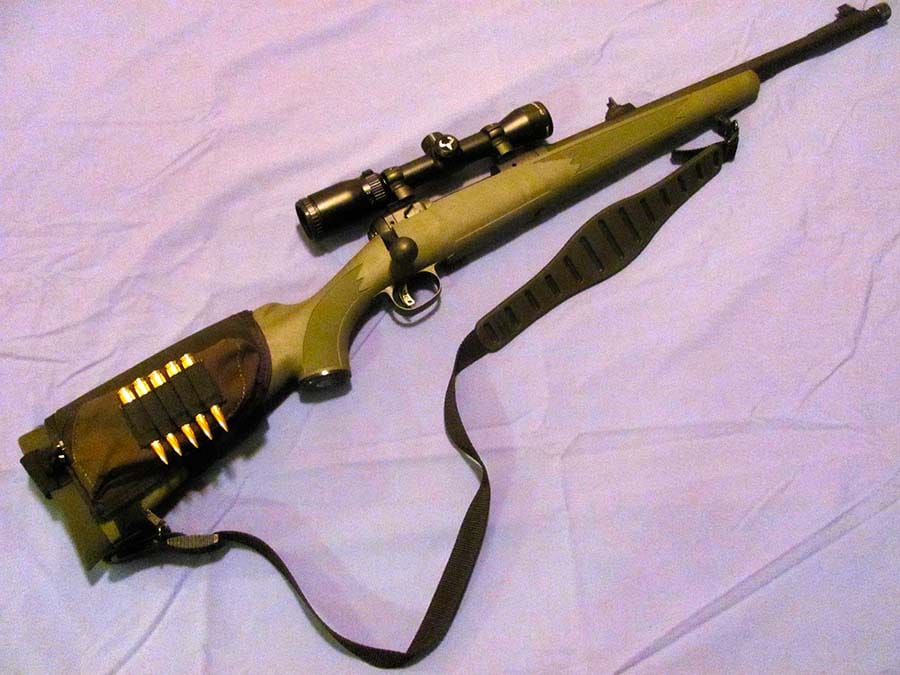 The Savage Hog Hunter is a strange beast of a rifle. Designed to take down feisty porcine invaders, in a way this rifle has a bit in common with them. It's like the designers at Savage Arms had the "essence of hog" in mind when designing it. A bolt gun with an odd set of features, it's ugly, tough compact and inelegant. Much like feral pigs, this Savage rifle is proficient at destruction.
The Pedigree
While not as prolific as Remington, Savage Arms is a quality bolt gun manufacturer. From their rimfires up to the specialized models, every Savage bolt gun I've ever used or owned is a functional, economical tool that performed when it mattered. Some people consider Savage rifles ugly or complain that they cut corners to keep prices down and attract thrifty hunters and target shooters. I'd agree. And the Hog Hunter takes every facet of Savage's average design and turns it up to eleven, emphasizing strengths and weaknesses.
Is this rifle worth your hard-earned money and precious time in the field?
Overview
Based on the Model 11/111, the heart of the Hog Hunter is the proven Savage action, known for durability and accuracy. This model is available in short-action chambered for .223 Remington and .308 Winchester calibers, and a long-action .338 Winchester Magnum is available for those seeking to hunt mutant super-pigs from long range. Moving away from the action things get stranger, uglier yet refined for function. More Hog-like, even.
Immediately notable is the Hog Hunter's "snout". It's a robust, medium-contour heavy barrel, 20 inches long, with a threaded end. Combining a heavy, short barrel with calibers that require more length for optimal performance may seem counter intuitive, this allows for repeated, accurate fire without POI-shift due to overheating. Additionally, the shorter barrel makes steadying and maneuvering the Hog's business end  easier in the thick undergrowth preferred by pork. The barrel is threaded for whatever muzzle device a shooter desires.
The Savage Hog Hunter features a massive rear leaf atop a Rube Goldberg contraption for adjustment. Further down the barrel resides a glare-reducing checkered front ramp with a gold bead.
The irons are a major reason I bought this rifle. Shooters who've ever encountered issue with a scope after arriving in a deer stand can appreciate the utility of them. With close-range brush hunting and stalking, iron sights are faster than magnified optics and are much more durable. If any hunting rifle needs irons for its marketed purpose, this is it.
The bolt handle on the Hog Hunter is oversized, well-rounded and effortless to find and grip in less-than-ideal conditions, this is a nice touch when hunting something that fights back.
Another noteworthy feature is the adjustable Accutrigger, which allows Savage to set the trigger much lighter than most OEM rifles without fear of accidental discharge. It resembles a metal Glock-style bladed trigger that prevents the weapon from firing until both the blade and trigger are depressed. The Hog Hunter's trigger breaks clean just a hair over three pounds from the factory; impressive on such an inexpensive weapon.
The Hog Hunter is adorned in a thin black finish that holds up well to the elements but isn't pretty. Friction points start to wear quickly, but function and accuracy are unaffected. The Hog's  synthetic stock shares its finish's utilitarian appearance and looks awkward with its odd irons, thick barrel and rough-looking Savage action. Furthermore, the stock's plastic marres easily and features an outline for a magazine well the rifle doesn't have. Dressed in an unappetizing dark green, it features light, indecisive checkering that barely gets the job done. A pair of torque screws hold the action inside this stock, along with a simple leaf spring mechanism giving the rifle its blind magazine. While ugly, they make removing the action and barrel for cleaning very easy
Function and Field Test
I carry a .308 Hog Hunter when looking for mid-sized game. I expect excellent accuracy and reliability while keeping things economical. I also do a good deal of recreational long-distance shooting but was unsure this stubby-barreled rifle could fit that role.
Thankfully, the Hog Hunter's appearance more than compensates for its homely appearance. Making shoots off a bench out to 400 yards: the longest range available to me, and further than I would consider shooting anything other than targets. Accuracy is on par with other rifles at similar price points and higher, but the Hog Hunter isn't an F-class rifle. This is a working rifle designed for hunting, its recreational application is a bonus.
With shorter barrels, comes ballistic compromise. Though these limitations are immaterial in the practical ranges it is meant for and its heavy barrel preserves point of impact well during repeated firing. The truncated barrel results in more noticeable blast and noise, but not M44-levels of tinnitus-inducing volume and thanks to the threaded barrel can be easily dealt with by using a suppressor.
In the field, the Hog's robust barrel makes it feel nose-heavy and tiresome to shoot off-hand. Shooters may want to invest in some light-weight shooting sticks to ease this burden instead of curing their noodle-arms for missing a crucial shot.. The balance is funky but nothing too off putting.
Weighing in at approximately seven pounds, the Savage is of reasonable size and weight for bush-beating, but benefits from a sling. Lighter options exist, but none include the same features like the blind magazine, that I actually enjoy.
Shooters who've had a magazine go AWOL because of errant branch know how frustrating detachable magazines can be. Shooters have grown accustomed to detachable mags on a lot of rifles and they're a nice feature, but the Hog Hunter is a barebones beast. It isn't hurt by the blind magazine at all, as it's one less thing to go wrong.
Retailing for $560, the Savage Hog Hunter is a cost-effective porcine perforator. Naysayers will harp on its inexpensive finish and plain appearance, but can't argue with its performance. This rifle is for shooters who treat their guns like tools, not idols. It's ugly, weird and works. Paper-punchers are better-served by other weapons, but for putting down prey the Hog Hunter is an ideal rugged companion. Shooters wanting a conventional bush rifle with a purpose-built design will go hog wild for this Savage offering.
Source Article from http://www.guns.com/review/2015/01/05/essence-of-swine-savage-hog-hunter/