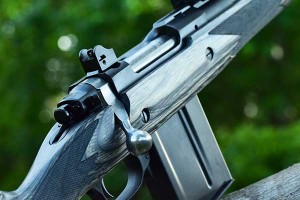 By Jim Grant
Many gun articles focus on the best first gun to buy or best backup pistol to a primary concealed carry handgun, assuming everyone who buys a gun will inevitably own a dozen. What about people who don't have enough cash to buy a gun for every conceivable situation that arises? Some scoff at the thought, but it wasn't so long ago that the famed man with one gun was feared and revered because he knows how to use it. Along these lines comes Ruger's jack of all trades scout rifle, the Gunsite Scout.
Built on the M77 rifle's action, the Gunsite Scout is nearly indestructible and handsome to boot. (Photo: Jim Grant)
A scout rifle, as defined by its biggest proponent, the late Col. Jeff Cooper, is a handy, do-all rifle capable of engaging 400 pound targets out to 300 yards. More precisely, Cooper stipulated that his scout rifle should include a bipod, integrated iron sights be chambered in at least .308 Winchester and utilize a forward-mounted scope with extensive eye relief. The theory behind this rifle is that is allows shooters to quickly acquire and effectively engage any threat at ranges where intermediate calibers would have difficulty neutralizing targets.
The first commercial purpose-built scout rifle was the Steyr Scout, made by Steyr Mannlicher of Austria. The Steyr Scout is an excellent, but expensive rifle and uses difficult to find magazines that only hold five rounds. Steyr's Scout is an excellent weapon, but with a $2,000 price point, is outside most shooter's budgets. Seeing a market opportunity, Ruger introduced its Gunsite Scout rifle, a purpose-built scout rifle designed in conjunction with the expert shooting instructors of the Gunsite Academy for nearly half the price of the $2,000 Steyr.
The military-style aperture sights on the Gunsite Scout are worlds apart from the tiny irons found on most bolt-guns. (Photo: Jim Grant)
Equipped with U.S. military-style aperture sights and an integrated forward scope rail, the Gunsite Scout optimizes the scout concept of a do-all rifle. For the review I chose Nikon's inexpensive Force XR 2.5-8×28 Matte BDC for its gratuitous eye relief, adjustable magnification and low MSRP of $289.99. While using a scope mounted so far forward is initially awkward, after a few dozen rounds it becomes second nature and allows you to really appreciate the utility of the setup. Namely how much of your field of view is left open, giving shooters much greater situational awareness and target-tracking capability, while reducing the time to get on target.
The Gunsite Scout also comes with an M16-style birdcage flash hider installed on its muzzle which features standard U.S. military .30 caliber threads, so replacing it with any 7.62x51mm muzzle device simply requires a wrench and vise. Since I was using the Gunsite Scout for a SilencerCo shoot as well, I replaced the standard birdcage flash hider with a Specwar Trifecta Flash Hider from SilencerCo. Both the standard hider and the Trifecta performed admirably, and didn't noticeably affect accuracy.
The Gunsite Scout's muzzle is threaded to accept standard US-made muzzle devices, but comes pre-equipped with a birdcage style flash hider.
(Photo: Jim Grant)
In the original plans for a Scout rifle, Cooper prescribed that the rifle should be capable of shooting two minutes of angle out to 300 yards to ensure it was sufficiently accurate to strike vital regions at distance.While I didn't have a chance to stretch the Scout's legs to 300 yards, I did get a chance to plink at around 220 yards. At that distance, head shots on my IPSC targets are difficult, but well within the capabilities of the rifle with correct ammunition. And to find it, I tested the Gunsite Scout with four different types to see how it fared in the accuracy department.
I started with my favorite, the Winchester 168 grain match ammo, moved on to a few boxes of Colt-brand 168 grain FMJ and finished the day with a half case of Hirtenberger surplus 147 grain FMJ. The Gunsite Scout barrel utilizes an unconventional one-in-8 inch twist rate, which is good as stabilizing all commercially available rounds, but showed a preference for the Winchester match-grade round. When shooting from a rest, the Gunsite Scout kept regularly producing five-round groups just a hair under an inch at 100 yards. The Hirtenberger rounds came in second with an average of 2 inches and Colt's ammo finished last with groups just a hair under 3.5 inches. You might want to steer clear of the cheap stuff.
The Gunsite shares its magazine with the high-end AICS rifles, and is inserted similarly to an AK47 's mag by rocking the magazine in at a slight forward angle.
(Photo: Jim Grant)
The Gunsite rifle feeds from either a detachable two, five or 10-round accuracy magazine, though for testing I stuck with the 10-round variety. Shooters familiar with the high-end Accuracy International weapon platforms will recognize that the Ruger's magazine is identical to those on AICS rifles. The rifle fed flawlessly throughout the test, though occasionally encountered some difficulty extracting the zinc-plated shell casings. The magazines themselves are built from steel and are durable and robust, though it would have been nice for Ruger to make the rifle utilize M14 magazines so shooters already invested in that platform don't have to buy additional mags that are frankly, quite expensive at $75 each. This wouldn't be such a big deal if the rifle included a second magazine to allow shooters to take advantage of the weapon's ability to quickly change ammunition types. Though Ruger does offer a less expensive magazine constructed of polymer for around half the price of the steel ones.
Reloading the Gunsite Scout is easy and accomplished in a similar style to an AK rifle. The user simply inserts the magazine slightly tilted bottom forward, then rocks back to secure it. The method isn't as fast as an AR 15, but is more secure and less likely to accidentally release the magazine when bumped.
The Gunsite Scout is an excellent bugout rifle, especially when equipped with a sound suppressor.
(Photo: Jim Grant)
The Gunsite Scout's $1,099 MSRP might frighten away some shooters, but shouldn't. The Gunsite is built off the same action as the Ruger M77, and can have a standard scope attached above the action should the shooter so desire. Meaning, the Gunsite Scout isn't a gimmick rifle built to please a few niche hobbyists, it's a time-tested rugged rifle modified to fill the scout rifle role. With its ability to fill the role of hunting rifle, bug-out gun and counter-sniper system the Ruger Gunsite Scout might be the ultimate rifle for the man who only owns one gun.
The post Gun Review: Ruger's Gunsite Scout is the ultimate do-all rifle (VIDEO) appeared first on Guns.com.
Via:: Gun Review: Ruger's Gunsite Scout is the ultimate do-all rifle (VIDEO)