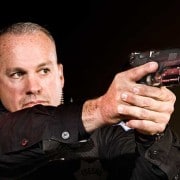 A recent announcement from Gun Owners of America tells its supporters, "Pat yourselves on the back!" The reason? The FDIC has formally withdrawn a list of so-called "high risk" businesses – a list which the Obama administration's Justice Department under Eric Holder was using to discourage banks from dealing with certain types of merchants.
Ostensibly created with good intentions, the program known as "Operation Choke Point" created a list of legal businesses which it wished to stifle by urging banks to deny them credit and other banking services. In an attempt to look good, the list included shady-sounding business types such as Drug Paraphernalia, Ponzi Schemes, Pornography, Racist Materials, and Telemarketing. But it also included many others, including Home-Based Charities, Surveillance Equipment, Fireworks Sales – and the ones that most concern gun owners: Ammunition Sales and Firearms Sales.
One could argue, probably without much logical opposition, that gun and ammo dealers were the main target of this operation and the other business categories were tossed in as misdirection. But either way, the end result was a government entity arbitrarily dictating to banks whom they should and should not consider good customers – and threatening them with government harassment if they didn't comply.
In other words, legal private businesses, none of which have been proven to be in violation of the law, were punished just because certain people in the government didn't approve of them.
This is wrong on many levels, but there is good news. A recent Washington Times article said that the FDIC "formally withdrew" the list last week. And that's why gun owners can rest easier – until the next assault on our rights.
Claims that their hit list "led to misunderstandings" and had been "misinterpreted" were cited by FDIC when the list was pulled back.
The pullback by FDIC was prompted by pressure from a number of fronts, including public outcry and a House bill which would have eliminated Operation Choke Point – and which Harry Reid reportedly stalled in the Senate in order to prolong the choking.
Thanks to the efforts of freedom-loving folks, the antis have retreated a bit. It is certainly temporary, and it's only on one front. But it's still a good thing.
Via: All Outdoor
Category: Legal Issues, fdic, gun control, operation choke point, Second Amendment