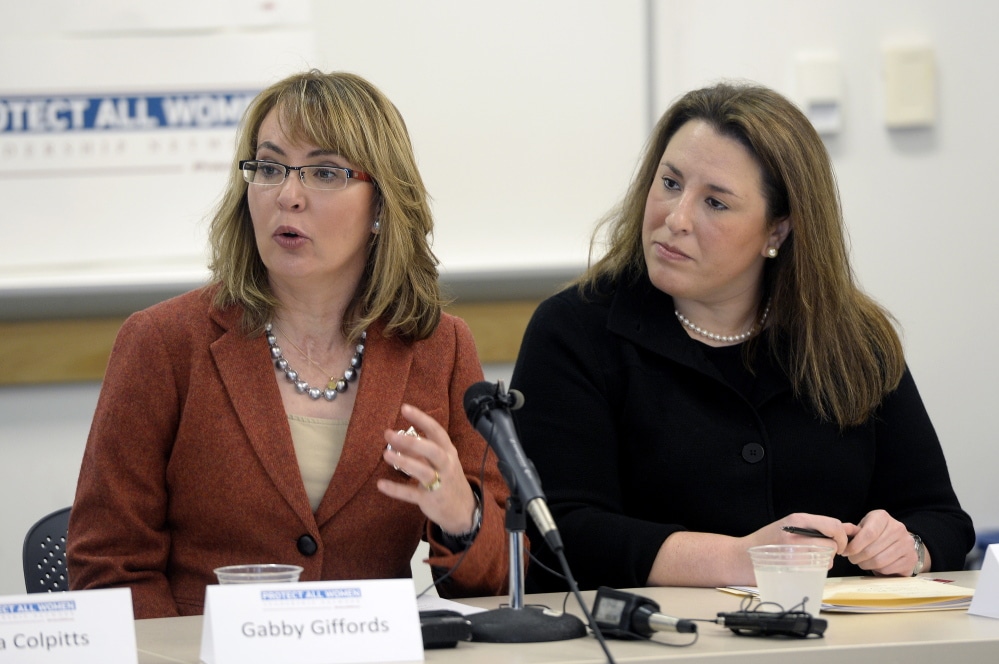 While former U.S. Rep. Gabby Giffords began a nine-state tour advocating increased gun control laws Tuesday, Everytown's Gun Sense Voter Roadshow is likewise burning up the highways to sway voters.
Giffords' "Protect All Women" tour kicked off in Portland, Maine, Tuesday on behalf of her political action committee, Americans for Responsible Solutions. Walking into the University of Southern Maine's Muskie School of Public Service, she spoke for 15 minutes on the need for increased legislation to take guns out of the hands of stalkers.
"Dangerous people with guns are a threat to women," Giffords told reporters. "We can lead the way. We stand for common sense. We stand for responsibility. We can change our laws. We can win elections. Please join your voice with mine."
The former congresswoman, who survived a 2011 assassination attempt, will be very busy in the coming weeks. Besides engagements in Maine in support of local pro-gun control candidates, she will be making stops in New Hampshire, Connecticut, Pennsylvania, Arizona, Minnesota, Iowa and Oregon before ending the tour in Washington state. There, the only two background checks ballot initiatives in the country are fast becoming a line in the sand between gun rights and gun control advocates.
Washington is likewise on the list of stops for former New York Mayor Michael Bloomberg's Everytown of Gun Safety's Gun Sense Voter Roadshow.
That mobile mission, led by Moms Demand Action founder Shannon Watts, is also in Portland to lend support to incumbent U.S. Sen. Susan Collins, the Everytown-endorsed candidate in Maine. Collins was one of only four Republicans to cross the aisle and vote for the failed Manchin-Toomey expanded background check bill in the Senate in 2013.
"This is the first time we're mobilizing moms in this country to turn out and vote specifically on gun violence prevention," said Watts in a press release. "We've taken the fight to Congress, to statehouses, to corporations, and now we're bringing this issue to the voting booth. Moms and women are going to vote to keep our communities safe from gun violence, in this election and in all elections ahead."
Once the Everytown roadshow leaves Maine, they will travel to Maryland, California, Oregon, Illinois, and Minnesota to help support elections that they feel are key in November.
Source Article from http://www.guns.com/2014/10/15/gun-control-groups-hit-the-road-to-influence-upcoming-elections-video/