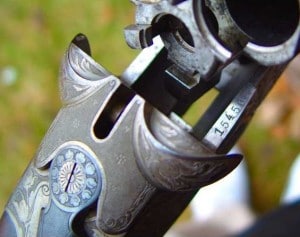 A gun believed to belong to Adolf Hitler sold for $150,000 on Christmas Eve with the help of a business in Bloomington, Illinois.
Midwest Exchange posted the auction on GunBroker.com for the seller, local newspaper The Pantagraph reported. Bidding started at $100,000 on Dec. 1, but the auction received only two bids — $124,000 and $136,500 — neither of which topped the reserve price set before the auction started.
However, the offer also attracted an outside bidder who contacted Midwest Exchange personally and offered the winning price of $150,000.
The gun — designed and manufactured by Germany's Krieghoff Gun Company — is a side-by-side shotgun chambered for 12-gauge shells. It features elaborate engravings of woodlands with deer and stag, all done by a master engraver of the time. Also, and most interestingly, the initials "AH" are engraved at the bottom of the trigger guard.
Krieghoff likely presented the gun to Hitler in 1934 with the hopes of securing a military contract, according to the listing.
Although there's no photographic evidence of Hitler with the gun, the seller is 99 percent certain it belonged to him. There are photos of the same model being presented to Hitler's subordinate, Herman Goering. Like Hitler's model, Goering's had the initials "HG" engraved on the trigger guard.
Shortly thereafter, Krieghoff received an order for 10,000 Luger pistols by the German military in 1934.
While the story may lack hard evidence as documents that could have linked the gun to the dictator were most likely destroyed, how the gun arrived in the U.S. is less complex.
U.S. Army First Lt. Robert Lucas bought the gun from a soldier, who remains unnamed, with the 101st Airborne division when they crossed paths at the mess hall Lucas managed.
That soldier said he found the gun at Hitler's mountain retreat called the "Eagle's Nest" in May 1945.
When Lucas returned from war, he brought the gun with him to his Ohio home. Besides a few hunting trips, the gun rarely left the space underneath the bed. It remained in Lucas's possession until he died nearly 50 years later. He never knew the gun likely belonged to Hitler.
To be closer to family, Lucas's wife moved to Illinois where sometime later her son noticed the initials on the trigger guard and began searching for the original owner. In his research, he was able to link the gun to Hitler.
Midwest Exchange sold the gun almost nine years ago for Lucas's family, bringing in little more than $140,000.
Source Article from http://www.guns.com/2014/12/30/gun-believed-to-belong-to-hitlers-sells-for-150000/