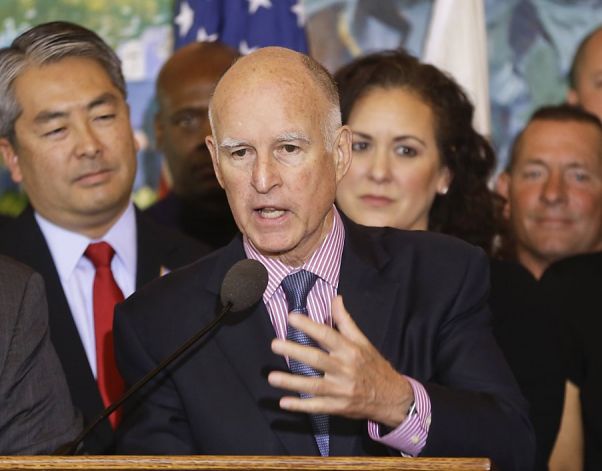 California's governor vetoed a measure regulating homemade firearms but signed a trio of other anti-gun bills into law Tuesday, including one to implement an expanded series of gun seizure orders for those believed by friends or family to pose a danger to the community.
The three bills that were approved make California the first state to codify the practice of so-called "Gun Violence Restraining Orders," add more marking requirements to airsoft guns, and place increased regulations on bringing firearms in from other states. However, many are taking as a "win" for gun rights Brown's veto of one bill, SB808, that would have banned the transfer, and inheritance of home-built firearms as well as required serial numbers to be retroactively applied to these guns, referred to famously as "ghost guns" by state Sen. Kevin de Leon (D), the measure's sponsor.
"I am returning Senate Bill 808 without my signature," wrote Brown Tuesday in his short veto letter to the California State Senate. "SB808 would require individuals who build guns at home to first obtain a serial number and register the weapon with the Department of Justice. I appreciate the author's concerns about gun violence, but I can't see how adding a serial number to a homemade gun would significantly advance public safety."
Gun rights groups saw reason to celebrate Tuesday. Brandon Combs, president of California Association of Federal Firearm Licensees (CAL-FFL),  hailed the veto on the homemade gun bill as a "significant victory for common sense."
"Governor Brown was absolutely right to veto SB808," Combs said in an emailed statement to Guns.com. "Senator de León's bill would have created a nightmare for law enforcement and law-abiding gun owners alike."
The firearms industry, even though it largely did not have a dog in the fight on the controversial legislation, was pleased at its veto because many pre-1968 guns — which were not produced during a mandated period for serial numbers — would have been required to have one if the bill passed.
"We opposed SB 808 because even though it did not pertain to the firearms industry per se, it would have required gun owners to place serial numbers on antique firearms, destroying their value as collectible items," Larry Keane National Shooting Sports Foundation (NSSF) senior vice president and general counsel told Guns.com Monday.
SB808 would have even placed regulations on 3D printed guns, which many in that industry felt were unneeded. Industry blog 3DPrint.com went so far as to say that, "Every year a staggering '0' people are killed by 3D printed guns," in their coverage of the bill.
Calling today's actions by Governor Brown "a bit of a mixed bag," Combs noted that three other notable gun control measures were signed into law without comment from Brown and will change the state's laws in a number of ways.
Assembly Bill 1014, the "Gun Restraining Order" bill introduced just days after the Isla Vista killings, will provide a framework for the temporary seizure of guns from an individual at the request of their family or friends. The legislation will allow the seizure for up to 21 days, from an otherwise legal gun owner who is believed to pose a "significant danger." This initial order could be extended for as long as a year if the situation warrants. California is the first state to implement this sort of far-reaching measure.
Gun control groups championed the measure in the state legislature and were pleased with its passage into law.
"Today, Governor Brown helped to honor the life of my son, Christopher, and so many others killed by senseless gun violence by signing AB 1014 into law," said Richard Martinez, father of Isla Vista shooting victim Christopher Ross Michaels-Martinez and outreach associate for Everytown for Gun Safety, in a statement emailed to Guns.com. "Nothing we can do will bring back Christopher, but I'm confident this new law will help save lives and prevent other families from experiencing this same kind of tragedy. States around the country should be exploring this life-saving measure."
However, gun rights groups feel the new law gives perhaps too much leeway and is open to abuse.
"AB 1014 trades our Constitutional right of due process for reactionary legislative sensationalism," Combs explained. "While the restraining order bill that was signed today is a far cry from the insanity Assemblymember Skinner introduced in May, you can bet that we will be keeping a close eye on how the Gun Violence Restraining Order system is applied by the courts."
Assembly Bill 1609, also signed by Brown Tuesday, will place restrictions on firearms coming into the state and, according to gun-rights groups, will criminalize common firearm transactions. Beginning in 2015, it would require all guns coming into the state to first be transferred to a Federal Firearms License holder who would perform required background checks and observe state-mandated waiting periods before the gun could then be transferred.
The third bill signed by Brown, Senate Bill 199, legislates increased marking requirements on airsoft guns in the state. Members of the milsim community as well as the National Rifle Association opposed the bill specifically in addition to its stand against the body of legislation as a whole as being a needless requirement in light of federal laws already in place.
Sen. De Leon's office did not reply to emails from Guns.com for comment or statement on his legislation, SB808 and SB199.
In the interests of disclosure, the Firearms Policy Coalition, of which the California Association of Federal Firearm Licensees (CAL-FFL) is allied to, is a Guns.com advertiser.
Source Article from http://www.guns.com/2014/10/01/gov-brown-signs-three-gun-control-bills-kicks-back-ghost-gun-act/