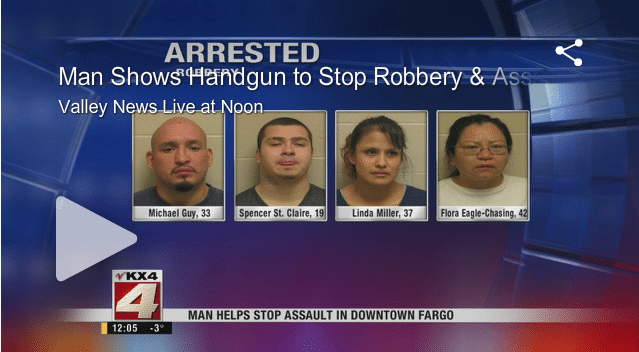 An assault and attempted robbery in Fargo, North Dakota, last week was thwarted by a man who happened to be passing by and also happened to be armed with a handgun.
According to authorities, it was just after noon Dec. 29 when the four suspects, one of whom knew the 36-year-old victim, lured the victim into an alleyway before they knocked him unconscious and took his wallet.
But the good Samaritan walked by as the robbery was underway, approached the gang and brandished his handgun, putting an end to the robbery and assault.
Authorities arrested Spencer St. Claire, 19, and Michael Guy, 33, for robbery. Linda Miller, 37, had an outstanding warrant for a previous misdemeanor assault and also faces robbery charges in addition to felony possession of drug paraphernalia. Flora Eaglechasing, 42, also had an outstanding warrant for failing to appear in court, and now faces a robbery charge as well.
The identity of the victim or the good Samaritan has not been released.
Source Article from http://www.guns.com/2015/01/05/good-samaritan-with-a-gun-stops-assault-robbery-in-progress-video/