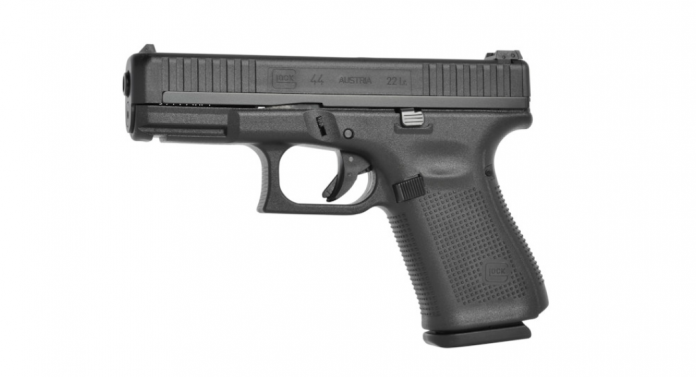 Glock jumps into the rimfire game with a factory model. The G44 is a .22lr with a 10rd magazine in the G19 sized frame.
Yay! I guess.
I like the play on words, or numbers, that Glock managed by making their iteration 44 a .22lr. If you're confused on the numbers when we have a Glock 45, a known G46, and a G48 model also, the numbers traditionally go in order of patent and not release.
GLOCK 44 – REAL GLOCK. NEW CALIBER. EXPERIENCE 22 l.r.
Once you start with perfection – you stay with perfection. The G44 is the ideal pistol to start or enhance your shooting experience. The innovative design of the hybrid steel-polymer slide chambered in our first .22 caliber round provides a lightweight and low recoil functionality for optimal control.
The G44 was thoroughly tested with a wide variety of ammunition to ensure maximum performance and redefine what small can do.
The G44 is a compact size pistol with the ability to adapt to nearly every hand size by using the different backstraps supplied with the pistol. The G44 comes standard with the GLOCK Marksman Barrel (GMB) for increased accuracy and precision.
The right equipment is essential. The G44 comes with adjustable rear sights and two load-assist magazines. Everything that a well prepared shooter needs.

Someone needs to edit their TDP though. Empty and full weight are not measured in millimeters or inches.
All in all, I think they needed to add one, just… it's not that exciting. Glock has needed to add a rimfire trainer, critter getter, and beginner pistol to the lineup for awhile and this looks like the ticket. Especially if it's ammo compatibility is as high as they are claiming it to be and it will chew through almost any box of rimfire you give it.
I would like to see threaded barrels next to add those wonderfully fun rimfire suppressors. But as for 'continuing the legend'? Or whatever the tagline was… meh.