I learned several newbie lessons on my first turkey hunt a few weeks ago, and one of the big ones I would like to share is that I discovered my shotgun was too shiny. This was something that hadn't even occurred to me, until my mentor and I were huddled under an overhanging pine tree – with the dawning sunshine glinting off my gun barrel. Oops! Fortunately the sheen didn't scare off any toms at the time, as nothing got closer than a half mile from where we were situated. But the shine was one more issue to add to my list of problems to correct for my future learning curve.
The shotgun I was using at the time was my Benelli 828U O/U 12 gauge. I usually use this gun for clays and pheasants and I – erroneously it turns out-figured that turkey shouldn't be much different. But when I really thought about it after the fact, I realized that my 3-Gun Benelli M2 would have been the better candidate. Not only did it have a more matte finish naturally, but also being a semi-auto it only required one choke. I hadn't shot any 3-Gun matches in about 2 years, and the gun was just sitting lonely in my safe anyway. So this past week I set about the transformation of my M2 from a gamer gun to a field gun.
The M2 was my first shotgun, purchased because I wanted to learn to shoot 3-Gun. It was an off-the-shelf 21" field model that I found by total serendipity in the middle of the post-Newtown buying panic. Because of the circumstances in how I stumbled across it, (which involves a longer story than I have space for here) I have a bit of a sentimental attachment to the gun, and I felt bad that it had been sitting in the safe for all that time. Although I had had some 3-Gun specific work done on the mechanicals, there was no reason I couldn't use it as a field gun. I was therefore tickled to be able give my first shotgun a new purpose.
The first step was to decide whether I wanted to keep the gamer 8+1 magazine tube, or switch back to the factory tube and spring the gun came with. I did some research to be sure that state game law even permitted me to keep the extended tube. It turns out that I "could", but I'd have to plug the magazine to the lawful 2-shell limit. The alternative was finding which spring (of the many) in my spare parts box was the "original" one, and taking off the extended tube. 
Since I was able to locate an appropriate piece of doweling in my basement (from a broken TV snack table – I admit I'm bad about not throwing things away, but it turns out I was wise to not pitch it, right?) I opted for the former option rather than the latter. I reasoned that plugging would allow me a more rapid switch if any local 3-Gun matches happened to catch my interest after hunting season. I even managed to get the plug inserted without having the magazine spring ricochet off my kitchen ceiling. Yes, I do have hilarious personal experience in that regard – you need to think "Rocket-propelled Slinky".
My next step was to address the color and visibility issue. The M2 finish was matte black by nature, but I figured if I was creating a turkey gun, I ought to go whole hog and camo tape it too. When I couldn't find such tape in the gun accessory section of the big box store, I finally asked, and the clerk directed me to the archery section.  I paid what I thought was a rather outrageous price for glorified athletic wrap, and set about my task. (Hmmm, I wonder if in future I could get away with regular athletic wrap and colored markers? There's an experimental project for another day)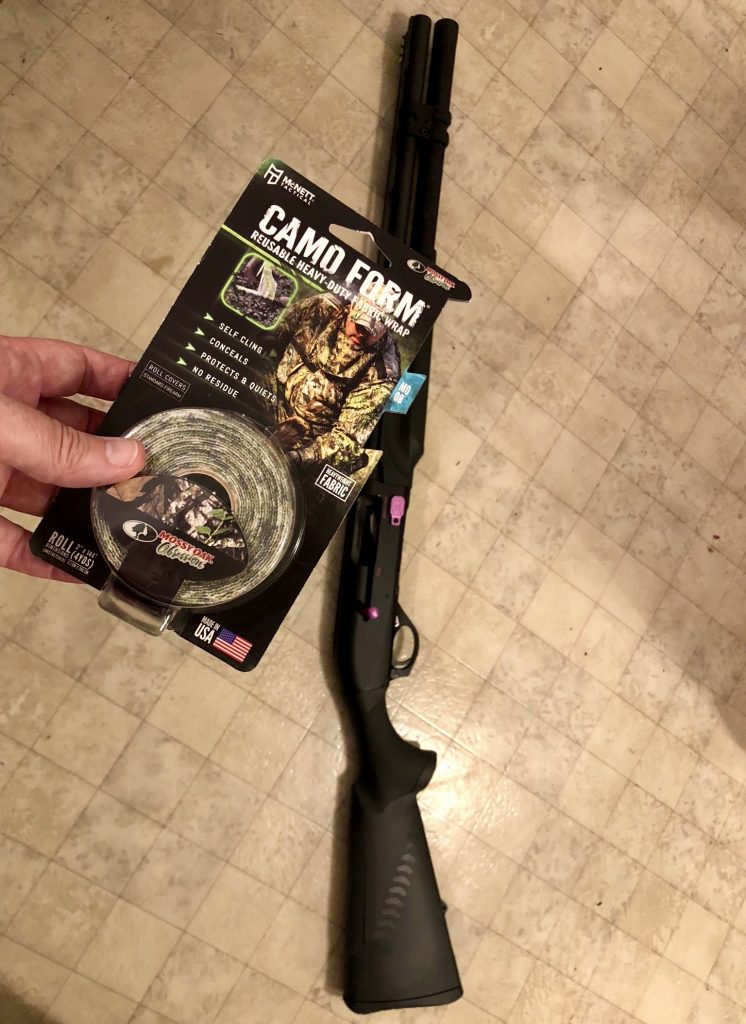 I'm pretty pleased with the end result. It's not perfect, but I couldn't really cover the receiver because of the moving parts needing to do their job. I had replaced the original bolt handle and release button with pink aluminum ones, so those got a patch of camo duct tape each. I will also need to remove the pink nail polish with which I had highlighted the stamping several years ago. Maybe I'll just redo it with a more neutral color. I admit that I am a gal who still likes a little "flair" on my guns – even if it's subdued.
I already patterned the load I had been using before I started the cosmetic changes, so my "new" turkey gun is ready to go. Now I just need the weather to cooperate and stop all the durn raining on my days off. I've got a dozen days left in the season. We'll see.