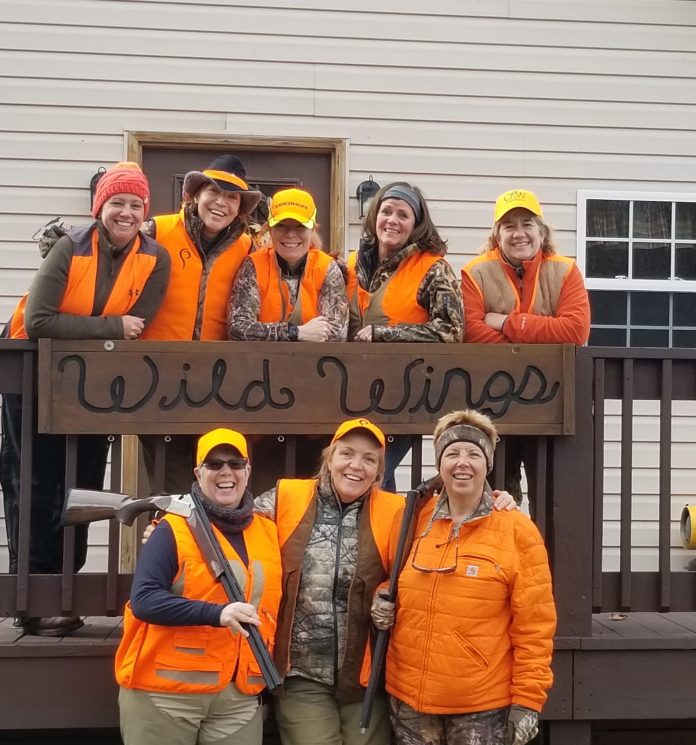 For the last five years or so, I have gone on a yearly November Ladies Pheasant Hunt Weekend organized by Ann Marie Foster of Calibered Events. The weekend is always a blast, but this year we set a personal record. According to Ann Marie, this year our group of eight women hunters (divided into groups of four with a guide and two dogs each), took 35 out of 40 released pheasant and chukar! That's a pretty darn good ratio. The dogs worked hard and so did we!
We had a gorgeous weekend in the mountains of western Maryland in mid-November. Friday 5-stand was a bit chilly and windy, and the weather Saturday for the hunt was clear and cold. But once we got our blood moving in the fields and the sun came up it was quite comfortable. The view from the top of the mountain was gorgeous.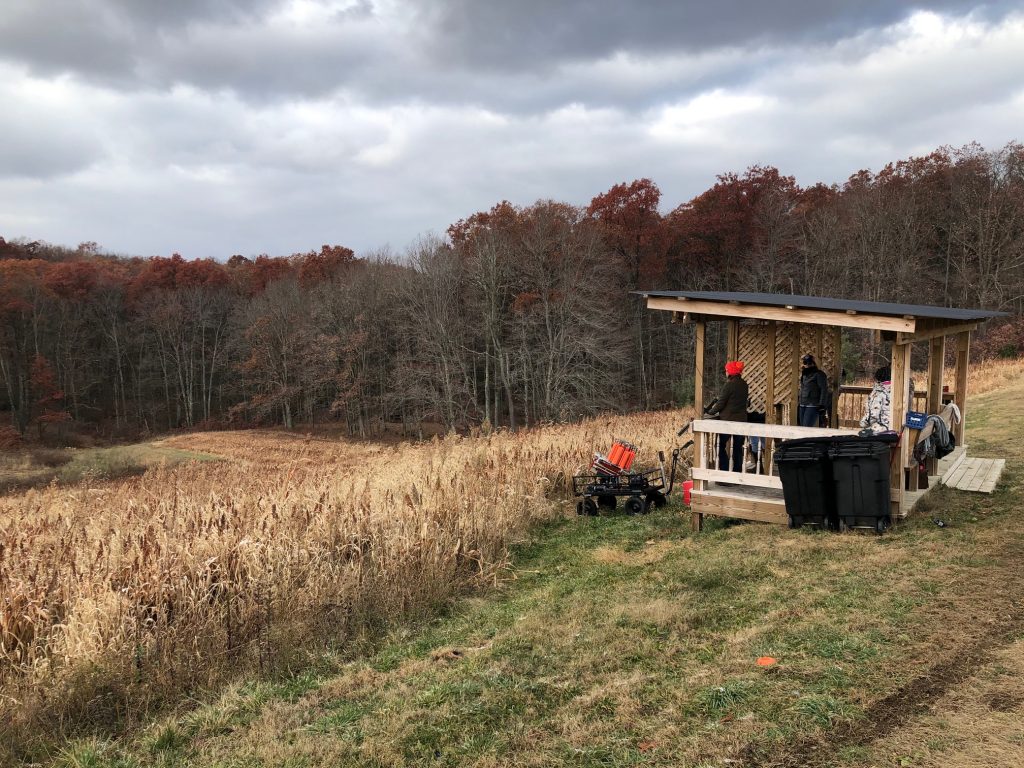 The shooting portions of the weekend took place at Wild Wings Hunting Preserve in Garrett County, Maryland.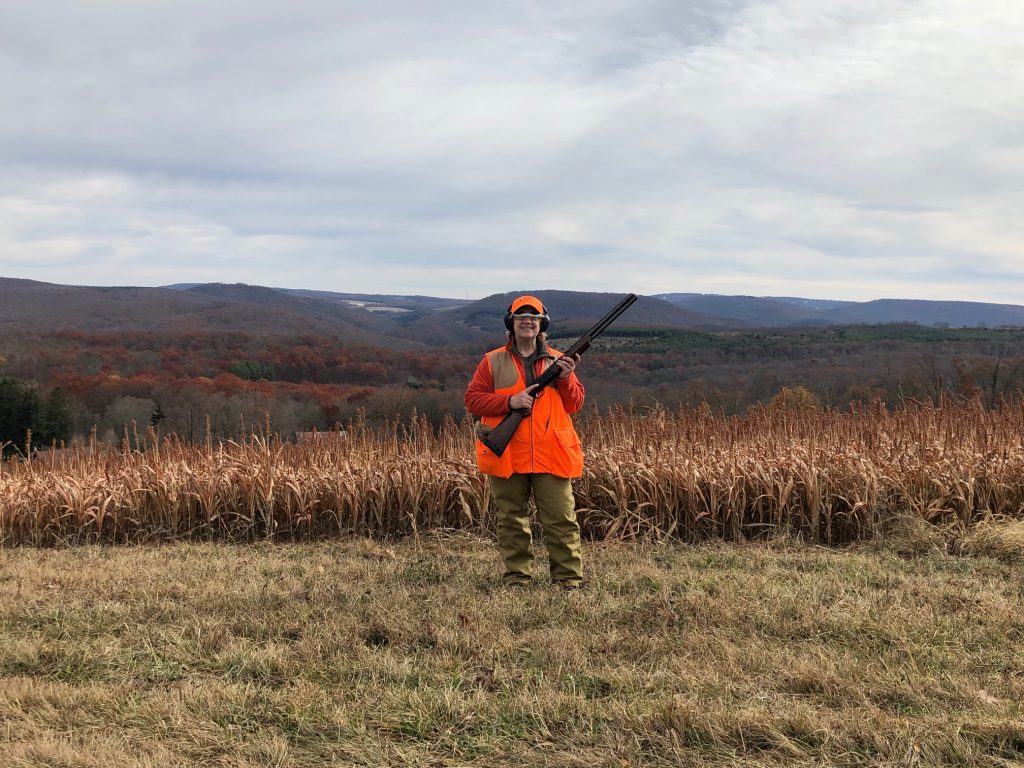 Don and Lisa Calhoun were our gracious hosts. Between the guiding/dog work, the bird cleaning services, and the delicious hot lunch after the hunt, they always make us feel welcome and comfortable.
I never fail get a thrill out of watching the dogs work on these hunts. The German Shorthairs at Wild Wings remind me of the bird dogs my father had when I was a child. As soon as they jumped down from the truck, their hindquarters were literally vibrating with anticipation. Those girls worked the field hard for us, but it was easy to see that they also loved doing it. Watching them bound through the swaths of sorghum reminded me of dolphins cresting and diving through the ocean waves. I could think of few better ways to spend an autumn morning than being in the fields with those women and those dogs.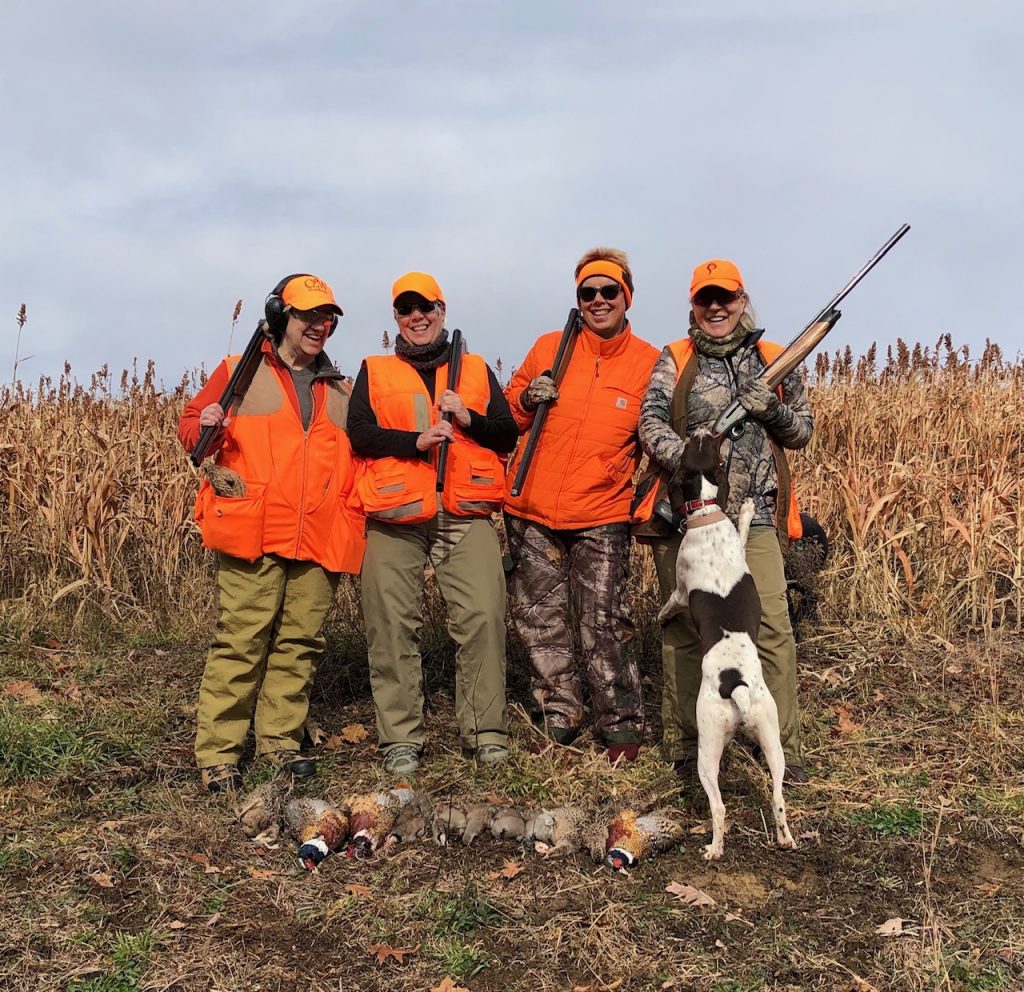 But the weekend wasn't just about the shooting, it's also about the food and the camaraderie. We all stayed in a luxurious off-season resort home (complete with hot tub and sauna) and had a family-style blast together! When women hunters get together the food is always fabulous! Between the venison backstrap, bear bologna, BBQ Bear, and BBQ raccoon, there was a veritable zoo in my belly that weekend! Every bit of it was delicious!
The first time I did this weekend – in about 2015 – I was recovering from surgery and feeling a bit low about myself. I had tried some deer hunting with rifle and crossbow but had not yet been successful. And I had never been bird hunting at all. My shotgun experience at that point had been limited to 3-Gun and sporting clays.
But thanks to Ann Marie and Calibered Events I took my first birds ever on that weekend – while wearing my father's orange upland vest to boot! I not only took my first birds that weekend, I also found a bevy of other women who enjoyed wingshooting! This event has connected me with gal pals from all over the east, and I could not be happier to be associated with these women.
If you are in the area of Wild Wings Hunting Preserve, give them a call for a hunt of your own. Or connect with Calibered Events for one of the ladies hunts next year. If you aren't in the area, consider finding an outfitter to host your own Gal Pal hunting weekend. You won't regret it!