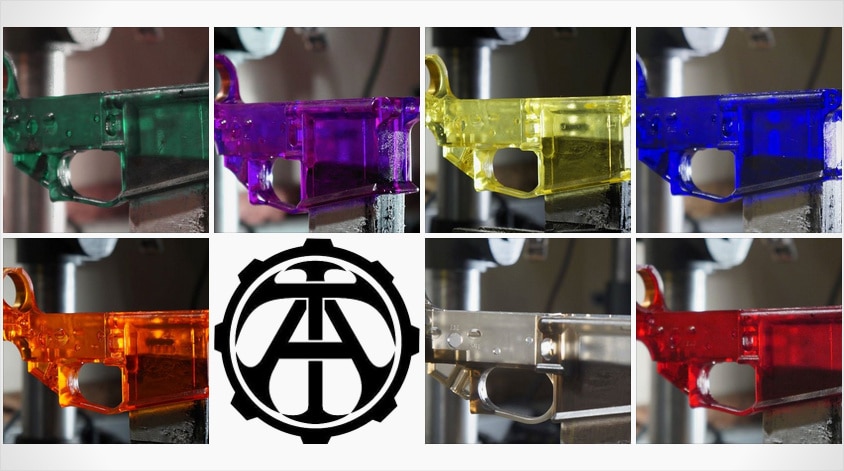 The Tennessee Arms Company is taking its Ghost Gun transparent polymer receiver design even further by launching the receiver in a full spectrum of bright, see-through colors.
Tennessee Arms is one of the leading manufacturers of polymer receivers. The design stands out by molding lowers around marine brass inserts that add strength at critical points and provide true threads for buffer tubes and pistol grips.
First introduce in August 2014, the Ghost Gun receiver plays off California Sen. Kevin De Leon's now-famous "Ghost Gun" speech with the first of its kind, a transparent lower.
Tennessee Arms is now offering the Ghost Gun in a full spectrum of decidedly non-tactical colors, blue, purple, crimson, yellow, orange and green. Smoke is also an option for shooters who insist on a little black rifle in even see-through builds.
The company's gone a bit off the reservation when it comes to polymer receiver construction to make these lowers transparent. These receivers are not reinforced, which makes them guns for show, fun time at the range or to really stand out in a competition setting.
The transparent receivers are still entirely capable of being used for standard centerfire rifle builds, they're just not going to stand up to abuse like fiber-reinforced receivers do. In other words, if you're only going to have one AR, build it on one of their standard lowers.
These receivers are more than just eye-catching, they're super lightweight. Without the reinforcement fill they weigh just 3.6 ounces, including the brass inserts, making them suitable for a featherweight build like a backpacking pistol.
Sure, they're not the most practical products on the market, but this is America, land of the arm brace and the Can Cannon. For recreational shooting it's hard to top these see-through lower receivers for building a flashy rifle.
Tennessee Arms is making it easy for people to get a see-through lower of their own, too, with low prices in everyone's reach. Tinted Ghost Gun lowers are priced at $65 and for an extra $10 you can have yours professionally flame-polished.
The molding equipment used to make polymer lowers leaves a slightly rough texture on the lowers' walls. While this is a non-issue with standard lowers it gives the transparent polymer a foggy finish.
Heating the receivers with a torch liquefies the surface briefly, leaving a much glassier finish behind. This process isn't for the faint of heart — or anyone who doesn't own a blowtorch — so for an extra 10 bucks it's a nice option for people who don't want to risk melting or warping their brand-new see-through lower receiver.
The Tennessee Arms company is pushing polymer design to new limits. These are absolutely unique lower receivers that blend flash with function and while nobody's saying they're as tough as a standard lower, alloy or reinforced polymer, these are real AR-15 lower receivers, and you can really see right through them.
For more information about these and other Tennessee Arms products including its upcoming .308 AR-10-style lower visit the Tennessee Arms Company website and to see what's next on the horizon head over to the company's Facebook page.
Source Article from http://www.guns.com/2015/01/13/full-spectrum-of-ghost-guns-by-tenn-arms-co/