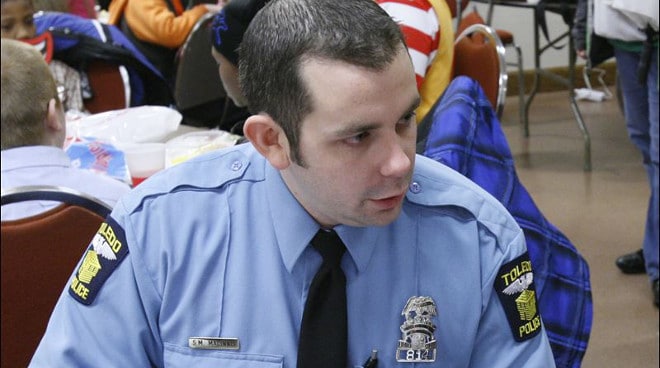 A former Toledo police officer is facing a handful of gun-related charges after allegedly shooting a gun at a wedding reception in Michigan last weekend.
While no one was hurt, the former officer, Scott MacInnis, faces charges of felony firearms possession, assault with a deadly weapon and discharging a firearm from a vehicle and is being held in jail instead of posting a $2,500 bond.
Speaking to the Toledo Blade, Plymouth Township Detective Charles Rozum said that MacInnis got into a confrontation with friends early Sunday morning after the wedding reception Saturday night. MacInnis went to his car, his friends followed at which point he pulled a handgun out and fired at least two times, hitting no one.
The detective said there was no sign that MacInnis was under the influence of drugs or alcohol at the time he is accused of firing the gun.
MacInnis retired from the Toledo Police Department after a police investigation uncovered that he and his then-girlfriend, Jada Smith, also a Toledo police officer, were buying cocaine at local strip club in October 2013.
During the investigation, the couple got into an argument that, like the wedding, ended in gunfire, this time with Smith shooting her duty pistol at his apartment. Also like the wedding, no one was injured, but no charges were filed following the first incident.
Source Article from http://www.guns.com/2014/10/29/former-toledo-cop-facing-multiple-gun-related-charges/