Rock-solid performance and priceless pedigree from this true-to-spec DMR rifle.
For those lucky enough to attend the 2015 SHOT Show, you may have noted among the several acres of guns and gear that the FNH USA team unveiled their latest in a very long line of high quality firearms. Among these was the Designated Marksman Rifle (DMR), built around the proven FN 15 AR platform, but upgraded with all the contemporary features of a high-end duty or competition rifle. Beyond its enviable pedigree as a product of FNH, the new DMR belongs to a niche of weapon systems that have served the military for generations, but have really come into their own only in the last 10 or so years.
For those not familiar with the Designated Marksman (DM) concept, and by extension the DMR, a short review may be useful. Often called "sharpshooters", DMs have been employed at least informally since the 18th century. In general, the DM is a specially selected infantryman (or LEO) whose mission is to provide accurate fires in support of his unit at ranges in the "no man's land," beyond that of typical infantry small arms, but not as far or precise as a sniper. The commonly accepted distance is between 300 and 800 meters, though this varies with the organization employing the DM. While terminology and methods of employment do sometimes overlap, the DM is not a true sniper. A sniper is a person who has been highly trained, often over a period of many months, in long range (1000 meters+) precision marksmanship, field craft and observation techniques, among other skills. The sniper is capable of eliminating specified targets from long range, but is most often employed as part of a small, independent team whose missions are frequently executed from a hide position behind enemy lines. As such, the sniper's primary weapon is most often a customized bolt-action rifle of .30 caliber or up, topped with a high-power scope, though semi-autos are becoming more common. By contrast, the DM is trained to a lesser degree, and usually maneuvers with his unit. The DMR itself has thus most often been a weapon similar to the unit's standard-issue infantry rifle, usually with enhanced optics, better ammunition or other improvements designed to increase range, precision, and lethality.
DMs and DMRs are still evolving. The specialized rifles we now call DMRs started to appear in World War II, with the Soviets later fielding the now ubiquitous SVD or "Dragunov" in the 1960s, arguably the first purpose-built DMR to be developed as such from the ground up. After the start of the "Global War on Terror" in 2001, the U. S. military began pressing scoped M14s and M16s into service as DMRs in Operation Iraqi Freedom and Operation Enduring Freedom. These gradually morphed into multiple configurations depending on who employed them, with varied results. In the past several years, however, the DM concept has matured significantly. With this evolution, multiple DMRs have been developed by many major manufacturers in response to the growing demand by many of our military warfighters and law enforcement professionals.
Examples include, but are not limited to, the USMC SAM-R, USN Mk-12 SPR, and Army M110 SASS. As the war continues, the DMRs contemporary characteristics have likewise standardized to a degree; direct gas or piston operated semi-auto, low power optic (<6x), free floated barrel of 16 inches or greater, match trigger and high-quality furniture to enhance handling characteristics. Heavier, match-grade loadings with capabilities beyond the usual issue rounds are frequently employed, though in a pinch the more common rounds can be used. For we Americans, DMRs using ammo in calibers 5.56 NATO or 7.62 NATO are typical, though .300 Blackout, 6.8 SPC and other calibers can also be found.
The construction of the FNH DMR is faithful to the current mold of DMR rifles now being fielded. The heart of the system is the 18-inch, cold-hammer-forged, free-floated, chrome-lined, match–grade barrel with a rifle length gas system, 5.56 chamber and 1:7" twist. While mid-length gas systems are becoming more and more common, rifle-length systems are still less so in weapons of this type. Tipped with the Surefire ProComp 556 muzzle brake, it promised to be about as soft shooting as you could get in an AR, along with better accuracy potential using heavier loadings. The barrel was mated to the proven FN 15 hard-anodized aluminum upper riding on the usual FNH AR lower receiver, with typical mil-spec bolt-carrier group and charging handle. Mil-spec fire controls were likewise all in their normal places, with nothing fancy added, such as ambi-safeties, improved bolt release, or QD attachment points. The focus was instead placed on the all-important trigger, in this case a Timney Competition single-stage model. Timney triggers are well-known for their excellent performance and this one was no exception, breaking very crisply at just over three pounds on my RCBS gauge. The DMR was rounded out with a Midwest Industries 15-inch SSM M-LOK handguard. Instead of KeyMod-type keyholes, the M-LOK system has rectangular cut outs along seven of the eight flats, with the top being a full-length, T-marked Picatinny rail.
The smaller cutouts on the 3, 6 and 9 o'clock sides are able to take M-LOK segments to attach flashlights or other gear wherever the user desires. Small scallops cut at one inch intervals along the sides and bottom assist with maintaining a firm grip. The whole affair is true to the minimalist, skeletal nature of KeyMod and M-LOK rails—strong, smooth, thin and very light. I am a big fan of the original BCM model, but this one is at least as good. The remainder of the DMR mounted furniture from MagPul includes an adjustable STR stock, MOE grip, Magpul trigger guard and a set of the relatively new MBUS Pro flip-up sights. The latter are metal and thus slightly more robust than their non-Pro polymer cousins, without the spring-loaded pop-up feature. Altogether the FNH DMR weighs 7.2 pounds and comes with one Gen 3 30-round PMAG.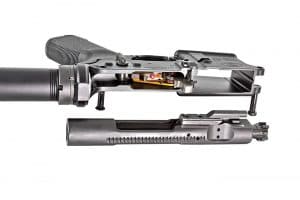 A quality optic is necessary to make a modern DMR a DMR. For my test, the nice people in the front office at On Target managed to secure a Burris XTRII 1-5X in a PEPR mount for me, augmented with a Burris FastFire red-dot. This second-focal plane scope had the Ballistic 5.56 Gen 3 reticle, which is an inverted 2.25 mil horseshoe with .25 mil center dot, and a .125 mil dot below it for 200 and another below that for 300 yard shots. The horseshoe can be illuminated to any of 11 settings, with the bottom stadia lines numbered to assist with holds to 1,000 yards, while the horizontal stadia subtend every .5 mils. The glass seemed clear and the reticle busy but useful for quick, accurate shots, while .1 mil clicks on the zero-stop turrets were positive. The PEPR mount was solid and retained zero. The FastFire, which sat forward atop the PEPR on a two-slot rail, was about as tiny and light as it could be yet still be useful. It would have been a welcome addition if I had to execute CQB scenarios, even though the cheek-weld was more like a chin-weld when using it. The optic(s) and mount added about 1.75 pounds to the DMR, which is significant but acceptable given the mission-profile the weapon was designed for.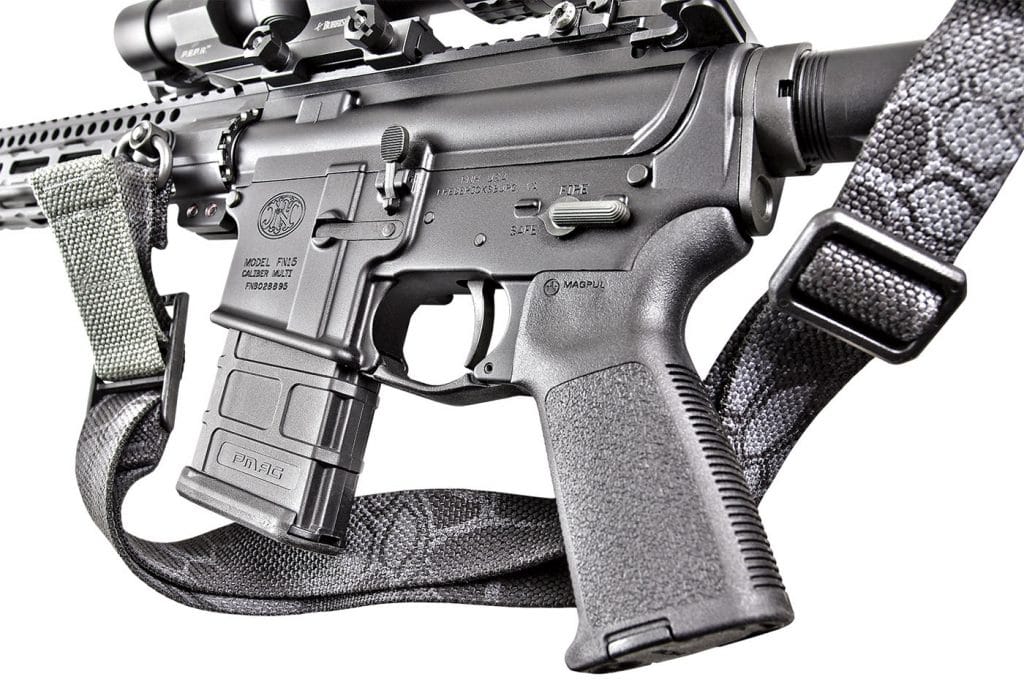 Shooting the FNH DMR lived up to expectations. The combination of the rifle-length gas system and Surefire muzzle brake kept recoil not just manageable but downright negligible. A small price paid was in the noise and blast signature from the two-port brake. If I had to change one thing on this rifle, it would be in this area. A muzzle device that focuses a bit less on recoil mitigation, which is already very good, and more on reducing sound signature, as well as possibly adding a suppressor, may be worth considering for a true DMR. However, in the all-important area of accuracy there is nothing to complain about, though I had to work for it.
I was shooting from prone off a rucksack on a warm, sunny day with no wind, but as we recently had experienced heavy rains it was soggy and prone to a touch of mirage even at 100 yards. Combined with increasing shadow from nearby trees as the day wound on, and a determined visit from the local contingent of eastern Carolina misquotes, it made for some challenges to wring out the most optimal accuracy. As designed the FNH DMR is capable of 2-MOA accuracy with quality ammo, and this is probably conservative. I fired half-a-dozen different types of 5.56 and .223 ammo, fully anticipating the DMR would tend to prefer the heavier loadings given its 1:7 twist rate. Sure enough, Norma Match .223 Sierra Matchking 77-gr. HPBT put five shots nearly centered inside 1.5 inches. The other two 75- and 77-grain match loads from Hornady and Federal did nearly as well, with groups usually slightly larger due to one flyer, with the best four almost all inside an inch. Reliability was perfect throughout, despite the fact I did not lube the DMR at all.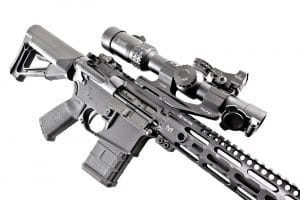 Even though they weren't used for precision testing, the Magpul MBUS Pro iron sights are top notch. The front post is slightly tapered to enable a finer sight picture, and adjustments with the bare fingers were easy. In less than 10 rounds at 50 yards I had the DMR zeroed, with five rounds of Federal 62-gr. M855 green tip nearly touching inside an inch. Winchester 5.56 FMJ 55-gr. "white box" put all five into about 2.5 inches at 100 yards. Accuracy testing done, I emptied a magazine into a 9-inch steel swinger firing from kneeling at 50 yards as fast as I could just for fun. No issues—and no misses—given the DMR's lack of recoil and perfect reliability.
FNH USA has a winner in the DMR. It does everything it was intended to do, and would be suitable for either DMR work or civilian competition. The MSRP is $1,899. The Timney trigger, rifle length gas system and MI SSM handguard alone make it worth the price. And, of course, a garage-built AR won't have the FNH pedigree or quality backed by a factory warranty. Your mission should drive your choice of equipment. If your mission includes a DMR requirement, or good competition performance, take a look at the FNH USA FN 15 DMR at you local dealer, or for more information, contact FNH USA, Dept. OT; Tel.: (703) 288-3500; Web: www.fnhusa.com
Source Article from http://ontargetmagazine.com/2016/04/fnh-usa-fn-15-dmr-rifle/