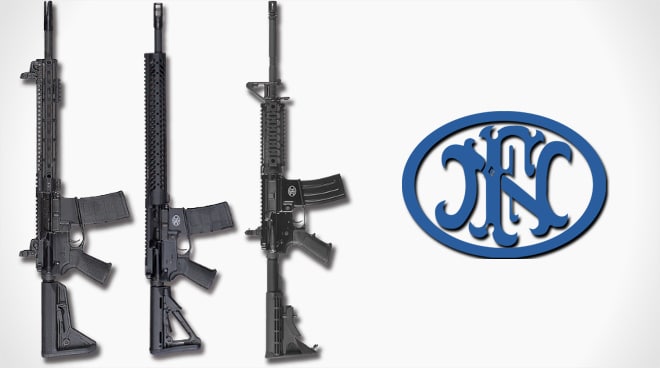 FN America is now officially unveiling products for next year,  and it's bigger than ever before, featuring a spread of new pistols and rifles in a variety of updated configurations.
Leading the wave of new products is the recently-confirmed FNS Compact series of pistols. Based on the company's well-established FNS service pistols, the Compacts have shortened slides and grips for improved concealability.
The compacts have solid capacity with 12-round 9mm magazines and 10-round .40 S&W mags. They can be used with full-size 17- and 14- round 9mm and .40 S&W magazines with grip extensions and ship with two compact and one full-size magazine in a locking hard case.
These guns stick to the FNS pricing scheme with the MSRP set at $599 and real-world prices are already listing for less. They have all the same features as the full-size models with true ambidextrous controls and optional night sights and manual thumb safeties.
Following the new FNS Compacts are five new AR-15 rifles for competition and duty that greatly expand the FN 15 series. The original models — commercial variants of the military contract M4 and M16 rifles — will remain in production.
Magpul's new M-Lock mounting is prominently featured with FN's MOE SLG and Tactical Carbine. The MOE SLG is an updated version of the FN 15 Carbine that sport the new MOE SL furniture set along with a Magpul MBUS rear sight and PMAG magazine.
The Tactical Carbine takes things one step further adding a mid-length gas system, free-floating Midwest Industries M-Lok handguard and flip-up MBUS front sight to match the rear.
FN's Patrol Carbine keeps things traditional, in a tactical sense, with a fixed Midwest Industries Picatinny rail handguard, steel folding and standard aluminum magazine.
All three of these rifles have 16-inch barrels chambered for 5.56 NATO with button-broached, chrome-lined 1-in-7 bores. The MOE SLG and Patrol carbine are topped with A2-style flash hiders where the Tactical Carbine is fit with an extended three-prong flash hider.
FN is launching two special purpose-style rifles with the FN 15 Sporting and DMR models. Both have 18-inch barrels, two-baffle SureFire Procomp muzzle brakes, standard Magpul MOE buttstocks and pistol grips, PMAGs and competition Timney triggers.
The DMR completed with a free-floating Midwest Industries handguard where the Sporting model is built with a Samson Evolution rail. Lastly, the Sporting model is chambered for .223 Remington, unlike the rest of the rifles, although it does have a 1-in-7-inch twist for heavy 77-grain loads.
With these new rifles FN is positioned to appeal to a much wider market. The original FN 15 models catered to shooters looking to own the same rifles issued to troops around the world, a saturated market previously dominated by Colt. Now FN can sell to a broad spectrum of shooters from hunters to run-and-gunners as well as police departments looking to stay on the forefront of technology.
FN has priced these new carbines competitively starting at $1,169 for the MOE SLG, $1,219 for the Patrol Carbine and $1,479 for the Tactical Carbine. The Sporting and DMR carbines, with their premium fire control groups and other accessories are the most expensive at $1,749 and $1,899 but of course real-world prices will be a couple hundred less, even more for the high-end models.
FN users know that the company is no slouch when it comes to quality and construction. From the FNS pistols, which have excellent striker-fired triggers and a slim design to the FN 15 series, with color-matched finish and renown reliability, with FN you get your money's worth.
While it's taken a bit longer than expected, it's great to see FN finally deliver with these long-awaited guns. Availability should be right off the bat starting next year.
Source Article from http://www.guns.com/2014/12/29/fn-america-officially-debuts-expanded-2015-catalog/