The real deal (minus a couple details)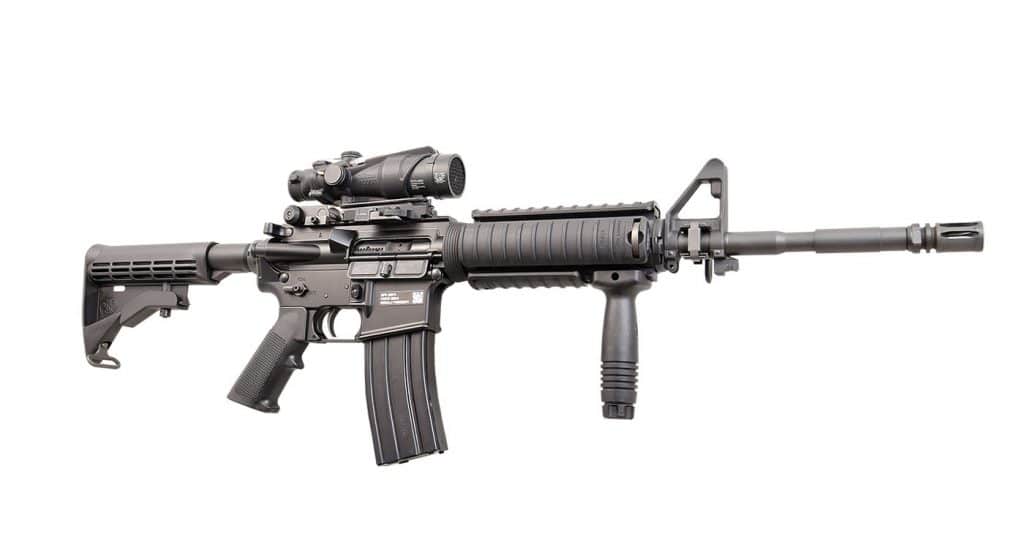 Like many weapons enthusiasts, I am fond of historic military firearms. Among those I am proud to own is a genuine 1943 Springfield .30-06 M1 Garand. It sits prominently displayed on a plaque above the window in my office/man-cave, the gift of my very supportive and generous family upon retirement from the U. S. Marine Corps. The Garand, like its older cousin the Springfield M1903, are enduring symbols of the fighting prowess, dedication and sacrifice of at least two generations of combat soldiers and Marines during conflicts from World War II to the Korean War and beyond. Since the glory days of the Garand, American fighting men (and women) have utilized only two other primary infantry rifles, the M14 and the M16/M4. The M14, while a fine platform which has served all the way into the current War on Terror, has been largely superseded by other more modern semi-auto systems. The M16M4 in 5.56×45 NATO, on the other hand, continues to serve in various configurations as it has since its introduction over 50 years ago. The type most commonly seen now is the M4 Carbine, which if not yet ubiquitous is something very close to it, having found a dedicated following throughout the armed services, as well as law enforcement agencies and civilians across the country.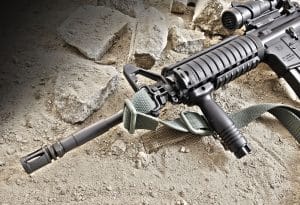 FN America, the U.S. division of the famous Fabrique National Herstal, has been manufacturing the M16/M4, along with another famous maker, in support of military demands for many years. It recently introduced civilian-legal AR-15s in several configurations and is now offering near-replica M16 rifles and M4 carbines as part of its Military Collector Series (both $1,749).
Every weapon has a pedigree, and the M4 carbine is no exception. There are a very limited number of military firearms out there that can boast a service record extending five plus decades and counting. Many are or have been made by FN. The current M4 is the product of evolving needs that have emerged from conflicts since Vietnam and into the current wars against radical Islamic fundamentalist nut-jobs and other murdering scumbags around the world.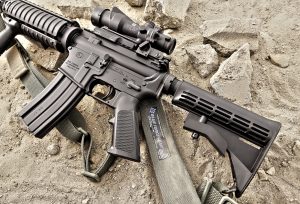 To list all the changes and configurations that have been done to the M16/M4 since the 1960s would take much more time and space than we have here to do it justice. Suffice it to say that at this point the military has largely transitioned from the 20-inch, rifle-length M16A1, A2 and A4 configurations toward the carbine length, 14.5-inch barreled M4 for general use. In fact, in late 2015 the Marines began redistributing M4s as their primary infantry rifle, while assigning the still very capable M16A4s to service troops. Priorities change. With most ground troops now riding in MRAPs or IED resistant vehicles, and having to do everything from patrols in the mountains to cordon-and-knocks in the confines of a village or city, the longer, fixed-stock M16 A2/A4 was fairly unwieldy. While the longer barrels and gas systems will usually win out in the range, accuracy and reliability departments, the M4 will win for weight, versatility and handiness, especially in tight quarters. For those engagements inside 300 meters, which is where most infantry gunfights take place, the M4 carbine works fine. For engagements outside 300 meters, we have DMRs, IARs, machine guns, mortars and air support, among other things, with which to bring coordinated mayhem upon the enemy. The M4 is thus a popular weapon system among most troops, for good reason. It does not, however, mean it has not had its share of controversy. It has often been accused of less-than-stellar reliability under combat conditions, with its shorter barrel and gas system sometimes negatively influencing the accuracy and lethality desired at distance on mainly skinny, hairy, unarmored targets. Feedback and studies now abound. Some of the M4's reputation is based on truth, some on issue ammunition and some on anecdotal "Lance Corporal folklore".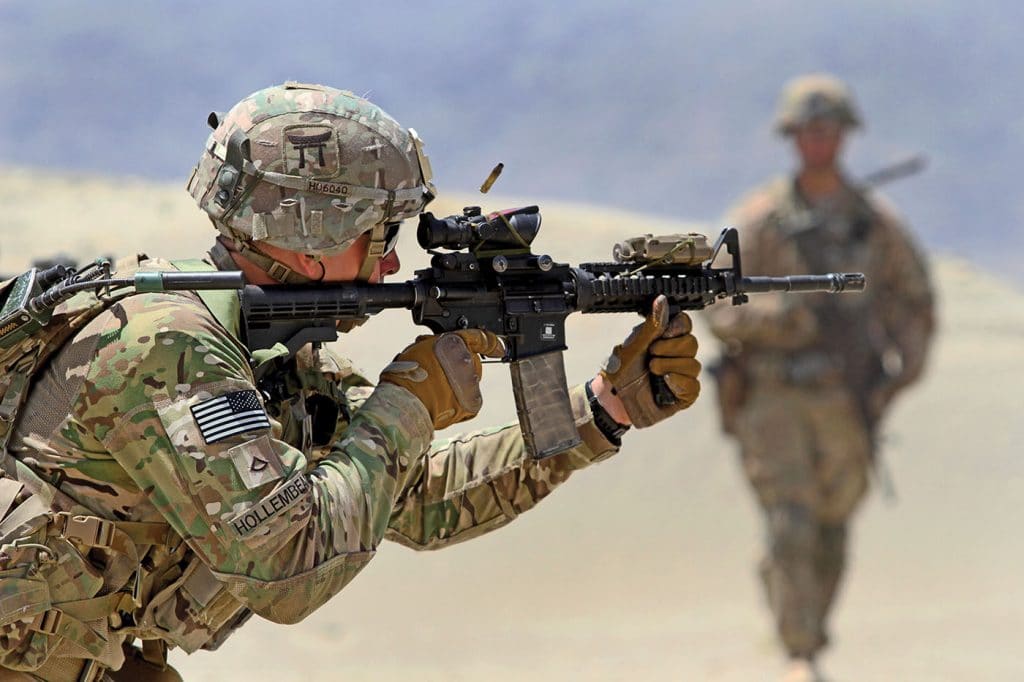 In any event, there have been formal attempts made in the last several years to find a replacement via competitive tests sponsored by the U.S. Army. These tests were, by many accounts, influenced by politics, both the inter-service and government types, which may have colored the conclusions. So, better or not, the M4 was determined to be good enough. The end result is its still out there fighting today, although some of our spec ops forces have gravitated to other (largely piston-driven) systems.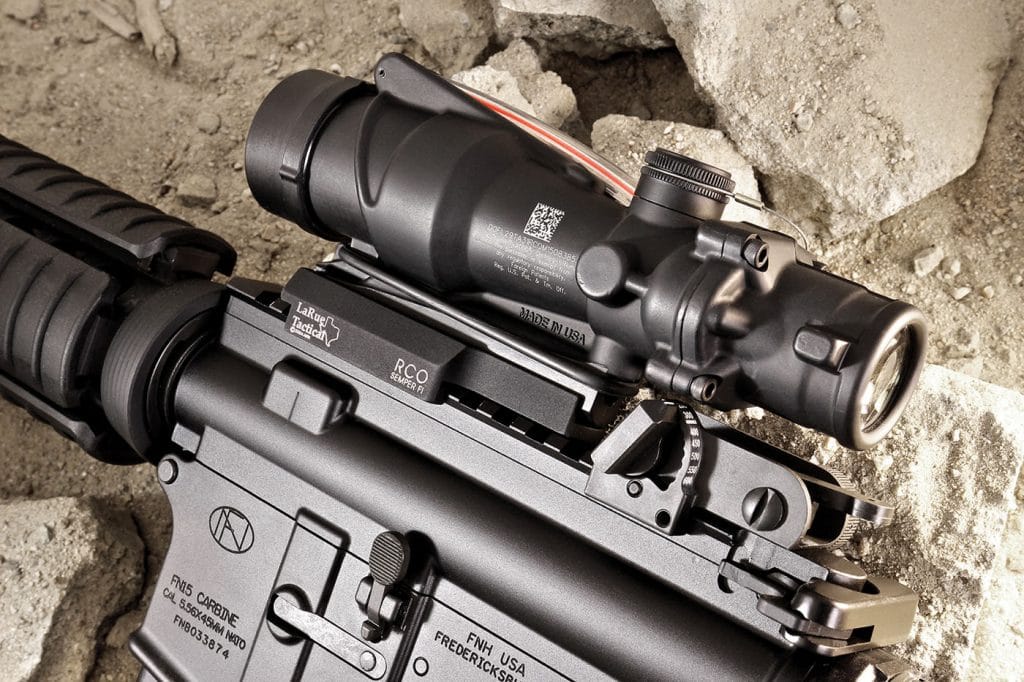 The FN America Military Collector Series M4 I received is a nearly exact copy of what our warfighters are currently issued. I say nearly exact, because the FN Collector M4 has a 16-inch barrel versus the 14.5-inch military version, and is semi-auto versus full-auto (M4A1) or three-round burst capable. Beyond that, it's a clone down to the last Mil-Spec detail. The upper and lower receivers are 7075 hard-anodized aluminum, while the barrel is FN America's chrome-lined, button-broached, 1:7" twist with fixed A2 sight tower, topped with a birdcage flash hider and a cutout for an M203 grenade launcher. The receiver is roll-marked with the FN label, and also has a UID tag for an authentic touch. The controls are all in their usual places, and include an ambidextrous safety. A set of high-end Knights Armament (KAC) RAS forearm and rail panels were also included. Born of the SOPMOD Block 1 upgrades, these allow the addition of a variety of accessories, including in this case a KAC detachable vertical broomstick foregrip. On the less high but authentic end, the FN M4 had the standard issue AR pistol grip and 6-position collapsible stock. On a personally-owned AR I would have replaced these straightaway for something better, but most of our troops cannot do this, so they stayed on.
For testing I mounted a 4×32 Trijicon Rifle Combat Optic (RCO) on a Larue Tactical RCO QD mount on the flattop Picatinny-railed upper. While the Larue mount is different from the issue dual-screw type, the RCO is true to what our Marines currently carry, and it is a force multiplier. The red-chevron is fiber-optic and tritium illuminated, while marked stadia lines lie both vertically and horizontally to assist with rapid range estimation and wind correction. Combined with very clear glass and robust construction, the RCO significantly increases the accuracy potential of the M4 and aids in observation at extended ranges. Together the carbine and optic weighed in at 6.75 pounds. The whole package came in a hard cardboard case with an 30-round aluminum magazine, and various FN literature.
I essentially knew what to expect from accuracy testing with the FN M4, as I was certainly dealing with a known quantity. Most ARs are capable of 2- to 3-MOA accuracy or better depending on what you feed them, and I anticipated at least that with the RCO mounted on the M4. I thus decided to test the weapon as if I was on a QD course, firing from the prone using the magazine for a monopod. This would not wring out the true intrinsic accuracy of the M4/RCO combination, but would give a good idea what to expect for practical accuracy from the hands of an average serviceman under normal conditions. I had previously measured the Mil-Spec, single-stage trigger at exactly six pounds, which is slightly better than most.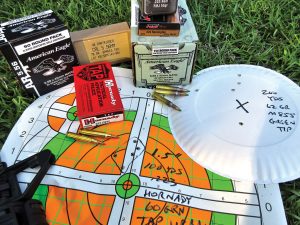 I got started at 50 yards by establishing a good 50 to 200 yard zero with the RCO and rear KAC BUIS. A common issue with the rear BUIS mounted is that the fixed-power RCO sits a little too far forward to get good eye relief, forcing me to bring the stock in a bit more than usual. With a fixed stock M16A2 or A4, this is not an option and eye relief can be a problem. Nevertheless, I was able to put 5-round groups inside an inch or so without much trouble. I also shot a few drills, such as the Modified Navy Qual, in which the M4 was easy to manipulate and get quick hits, with my times nearly on par with those shot from more upgraded ARs. As the 100-yard range was not available, I went to the 200-yard range to see what I could do on some Mk1 Mod0 8-inch paper plates using Federal AE 62-grain M855. My first group was just under four inches using M855, strung vertically save for a called flyer. Not match accuracy, but well inside minute-of-jihadist, and shot fairly quickly. Good.
Several days later the 100-yard range was open, so on a cool, sunny afternoon I commenced trying six different loads, including military-issue Federal AE 55-grain M193, Federal AE M855, MFS 55-grain, PMC 55-grain, Wolf Gold 55-grain, Hornaday 60-grain TAP Urban and a rare box of military-loaded 70-grain Barnes TSX. Most shot inside 2 to 3 inches, with the Hornady winning the prize with 5-shot groups averaging 1.5 inches, though I managed a fluke 1-inch group from the MFS 55-grain as well. Again, I was not shooting from a Ransom Rest, so it is very likely that this M4 is capable of much better accuracy than I am. What it did do was digest 200+ rounds over two days with no malfunctions of any kind straight out of the box—and with no lube—from six different types of common metal and synthetic magazines. Not combat conditions, to be sure, but with a little lube and maintenance at the right intervals I have every reason to think it would continue to perform just as well for years.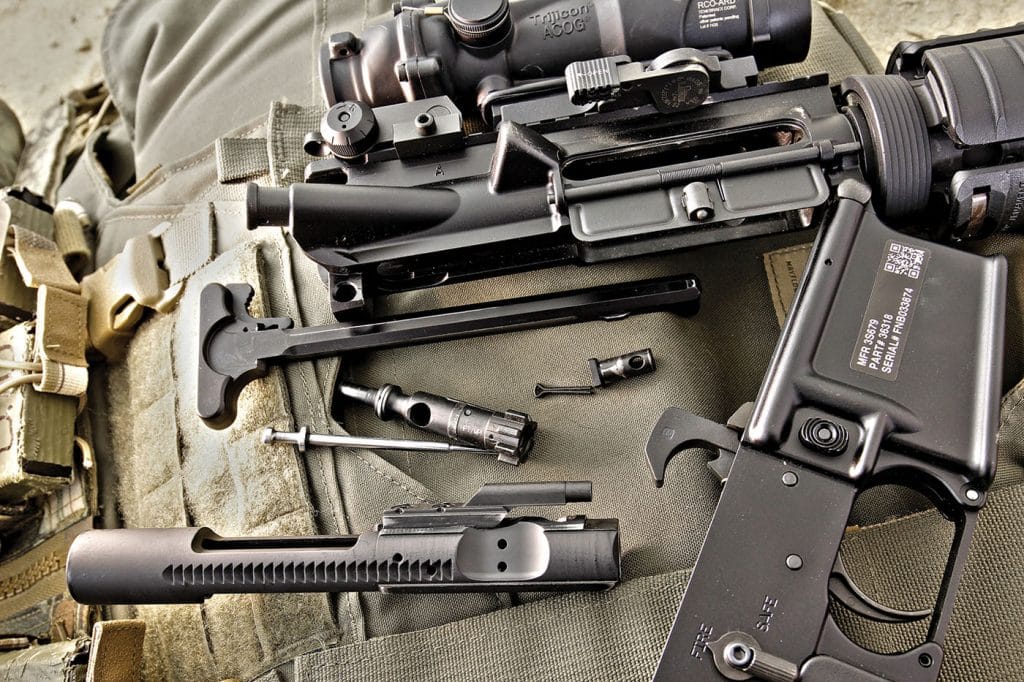 Unlike the Garand or other battle rifles from the days of old, the FN America Military Collector Series M4 carbine is based upon one still serving our armed forces against foes around the world. In a day when we see the proliferation of mid-length and piston gas systems, along with every conceivable device that can be hung or bolted on an AR, the M4 still charges on. I expect its got at least another decade of service ahead of it. Civilian enthusiasts can enjoy the nostalgia of a collector's item, as well as a carbine which is still both modern and fully serviceable for any law-abiding purpose you choose. While I will likely never have to use my Garand to defend my home, I could, and I can confirm it works as well as it did wherever it served before it found its way to me. But the FN America M4 Carbine has some advantages the Garand just can't match, and its just as iconic. See it at your gun shop, or contact FN America, Dept. OT; Tel.: (703) 288-3500; Web: www.fnamerica.com
Source Article from http://ontargetmagazine.com/2016/11/fn-america-military-collector-series-m4-carbine/