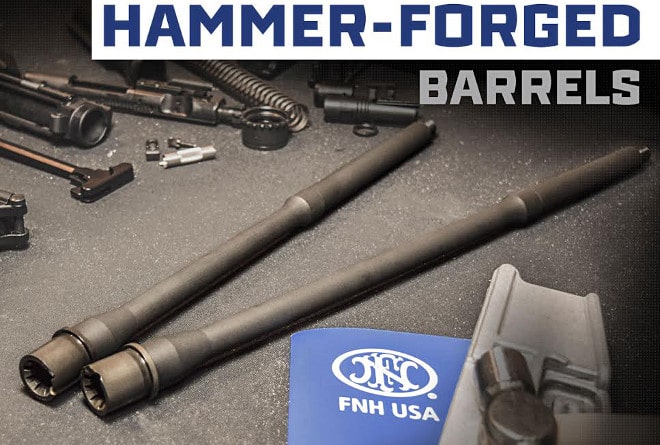 FN America is now offering its AR-15 barrels on the commercial market. The consumer-oriented barrels are made to the same standards as the barrels made for the military and FN 15 AR-pattern rifles.
There are dozens of AR barrel makers to choose from and while there are many good ones out there, there are plenty of so-so companies and even mystery brands where any purchase is a toss of the dice.
FN is making it easy for builders knowing they're getting a solid product. These are the same as the barrels used in M4 and M16 rifles every day by people who count on their guns in the most serious situations.
By putting its Mil-Spec barrels on the market FN is giving people a straightforward option for assembling and maintaining their rifles.
FN is starting with a selection of five 5.56 NATO government-profile barrels from 14.5-inch carbine lengths to 20-inch rifle lengths. They're built using the same chromalloy steel as FN's military barrels using the same cold hammer-forging process and have the same chrome-lined bores and chambers.
"FN barrels are among the best in the world," said Mark Cherpes, the company's CEO.
What users get with an FN barrel isn't just about the build and the materials used but the quality control process. FN's barrels undergo both automated and manual inspection and if a single flaw is found the barrel is discarded.
The only significant change is that the carbine-length barrels don't have an M4 cutout for grenade launchers and other barrel-mounted accessories. This is part of a larger trend away from the standard M4-profile barrel and a welcome omission for builders who prefer the clean lines of a straight barrel. They do, of course, have M4 feed ramps.
The carbine-length barrels are priced at $349 and the rifle-length barrels $379. That's MSRP so street prices are likely to be a good bit less than that.
In these configurations FN isn't looking to turn heads. There are plenty of other options for the custom rifle builder and FN isn't targeting that crowd. That doesn't mean these don't have mass appeal.
FN barrels promise high quality, great longevity and the option of not having to make a lot of decisions. Just pick a barrel and build.
Source Article from http://www.guns.com/2014/11/04/fn-america-jumps-into-the-ar-15-barrel-market/