By Dave Bahde
Photos by Dave Bahde and courtesy of FN America
---
The new FN509 is a shining example of contract trickle-down benefits to the commercial market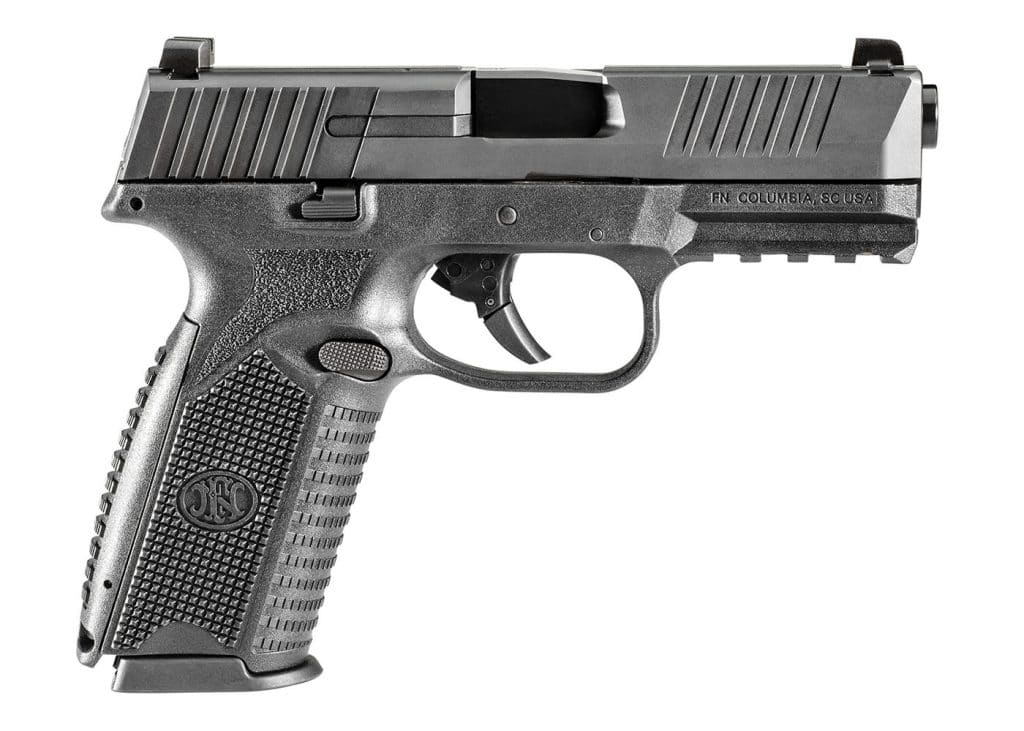 One of the bi-products of competitive military contracts is the weapons not chosen usually wind up hitting the commercial market. Most contracts are so lucrative it drives major manufacturers to compete. Many features requested by these competitions are valuable to all. The Army's MHS (Military Handgun Selection) pistol contract is a perfect example, bringing some very solid pistols to the commercial market this year. The 9mm FN America FN509 ($649) is the second pistol either inspired by or built for the MHS testing in the last month. Given the requirements, they are solidly built, withstanding rigorous testing protocols including mind boggling round counts. Ergonomics are improved along with weight and size. Even with an insanely political process with some questionable specifications, the end products are well suited to use in the most difficult conditions. The expense of making these changes otherwise tends to be cost prohibitive, so it's not something you will see outside contracts like this. While it's not always beneficial to the manufacturers, it often is for the rest of us, and this FN509 is a solid example.
FN509—The Same But Different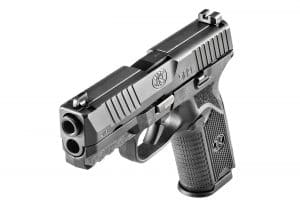 The FN509 is a polymer-frame, striker-fired, double-action-only pistol with a 4.0-inch barrel, two 17-round magazines and an empty weigh of 26.9 oz. Having used the MHS-winning SIG P320 since it came out, and having just completed testing the Beretta APX, this is the third pistol inspired by or based on the MHS I've tested in the last few months. Each is a bit different meeting what they perceived as the needs of the user. All are striker fired, but features differ. FN America started with their FNS compact making changes as needed, first to meet the contract, then reaching out to the law enforcement and concealed carry world.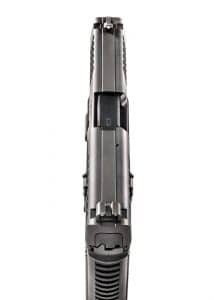 The slide has been modified to include aggressive cocking serrations and rugged sights designed for use during unconventional reloads or drills. The rear sight makes it easy to run on your belt, boot, or other field expedient item. A track of sort sits atop the slide allowing for fast sight alignment. Texturing on the grip is best described as multi-faceted. There are ridges, dots, larger cuts, and typical stippling high on the grip for your off hand. The combination locks your grip in place with or without gloves. Adding a cut to the bottom of the grip allows access to the new magazine floor plate. Interchangeable grip inserts (two total) let it fit most people's hands. Ambidextrous magazine releases are longer, sit a bit higher, and are nicely stippled. The bore axis is about as good as it gets without your strong hand stopping the slide, with a beavertail to settle the web of your hand into.
Using a captive double recoil spring makes for soft shooting, while the robust external extractor insures proper extraction and ejection. It also means the 509 will probably outlast most owners. FN America is of the mind that most commercial and LE customers will never replace anything on this pistol. Time will tell for sure, but it was certainly designed with that in mind. Take down is as simple as it gets: Make the gun safe, point it in a safe direction and lock the slide to the rear. Rotate the take down lever forward, release the slide, press the trigger and remove the slide. Remove the recoil spring and barrel and you are ready for cleaning. Reverse the process to assemble. Not sure a pistol gets more user serviceable.
How Does It Fit?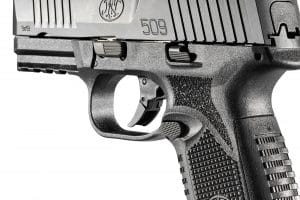 If required to characterize this pistol in one word, I'd call it a "workhorse". It's all about function, with aesthetics secondary. Call it a working person's pistol. For many the stippling and grip treatments will be overly aggressive; for me they were perfect. I've carried and deployed weapons in the snow, mud, and muck, and useless cosmetic texturing is well, useless. Trying to properly grasp a smooth grip frame with wet hands is a pain, and holding on during rapid fire is problematic at best. Aggressive treatments lock you into place better. Add gloves (especially wet leather) and your grip is rock solid. Slide serrations are more aggressive for the same reason—use not cosmetics. Some will find it "uncomfortable," but that's just part of the equation. Carry pistols to me are fighting tools, not comforters. You will need to adjust accordingly.
Holding the 509 was intuitive for me, dropping right into my grip. The top of my offhand palm rested directly on the notch at the top of the grip. A high grip facilitates a high hold with solid contact, and the 509 is about as good as it gets. Nestled in place, my off-hand thumb could be pointed forward, or in my case slightly upward, locking in without interfering with controls. My strong-hand locked into the grip strap and the thumb rested nicely on top of the other making for a solid grip that was intuitive on the draw. Several others who grabbed the pistol experienced the same thing, with the grip dropping right into place. My index finger dropped perfectly onto the trigger using the larger grip strap, with or without gloves. Using what I call a "broken trigger" (actually an articulated trigger), the annoying drop safety inside the trigger blade is absent. Once depressed the trigger is flat and relatively vertical with rounded edges. It is crisp, light (measuring 6.0 pounds out of the box) with a short, tactile and crisp reset.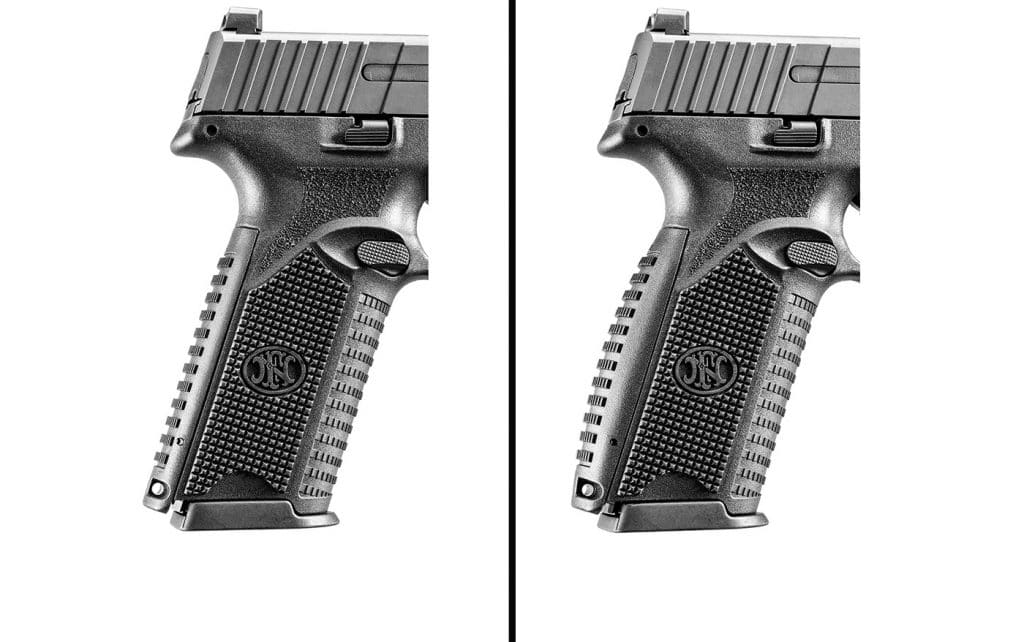 Ambidextrous magazine releases are not always on my wish list. Teaching at Gunsite a few weeks ago I had a student who had to swap pistols mid-stream because he kept dropping his magazines during firing. The 509's mag releases are longer, stippled, and recessed it was about impossible to activate them accidentally. Rolling my grip, fingers or gear over either side it would not release. Even smacking it against a wall, then rubbing against it (as in confined spaces) did not release it. During dry practice my thumb could access it when needed, but it never activated inadvertently. Well placed, it made swaps easy and the 509 ejects magazines with authority.
Testing
Starting out on the practical side my first drills were accuracy at range from off hand. Starting at 3 yards, 10 round strings of fire were completed slowly to determine sight hold and accuracy. At 3, 5 and 7 yards it cut one ragged hole centered on the dot. At 10 and 15 yards the top of the sights were aligned producing 10-round strings in the 2-inch range. Aligning the tops of the sights at 25 yards it was pretty much point of aim = point of impact. Using Remington UMC it was very accurate. Standing and shooting off hand at 25 yards I put 10 out of 10 on a 6-inch steel target—about as combat accurate as necessary. The sights align well and are easy to see in the daytime, but they mark the only complaint I really have on this pistol.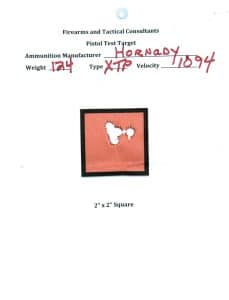 I will never understand the European fascination with luminescent sights. Relatively harmless in the daylight, on a duty pistol with only the rear sight exposed to the sun they can be very problematic, especially with rear dots. Exposed to the sun all day, the rears light up when you move into low light, but the front sight stays dark, leaving you hunting for the most important thing that's supposed to illuminate (the front sight). FN's website indicates tritium sights are available, but for law enforcement only, likely some restriction imposed by Belgium. Thankfully the sight cuts are identical to the Sig Sauer #8, making several aftermarket tritium sight sets available. Once initial testing was complete, the factory sights were immediately replaced with a set of Trijicon HDs for some video.
Group testing was equally impressive for me, with my best group measuring about 1.5 inches using Hornady 124-grain XTP. Everything else was under 2.0 inches at 25 yards using a bag rest from an improvised table on the range. From a practical perspective, the FN509 is as accurate as most humans can shoot a duty or carry pistol. It is also one of the softest shooting 9mms I've tested of late. Trigger pull is crisp with a bit of crunch on take-up (typical plunger contact) that smoothed up after a few hundred rounds. No stacking, with a clear wall followed by a 6.0 pound break and no over-travel. Testing after about 1,000 rounds the trigger measured consistently at 5.7 pounds.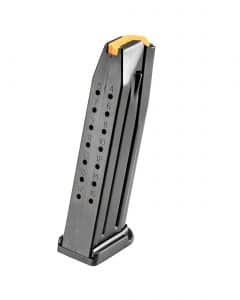 Concealed carry was quite comfortable using a Milt Sparks VM2 originally fit for a G41. It fits perfectly and carries IWB like it's not really there. The grip was easy to access and holds the pistol in a position that conceals it well. Despite the aggressive treatment my cover did not seem to get hung up. This is the norm in my experience with plastic pistols opposed to aggressive checkering on metal guns. Its more about sharpness, and the 509 is aggressive but not sharp.
Attaching a Surefire X300U my Raven Concealment holster designed for the APX was used. Most of these index more off the light by necessity so while not perfect it did snap into place nicely. Dropped, it allows for a solid grip and access using a plate carrier or vest. My Surefire locked into place with a snap and no movement, as did the Inforce APL. Both could be accessed using most of the more popular methods without adversely affecting my grip. Neither light induced malfunctions or produced any adverse effects, nor did the shift during rapid fire testing.
Other Considerations
My big hands tend to activate slide stops on polymer pistols with my normal grip, but not on the 509. Since it keeps me high on the grip and it is recessed it was never activated. Lower your grip and you can end up pushing it up with a thumb, but that's a grip not a gun issue.
During testing every kind of 9mm ammunition in the shop was run through it, at least 10 completely different loads, including frangible. It all ran without a hitch. Every hollow-point round fed well and shot well. There is little doubt the FN509 is a supremely reliable pistol. Accuracy was consistent across the board, even with some steel-cased stuff.
Swapping the sights was pretty easy with a sight pusher, but like many the front sight was tight. Installing the Trijicons was as easy as always. Point of impact did not shift perceptibly at 25 yards after the sights were swapped.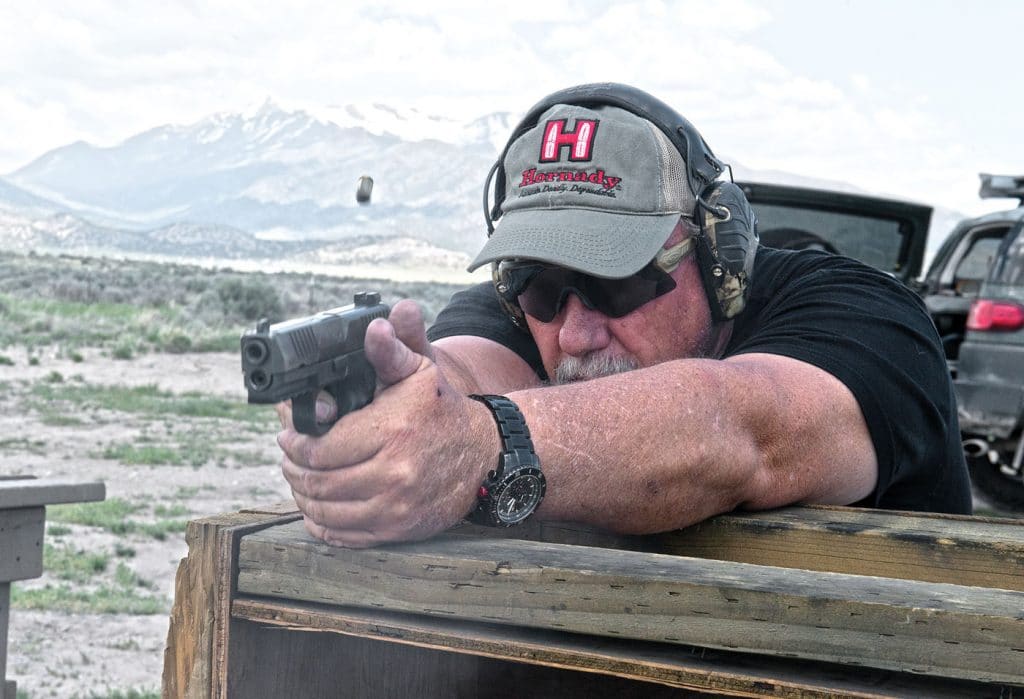 Bottom Line
FN America has put together a solid working pistol here with an eye toward reliability, shooting comfort, accuracy, and long term function. It is soft shooting, accurate, and includes features geared toward working in most any condition. It works with any ammunition I could find, and carries well both with and without a light. If you are looking for a comp pistol with bells, whistles and lots of laser cuts this is not it. However, if you want a pistol you can carry with the confidence that it will work when you need it to, the FN509 is an excellent choice. See it at your gun shop, or contact FN America, Dept. OT; Tel.: (703) 288-3500; Web: www.fnamerica.com
Specifications:
Action: Striker Fired / DA 
Caliber: 9mm
Barrel Length: 4.0 Inches
OAL: 7.4 inches
Width: 1.35  inches
Weight: 26.9 ounces (empty magazine)
MSRP: $649.00
---
Ammunition                                     Velocity               Group
Remington 115 Grain +P HTP             1170                  1.80 inches
Federal HST 124 Grain                       1150                  1.85 inches
Winchester Defender 124 Grain          1047                   2.00 inches
Hornady 124 Grain XTP                     1094                   1.50 inches
Groups fired from bag (rest) using the hood of my truck as a rest.  Distance of 25 yards, 3 five shot groups for comparison.    Velocity  in Feet Per Second (FPS) measured with a "Chrony" chronograph over three five shot groups.
Source Article from http://ontargetmagazine.com/2017/10/fn-america-fn509/