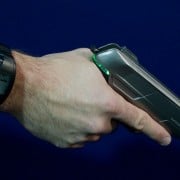 Florida's Firearm Owners' Privacy Act was signed into law in 2011, stating in part that "a licensed medical care provider or health care facility may not record information regarding firearm ownership in a patient's medical record."
Although passed three years ago, this law was blocked almost immediately by a court decision (often referred to as "Docs vs. Glocks") based on a challenge by a number of medical professionals, including Florida chapters of the American Academy of Family Physicians and the American Academy of Pediatrics. For reasons I cannot fathom, some people consider it "freedom of speech" when doctors ask prying, non-medical questions of their patients.
Thankfully for Floridians, the reasonable law forbidding docs from asking patients whether they own guns can finally be enforced. A court decision on July 25, 2014 overturned the 2011 injunction against the law.
Passage of the law was triggered by complaints from Florida residents who felt uncomfortable with questions from medical practitioners about guns and gun ownership, including at least one who was falsely told that Medicaid required the asking and answering of such questions.
Penalties for violating the law include possible loss or restriction of license and/or fines, and are intended to protect gun owners from being targeted by doctors who may harbor ill feelings about guns and gun owners.
Some have compared doctors' inquiries about gun and ammunition to commonly-asked personal questions about such things as smoking or the drinking of alcohol, but that makes no sense; we have no Constitutional guarantee of the right to drink and smoke – and drinking and smoking cannot be used to ensure our rights to be free.
Lists of gun owners, compiled by any entity, are never good for freedom in any nation. There is only one reason to catalog gun owners, and that is to "do something about" gun owners at some time. Any potential threat must not know where exactly his or her opposition lies.
This is why concealed carry is such a good crime deterrent: Bad guys don't know which of the good guys are armed, so they are leery and reluctant to attack people. That's how it should be with the government and gun owners; those in power should never know where to go in order to forcibly take away our guns.
I applaud the decision to protect the rights of Florida gun owners, especially since I'm a Floridian. I would like to see similar protections in other states as well.
Via: All Outdoor
Category: Legal Issues, doctors, Florida, Gun Laws, Second Amendment