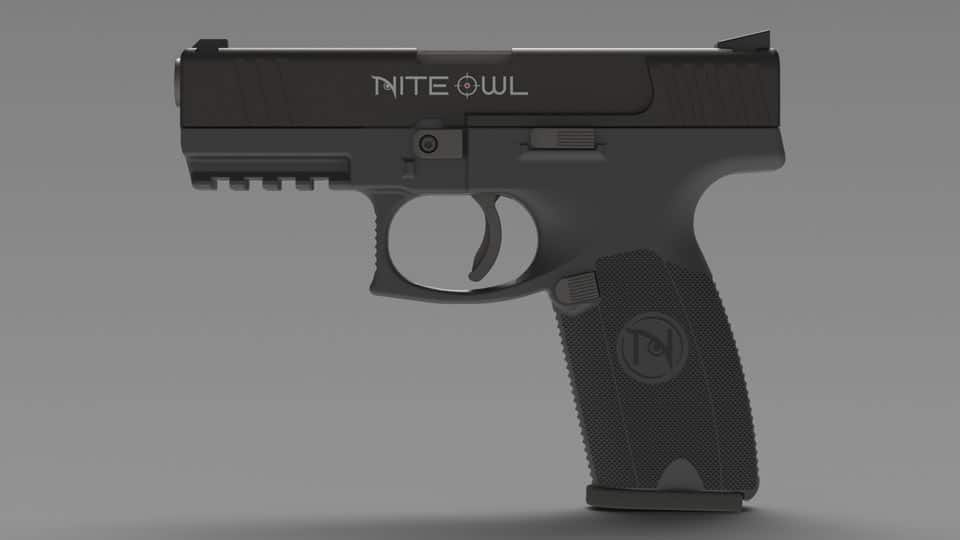 Just received this announcement on a new USA based gun manufacturer. Looking forward to getting a chance to shoot this at Shot Show next week. Rumor has it we will have a chance to get on the T/E list for this to put it through it's paces. Personally more competition especially US manufactured competition is a good thing. What do you think? The look of the grip angle and familiar striker fired design are positives as well.
Nite Owl Firearms Takes Flight
Evans Machining Launches Consumer Facing Firearms Brand in 2015
Clairton, Pennsylvania (Jan 13, 2015) – Evans Machining Services Inc., a family owned and operated 35 year manufacturer of military firearms components, proudly announces the launch of the Nite Owl Firearms® brand of personal pistols for civilian use.
Their first product line of striker fired pistols are slated for nationwide availability in 2015 at an introductory MSRP of $675 and are 100% made in the USA. The official unveiling of their initial 2015 product lineup will take place at the Great American Outdoors Show in Harrisburg, PA from February 7- 15, 2015 (Booth #718).
The pistols come with a full lifetime warranty and are designed for concealed carry, home defense, competitive use and general hobby. Additionally, the pistols will include true right and left hand iterations.
Unique from the typical manufacturing process, Nite Owl Firearms produces all of its own parts in-house through machined steel billet, ensuring a perfectly functioning finished product.
"Over the last three years, we've developed a product that is ergonomically ideal and performs flawlessly out of the box", says Dan Evans, President of Nite Owl Firearms.
"We believe consumers should expect more from their firearm, especially if they entrust their life to it for self defense. We aim to deliver on that expectation."
The pistols themselves are comprised of high strength polymer frames and feature a tactical rail along with all internal components machined from solid steel billet produced in the U.S.A.
The first Night Owl Pistol is the NO9-R. (Nite Owl 9mm – Right Hand).
– Caliber: 9mm Luger
– Capacity: 15 + 1 / 17 + 1
– Barrel 4.05 inches
– Overall Length: 7.2 inches
– Height: 5.28 inches
– Width 1.13 inches
– Weight: 28 oz.
– Construction: Polymer Frame with Steel Slide
– Magazine: ACT Mag
With big plans for the future, Nite Owl Firearms is off to an ambitious start.
"Every time we turn around we have another idea," continues Evans. "We're looking forward to what the future holds for Nite Owl Firearms and are excited for feedback from our fans and customers.
For more information, visit www.NiteOwlFirearms.com.
The company is also found on Facebook (www.facebook.com/NiteOwlFirearms) and Twitter (www.twitter.com/NiteOwlFirearms)
About Evan's Machining Services Inc.
Evans Machining Service Inc. has over 35 years of experience in the manufacturing sector and a long history of producing key components and assemblies for all types of small weapon systems for the United States Department of Defense. With the launch of the consumer facing brand "Nite Owl Firearms", their vision is to be recognized as the most modern, reliable and customer friendly manufacturing company in the Outdoor & Personal Defense Industry.
Source Article from http://248shooter.com/index.php/first-look-at-the-night-owl/