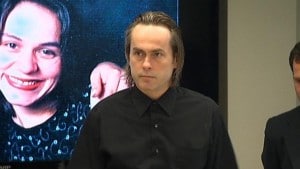 Alex Vesely stands in front of a picture of his sister, Jitka Vesel, who was murdered by a stalker who bought a gun on Armslist.com at a 2012 hearing. (Photo: NBC Chicago)
Armslist.com, what some call the Craigslist for guns, has no liability in the 2011 murder of a woman killed by a stalker who bought a gun from the website, a federal court ruled.
Judges with the U.S. Court of Appeals for the 7th Circuit, William Bauer, Michael Kanne and Diane Sykes, heard the case Vesely v. Armslist on May 29 in Chicago, and published the opinion Aug. 12.
At the hearing, Alex Vesely, represented by attorneys with the Brady Center to Prevent Gun Violence, argued that Armslist, as an entity that facilitates gun sales, bears the burden of screening potential buyers and sellers as would a brick and mortar store. The argument was spurred by the 2011 shooting death of the plaintiff's sister, Jitka Vesel, by Demetry Smirnov who bought his gun from a seller he found on the gun classifieds website.
"Alex has failed to allege any applicable duty that Armslist owed Jitka in allowing the advertisement on its website. Armslist did not have any relationship with Jitka or Smirnov that would render it liable for the intervening criminal attack. For the foregoing reasons, we AFFIRM the decision of the district court," the opinion read.
Smirnov, a Russian immigrant residing in Canada, met Vesel, a 36-year-old Czech immigrant living in Chicago, online in 2011 with the intention of starting a romantic relationship, but Vesel spurned his advances. In response to the rejection, Smirnov went to Armslist to buy a handgun, where he found an ad for a .40-caliber handgun.
Smirnov then contacted the seller, Benedict Ladera, a Seattle resident, to arrange a meeting in Washington state so he could buy the gun. But once initiating the exchange, the two engaged in an illegal transaction as federal law prohibits the private transfer of a firearm between parties in different states.
Demetry Smirnov, 24, is serving a life prison sentence. After the shooting, he turned himself in to police. (Photo: Illinois DOC)
Afterward, Smirnov began stalking Vesel in Chicago. On April 12 that year, he tracked her with a GPS device he attached to her car, confronted her in a parking lot of a Czech heritage center where she volunteered and shot her 11-12 times, killing her.
Smirnov received a life sentence for his crime and Ladera pleaded guilty to illegally transferring a firearm to an out-of-state person, receiving a 366-day sentence in prison.
In the aftermath, Vesel's brother, Vessely (who chose a different spelling of his name when he immigrated to the U.S.) filed suit against Armslist, claiming negligence by the website for a sum exceeding $50,000. Neither of the two suspects were named in the complaint.
Armslist is an Oklahoma company that houses classified sales ads for guns and gun accessories posted by private sellers. To the website's credit, it informs sellers that he or she is responsible for obeying federal and state laws before finalizing a transaction, and directs sellers to contact the Bureau of Alcohol, Tobacco, Firearms and Explosives for any questions.
But in the analysis of the argument, the court said, "when a criminal act by a third party is the cause of the injury, a special relationship is required before any further analysis. And since no special relationship exists between the parties (Armslist and Vesel) — nor has one been alleged in the complaint — dismissal was appropriate."
Additionally, Vessely's complaint stated that Armslist designed its website to encourage its users to circumvent existing gun laws by allowing potential buyers to find sellers in all states.
But the court found nothing of the sort and instead said the website enables "consumers to use a legal service," which does not "invite Ladera or Smirnov to break the law."
The post Federal court rules Armslist not liable in woman's death appeared first on Guns.com.
Via:: Federal court rules Armslist not liable in woman's death