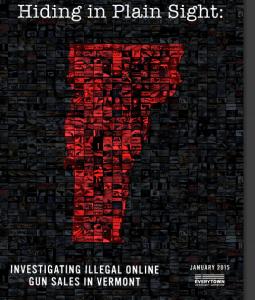 A series of dummy transactions set up by a gun control group through an online classified service claims domestic abusers, fugitives from justice, and drug traffickers are buying.
The operation, set up by former New York Mayor Michael Bloomberg's Everytown for Gun Safety group targeted online buyers in Vermont. As part of their investigation, private detectives hired by the group posted 24 ads on Armslist, a free gun classifieds service, then tracked those who responded to the listings. Of the 169 respondents who answered the listings that the group could identify, they claim after a public record search that 7, about 4 percent, could have been prohibited from possessing a firearm.
This report comes as the group is championing a controversial push in the state legislature to enact new and expanded background check requirements to require virtually all private gun sales to take place through a Federal Firearms License holder.
"This report should be a wake-up call for Vermont," said Burlington's Democratic Mayor Miro Weinberger in a statement issued by Everytown with the report . "We have a background check problem. It is not consistent with Vermont's tradition of responsible gun ownership to allow felons, drug traffickers, and domestic abusers to obtain firearms with no questions asked. Criminal background checks on all gun purchases will help make Burlington and our neighbors around Vermont and outside our state safer."
The 20-page report, entitled Hiding in Plain Sight, details the group's efforts and findings.
Between July 28 and October 9, 2014 investigators hired by Everytown placed 24 ads on Armslist for guns that did not exist. Then, using voluntarily provided information from the respondents tentatively identified 169 Vermonters seeking more information on the guns supposedly for sale. From there, the group searched court records for a history that would seemingly prohibit these individuals from legally possessing firearms. The result claimed by the final analysis was that 7 of the individuals might have been prohibited possessors.
"The results show that criminals are flocking to this market to evade the background check system and arm themselves," reads the report. "One in 24 prospective online gun buyers was prohibited from possessing guns — including convicted domestic abusers, fugitives from justice, and drug traffickers."
While Armslist has not released a statement on the Everytown report and did not reply to requests for comment from Guns.com, the classifieds site last week posted to their social media account that some 8.6 percent of the adult population in the U.S. have a criminal record to include felonies, a figure far in excess of claimed proportions of potential prohibited buyers.
"In a feeble attempt to disparage Armslist and the users of Armslist, anti-gun owner groups have suggested that 1/30 Armslist users have criminal records," reads the post. "In fact, 2.4/30 Americans have felony convictions. Always check the facts. Our self policing works."
To the website's credit, it informs sellers that he or she is responsible for obeying federal and state laws before finalizing a transaction, and directs sellers to contact the Bureau of Alcohol, Tobacco, Firearms, and Explosives for any questions.
This is not the first time that Everytown has mounted an internet investigation in a state where it was funding an enhanced background check initiative. In September 2014, just six weeks before a voter referendum on background checks in Washington State, the group released a study that contended one in 10 online gun sales were to criminals.
Gun rights advocates in the state point to Vermont's extremely low crime rate as reason enough to keep the status quo when it comes to background checks for firearms.
According to FBI crime statistics for 2012, Vermont suffered just 2 homicides by firearm, a rate equal to deliberate deaths caused by knives and cutting instruments in the state. These figures are less than half that of Alaska (11) and Wyoming (5), states who share similar total population figures. Further, Vermont's violent crime rate fell by over 19 percent in 2013 from the previous year, the largest improvement in the country.
Likewise, some lawmakers who would be forced to weigh in on expanding Vermont's background checks in the future, aren't sure that more laws will fix the problem of criminals seeking guns.
"The criminal act is being committed by the felon that is trying to illegally obtain a gun, and I don't think a criminal background check is going to change that," Republican Rep. Pat Brennan of Colchester told Vermont Public Radio.
National Second Amendment advocates challenged the study not only for its methodology, but its timing.
"This is a template that Bloomberg is using in every state that he is pushing his anti-gun rights agenda," Alan Gottlieb, the Chairman of the Citizens Committee for the Right to Keep and Bear Arms, told Guns.com Thursday. "He takes a few examples of prohibited individuals buying guns and extrapolates across a data base with no correlation to reality. Unfortunately, the dominant media never questions the false method used and spreads the results like it is the gospel."
Continuing, Gottlieb explained,  "That along with the millions of dollars Bloomberg spends on public relations to push this false narrative is a danger to the general public getting fair and balanced information to make an informed decision on the gun control debate. That is his intent."
Source Article from http://www.guns.com/2015/01/22/everytown-sting-claims-1-in-24-online-gun-buyers-prohibited-from-possessing-guns/