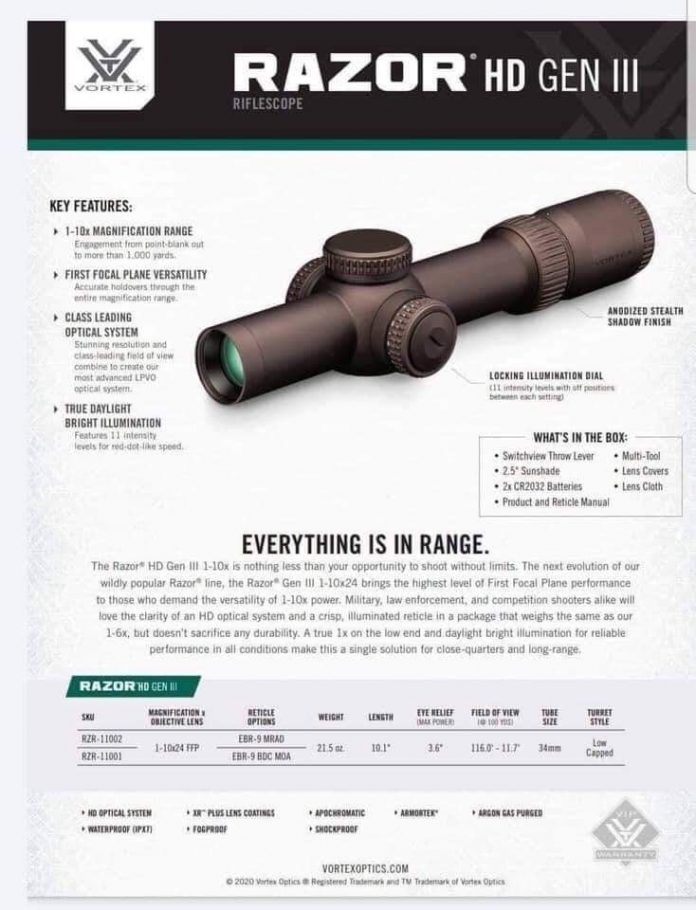 The "leak" happened a few days ago. Vortex is throwing down the first strong product of SHOT 2020 with the Razor HD Gen III, a 1-10x LPVO in compact body and 34mm Tube. The Gen III is a technological step forward from the SOCOM selected Gen II's and a clear bid to chase the LPVO solicitations currently open for the armed forces.
They aren't the first 10X on the market, but this is a clear continuation of highly regarded optical line with international standing as a recognized gold (or tan) standard.
BARNEVELD, Wis. – Need a top-tier optical solution for point-blank tactical applications, to putting hits on target at long range – look to the Vortex® Razor HD Gen III 1-10×24.
A highly sophisticated optical design, cutting-edge components and state of the art engineering make the Razor HD Gen III 1-10×24 a true "Alpha" in the tactical optics arena. The First Focal Plane optical system coupled with the all-new EBR-9 MRAD and EBR-9 BDC MOA reticles ensure all reticle hold points are usable throughout the complete zoom range. Daylight-bright reticle illumination gives red dot sight functionality on 1X and full use of the data-rich glass-etched reticle on its upper end – no matter the light conditions. Illumination is accessed and activated via the locking illumination dial positioned cleanly on the left side of the turret housing. Features 11 intensity levels with an off-position between each setting.
"When we began this project, we started with a single goal – create the world's premier low power variable riflescope," said David Hamilton, Vortex Optics Chief Development Officer. "The list of "Wants", was robust to say the least. It had to serve users with needs from CQB to long range. We knew it would be challenging. We also knew we wouldn't quit until we had it right. That's just in our DNA." Optically, the Razor HD Gen III 1-10×24 provides incredible clarity, resolution, color accuracy, light transmission and edge to edge sharpness. A highly forgiving eye box delivers an unparalleled sight picture for insanely quick target acquisition. HD glass fully multicoated on all air-to-glass surfaces with Vortex's proprietary XR antireflective coatings guarantees top-tier optical performance. Exterior glass surfaces are protected by Vortex's scratch/oil/salt-resistant ArmorTek® coating. All coatings are applied using the cutting-edge PlasmaTech application process, resulting in unparalleled coating durability.
Compact, stout and built on a 34 mm aircraft-grade aluminum tube, the Razor HD Gen III 1-10×24 will handle the most demanding scenarios. Ultralow-profile capped windage and elevation turrets provide a clean, sleek profile – beneficial for smoothly navigating the physical environment. Scope features 120 MOA/30 MRAD of total travel. Zero-resettable turrets offer 25 MOA/10 MRAD of adjustment per revolution. O-ring sealed and purged with argon gas for absolute waterproof and fogproof performance.
Rapid engagements and technical interior work, to designated marksman responsibilities and damn near everything else, Vortex Optics' new Razor HD Gen III 1-10×24 does it all – and does it better.
MSRP: $2899.99
For a list of specifications, frequently asked questions and high-resolution images, check out the Vortex Optics media portal. For more information, visit www.VortexOptics.com and be sure to follow Vortex Optics on Instagram, Facebook, YouTube and Twitter.
About Vortex Optics: American owned, Wisconsin-based Vortex Optics designs, engineers, produces and distributes a complete line of premium binoculars, riflescopes, spotting scopes, tripods and related accessories. Dedicated to exceptional quality, value and unrivaled customer service, Vortex backs its products with its unconditional, transferable, lifetime VIP warranty. Built on more than 20 years of experience in the optics industry, Vortex is rapidly emerging as a leading brand in the optics market.