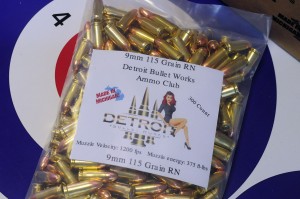 The other day I was getting ready for the Travis Haley class presented by Patriot Defense Training. While I have my ammo properly stored and accounted for, thanks to a new trick I will be sharing with everyone in an upcoming article, I realised that I was likely going to be short on some 9mm.  Lucky for me 248 Shooter has a very strong relationship with Detroit Bullet Works and he had the ammo in stock that we needed.
While there, we started talking about the various needs of the dedicated shooter. The dedicated shooter as I like to refer to them, is what I hope all my readers are. These are the people that put at least 100 rounds of ammo through their EDC gun every month or at least average that, by taking classes or heading to the range.
When you average in classes like travis Haley or my PDT courses I take every few months I average closer to 300 rounds per month or 3600 rounds a year in just 9mm. My carbine numbers are actually a lot higher and starting to really wear my budget.
Ammo availability and price have really hurt the people who want to train. Many of us can not get to Walmart first thing in the morning to beat the rush on ammo. We find that it gets easier to shoot 50 rounds or even worse no rounds at all.
Chris the owner of Detroit Bullet Works and myself started talking about the needs of these dedicated shooters and how important it is for dedicated shooter to get access to ammo for training. What started as a problem slowly morphed into a solution, the Detroit Bullet Works & 248 Shooter Ammo Club.
Ammo club members will choose between monthly or quarterly deliveries 9mm 115 grain round nose bullets in batches of 300 rounds delivered to their door regardless of location inside the continental USA.
The advantages of the club over traditional ammo purchases include:
Guaranteed delivery on a schedule you pick, never run out of ammo again or be stuck looking to buy it when you need it. 
15% discount on the cost of the ammo club compared to retail
5% discount on any other ammo purchases (upto 3K rounds)
Free ammo storage case
Free delivery
While most clubs like this have an initial buy in price Chris has agreed to waive a start up fee for the first 100 people who join. The goal here was to advertise this to local Michigan people first giving them a discount on the cost of the club and ensuring the best opportunity for local users.
Think about this:
No more trips to the store to find the shelf empty
No more trying to explain that one time large ammo purchase to the wife
No more paying whatever the going price of ammo is based on the latest scare
You get locked in at a great price with regular delivery with no risk of price increases or shortages and all that with the benefit of 15% discount.
The product is being opened to the public today and as of 11am ESt there is already 20 people signed up. We encourage you to join up quickly so you do not have to pay a ammo club membership fee such as you would with a Costco or Sam's Club membership to ensure your discount.
The total cost for 300 rounds with shipping is 82.99 and can be delivered monthly or quarterly. That is 15% off retail and allows you to discount further ammo purchases by 5% for as long as you remain a member, an opportunity only offered previously in short term deals.
Go direct to the join page here: http://www.detroitbulletworks.com/9mm-ammo-club/