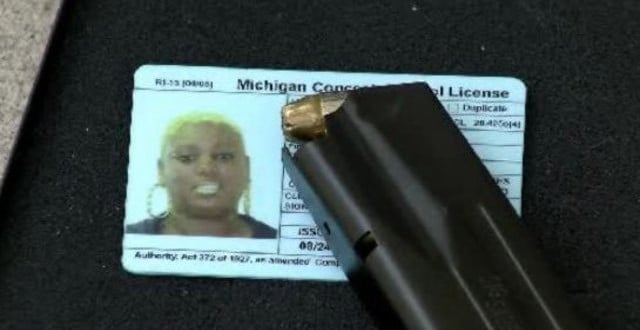 Paris Ainsworth is a hard working grandmother who lives on the west side of Detroit.
10 years ago she was attacked by a gunman and swore to not be a victim again. After changes in the CPL regulations, she went and obtained the proper license to carry. Unlike many CPL holders though Paris went and received additional training. She purchased multiple guns and made sure she was carrying on a regular basis.
On saturday night that training and preparation paid off when she was attacked by 2 armed men who she said "Just had the devil in him". One of the men opened fire on her immediately proving that even when you comply with these types of violent criminals you are not safe.
Paris drew her 45 and returned fire shooting both suspects. Unfortunately Paris sustained 4 injuries, 3 to her side and one to her non shooting hand during the shootout started by the attackers. While injured she was able to stay calm under attack, return fire and then apply pressure to her wounds until help arrived. This only happens when you are properly prepoared by regularly training as she has.
Also note that she was aware of the attackers as they approached. Situational awareness is the key here preventing the violent attackers from getting the drop or surprise on her allowed her to be ready when the attack came.
This grandmother of four is convinced that if she did not have her gun she would not be alive today. She also expressed thanks to the police who were able to catch the 2 alleged attackers who showed up at the same hospital she was being treated at.
Detroit residents are tired of crime and are standing up for themselves. They finally have a great police chief who is working to put violent attackers behind bars and who encourages citizens to protect themselves. This is a perfect example of why the Castle Doctrine has been adopted in our state.