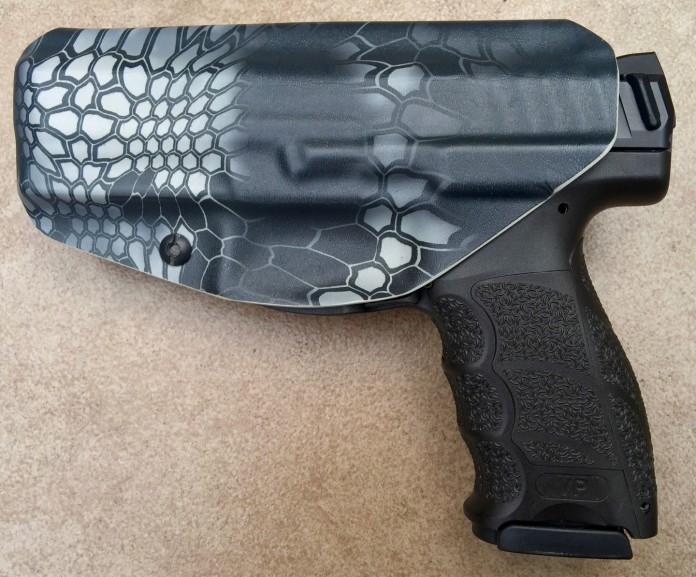 By the company name, you have likely guessed that Detroit Concealment is a locally run Kydex holster maker. Or you may know that already from the eXfil review we did a few months back.
Detroit Bullet Works turned us on to these guys when trying to source a holster for a less common gun. Since then I have run both the outside the waistband eXfil for my HK USP 9 and the iNfil for my HK vp9.
Let's face it there is no shortage of Kydex makers. We have reviewed a few and have looked at and refused to review even more. So what makes Detroit Concealment worth reviewing and showcasing?
Quality
Price
Location
Customization
Customization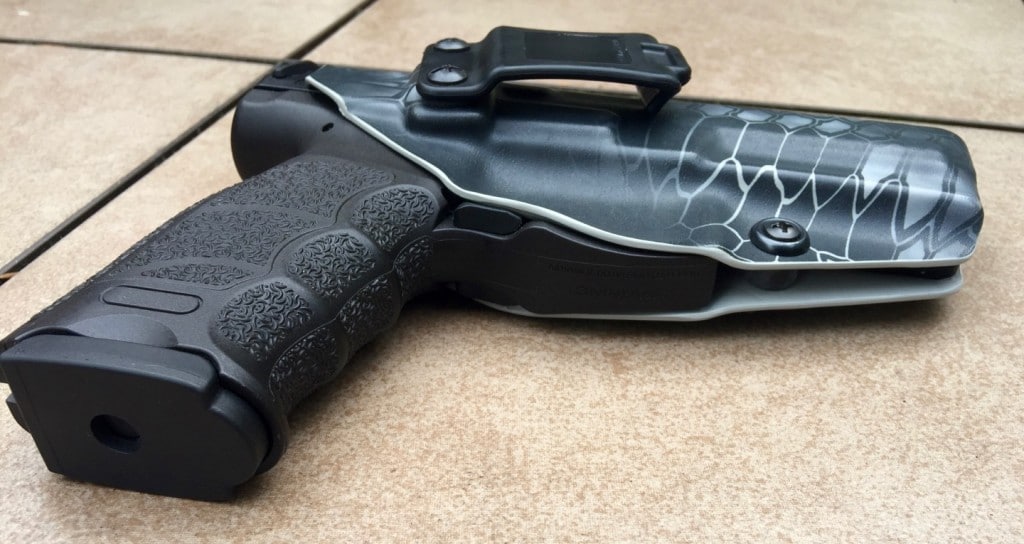 Hey, wait a minute in your little bullet point list you put quality first! Yeah I know, frankly that is because the average person is likely to look at that first. However, Detroit Concealment popped up on our radar due to trying to find a guy to make a holster for a less common gun. So we are going to talk about that first.
Like most companies, Bill has a selection of blue guns to build holsters for the most common guns. Unlike many companies he is willing to use your actual gun and light, so there is no more the scavenger hunting for a company that can make your exact pairing.
To do that you need a person confident enough in their skill set to perform the work and a person local enough to work with. For us, Bill was the easy answer.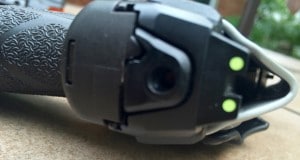 Quality
There for those of you who have OCD I am back on track.
There are a few things that stand out to me when doing a review on Kydex.
Edges
Screws and Grommets
Retention
Clips, Hooks, and Loops
Molding
See what I did there "stand out," I crack myself up.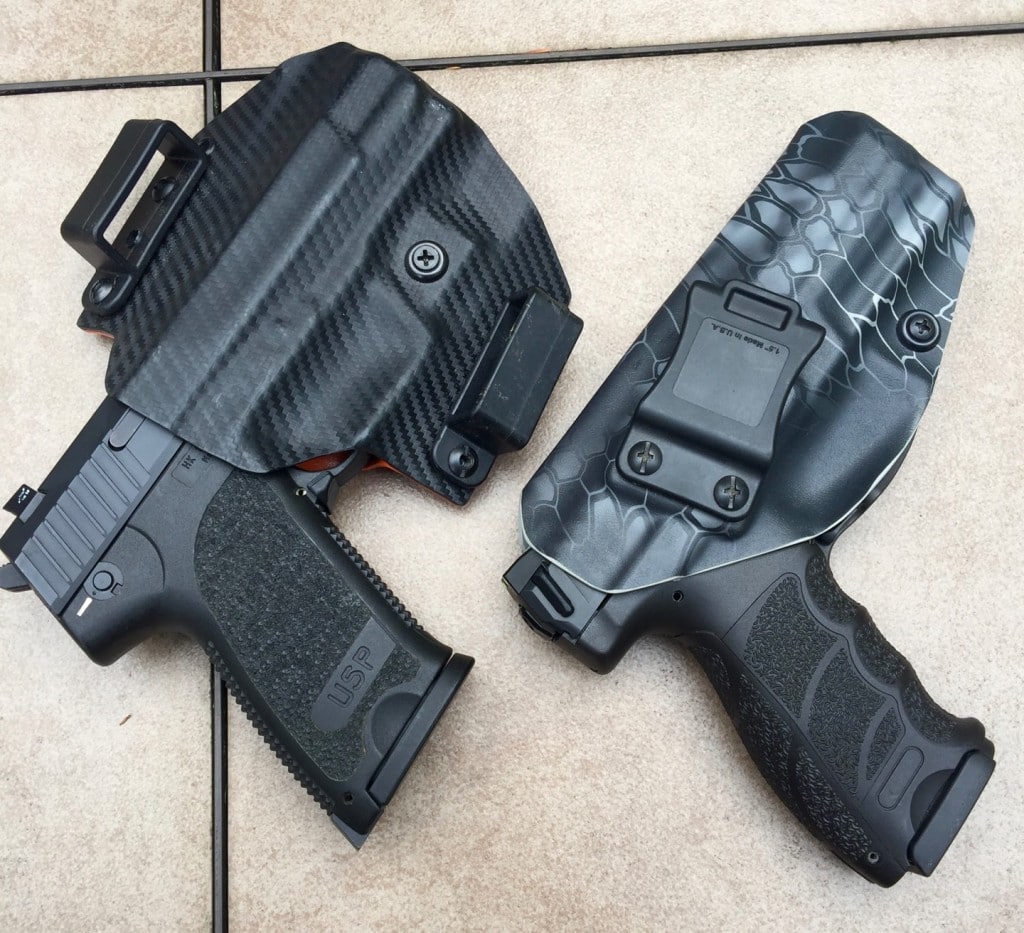 Edges
The edges on this holster as good as I have seen on any holster made. They are clean smooth and consistent. There is a smooth rounding to them that is comfortable and expected but sometimes lacking on premium Kydex holsters.
Screws and Grommets / Retention
The work on the grommets and screws is far more noticeable in the eXfil review, as that is a clamshell design and has far more points of connection. The iNfil only has a single structural screw used for retention.
A rubber spacer is used to make the holster lighter, thinner and more adjustable than most. So if you feel the need to crank down retention you can. Since the wrapped edges never touch you won't find yourself limited to a certain level of retention due to physics.
Clips, Hooks, and Loops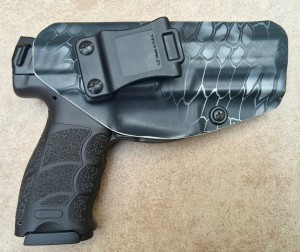 There is a wide range of belt attachment or Molle attachment options for the holsters they make. For IWB on the iNfil they recommend the common injection molded quick clips. For review purposes, that is what I got. It is easy to put on take off and is going to be by far the most common option for most people.
On mag pouches and other holsters, I have snapped this piece off, time and time again. A good buddy of mine who is a cop swears under his breath every time he sees this style attachment on a holster in a class since it takes him about a week to snap one. Detroit Concealment has either found some amazing source for these or has learned voodoo. This specific clip has lasted me now almost six months. ( I have tested other holsters during this time, so that is not straight wear and tear, but it is certainly enough to have snapped others). More impressive, my cop buddy has been wearing one, as well as Chris at DBW, and none of us have had the clip snap yet.
In fairness, I still don't like the clip and on the next holster I buy for me from Detroit Concealment I am likely to have him use the Gcode / HSP clips I prefer.
Molding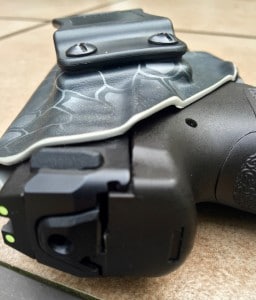 Molding is what does it for me. Bill reminds me of those guys who make the concept car bodies from clay. These holsters are not molded to a gun and then pulled out, screwed together, sanded to be handed over.
It is clear looking at the way he folds around the top, through the guides for the slide lock, down to the pic rail and trigger guard that he has thought this out. So often when handed another kit to review we see a person that has overlooked these guide rails. The result is the Kydex needs to flex around the extra wide controls until they snap into place.
There is a series of reasons why this is a bad thing to do.
The constant stress on specific pressure points with an erosion of material will result in weakening your holster and making it prone to cracking.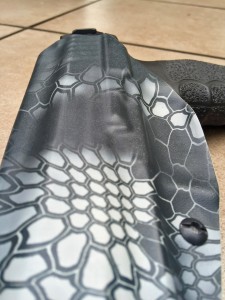 The pressure on the edges of key components is more likely to increase wear and finish erosion.
A false sense of retention is created. This results in people loosening the retention screw to get a smoother draw. When not drawing and items are in their "pockets", the actual retention level is lighter and as such you may create more wear as the gun moves around a bit more in the pocket. If this happens, the chance of the gun actually popping free when fiercely jarred is the greatest concern.
If you do screw the gun in tight enough to hold it in place and properly make contact over the most surface area, then your draw stroke will be jerky and hard.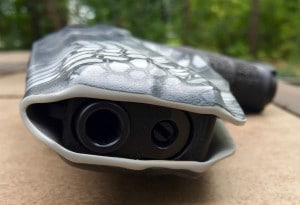 The open bottom is not for everyone but has always been a favorite for me. In those rare instances I am running a threaded barrel there is enough room for it to stick through the opening, so a different holster is not required.
Summary
We love to recommend locally built products, so it is no surprise we offer Bill banners on the site, to get his name out there. From the holster, I ordered through a shill, to the one provided for free for this review the quality and workmanship has been spot on.
His ability to work with obscure guns and light combinations combined with superior molding and ergonomics Detroit Concealment is our local go-to for on demand holsters.
Of the various styles he makes the INfil is my favorite as I am an IWB guy. Check out the pictures and you will see the quality produced from Bill and Detroit Concealment is at the top of the Kydex holster game.
http://detroitconcealment.com/