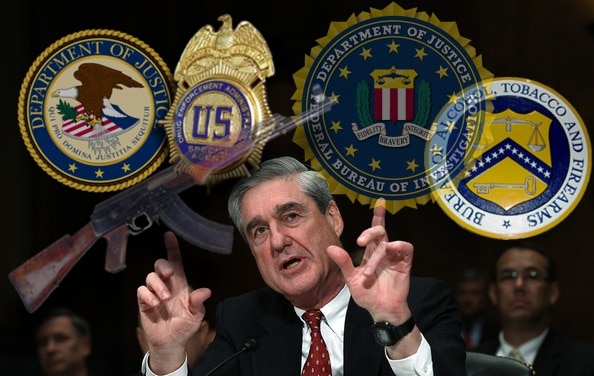 According to emails obtained by the American Civil Liberties Union, federal authorities planned to monitor gun show parking lots with automatic license plate readers.
The insight comes from a damning report released by the ACLU this week on a secretive program by the U.S. Drug Enforcement Administration to build a massive database of license plates images collected by automated license plate reader devices. As part of this investigation, emails released through the Freedom of Information Act detailed a planned cooperation between the DEA's National License Plate Recognition initiative and the Bureau of Alcohol, Tobacco, Firearms and Explosives to scan and record the plates and vehicle images of gun show attendees.
"DEA Phoenix Division Office is working closely with ATF on attacking the guns going to [redacted] and the gun shows, to include programs/operation with LPRs at the gun shows," reads an April 2009 email.
The time and place mentioned in the email coincides with known information on the Justice Department's Fast and Furious operation, a controversial "gunwalking" scandal that possibly transferred as many as 2,000 guns to drug traffickers in Mexico. That program was run out of the Phoenix ATF Field Division office, just two miles from the DEA office.
However, DOJ officials were quick to issue denials this week following the release of the story, advising that the ATF did not in fact engage in tracking gun show attendees.
"The proposal in the email was only a suggestion. It was never authorized by DEA, and the idea under discussion in the email was never launched,'' according to DEA administrator Michele Leonhart, the Wall Street Journal reported.
While there may not have been any gun show surveillance, federal agencies have nonetheless built an immense database.
An undated DEA slideshow released to the ACLU mentions that, at the time, 100 plate readers were deployed in eight states to include California, Arizona, New Mexico, Texas, Nevada, Florida, Georgia and New Jersey. These readers were a mixed of fixed, portable and mobile devices that could scan and record as many as ten images per vehicle.
The extensively redacted presentation states that the then-current database held some "343+ million" images and that cleared law enforcement personnel from other federal, state, local and tribal agencies could access the archives.
This information alone brought concern from the ACLU.
"Automatic license plate readers must not be used to collect information on lawful activity — whether it be peacefully assembling for lawful purposes, or driving on the nation's highways," the group stated in its report. "Without strong regulations and greater transparency, this new technology will only increase the threat of illegitimate government surveillance."
Source Article from http://www.guns.com/2015/01/28/dea-and-atf-cooperated-to-record-gun-show-attendee-license-plates/