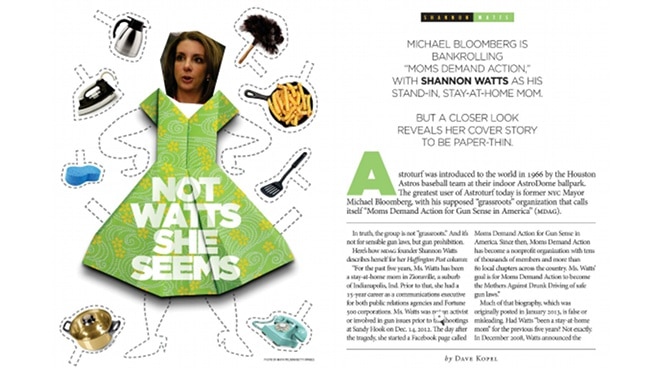 By Max Slowik
The cover of Kopel's article laying out Watt's labors as a professional lobbyist working for Michael Bloomberg. (Photo: Mark Wilson/Getty)
After getting their proverbial panties in a twist over David Kopel's criticism of "stay-at-home mom" lobbyist and spokeswoman Shannon Watts, Kopel has responded to Gawker Media and other outlets who have brushed off his statements as sexist without addressing the content of his original article.
Here's what he had to say in an interview with Guns America.
Kopel spoke with us earlier this year at SHOT Show. (Photo: Daniel Terrill/Guns.com)
"Significantly, Gawker does not contest the factual accuracy of anything in my article, including my list of various falsehoods propounded by Ms. Watts–such as her claim that guns are banned at NRA Headquarters, or the falsehood of her assertion that she never had any prior involvement in the gun issue, despite having worked as a communications aide for energetically anti-gun Missouri Governor Mel Carnahan.
"If you're looking for serious analysis of firerams issues, it might not be a good idea to rely on a website which features content such as 'Manhattan Brunch Place's Weekly Drunken Shitshow Caught on Video.' The opening of this piece of investigative journalism explains that an individual 'continues to nurse a raging hate-boner for Pranna, the popular brunch spot … He's posted two new supercuts of wasted Pranna brunchers …' That gem of reporting appears on today's Gawker home page, two items below the attack on my article."
He then goes on to refute the Bloomberg group's statement via Twitter that the NRA wants all women to be stay-at-home moms with "On Twitter, the Bloomberg lobby offers its gullible followers with a menu of prewritten messages to retweet. The Bloomberg messages claim that the NRA thinks that all women should be full-time homemakers. Of course the article never said that. My own mother was a full-time lawyer, at a time when there were very few women lawyers in Colorado."
The truth is that many articles that have targeted Kopel over this anti-Watts piece generally gloss over the real message, that Watts is "Not Watts She Seems."
The post David Kopel responds to Gawker, Slate and Huffpo on Watts appeared first on Guns.com.
Via:: David Kopel responds to Gawker, Slate and Huffpo on Watts