A classic design, well-executed, with a strong pedigree . . . and surprising accuracy.
---
Meet the Dan Wesson A2 Commander 1911 .45 auto pistol. It comes to you with one heck of a pedigree, from multiple directions.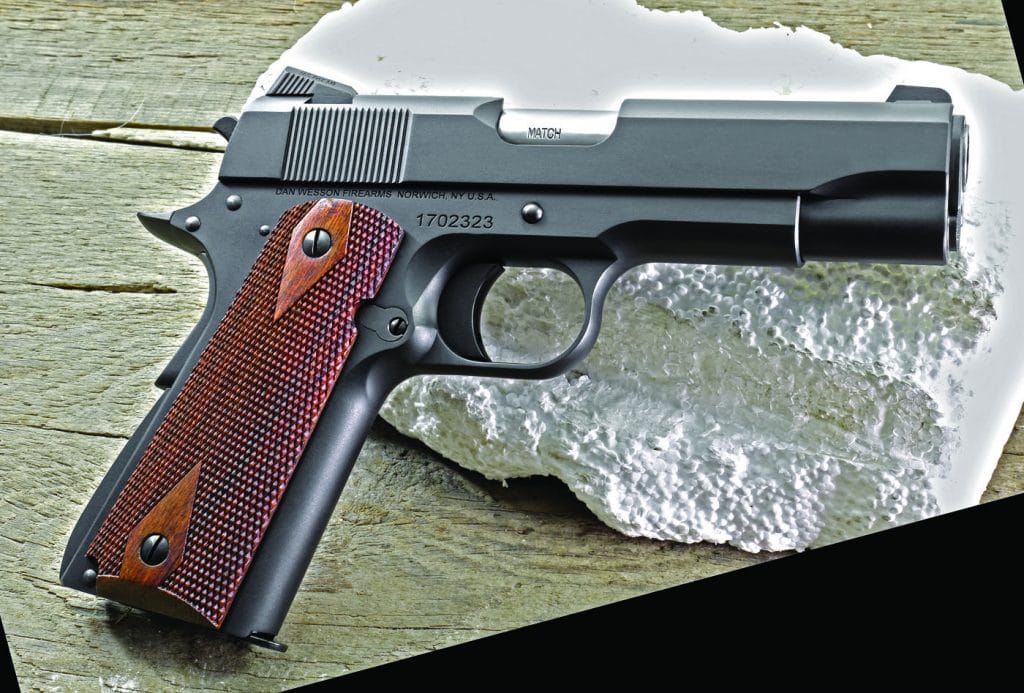 There's John Moses Browning, to start. His classic 1911 pistol is more popular than ever well over a century after it hit the streets (and the battlefields).
There's the Commander format, finalized by Colt in 1949 and hitting the market a year later. Three-quarters of an inch shorter at the front than the Government 1911 Colt had manufactured for nearly forty years, it was also the first semiautomatic pistol to be produced with a light aluminum frame. As the years went by, Colt perceived demand for a 1911 this size but all-steel in construction, and the Combat Commander was born.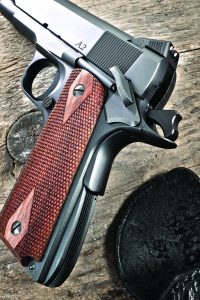 More time passed, and in the strangeness of American marketing and branding it went from the lighter gun being called the Commander and the heavier the Combat Commander, to the lighter one being dubbed the Lightweight Commander and the heavier becoming known as simply, the Commander. The latter, all steel, is the format of the Dan Wesson A2 Commander.
There's Dan Wesson, a brand founded by the man whose name remains on the company, a scion and namesake of Daniel Baird Wesson, one of the founders of Smith & Wesson. I knew Dan and counted him as a friend. He came up with a brilliant design for double-action revolvers with interchangeable barrels, and produced revolvers that equaled the iconic Colt Python for superb accuracy.
And then there's CZ, Cesca Zbrojovka of Czechoslovakia. Pronounced "see-zee" by most in the USA and "see-zed" by much of the rest of the world, CZ has a long and solid reputation for manufacturing reliable, ergonomic small arms. They have for some time owned Dan Wesson.
Put it all together, and you have one helluva pistol.
First Look
With a 4.25" barrel, full-length grip taking standard size single-stack 1911 magazines, and chambered for the .45 ACP cartridge around which the 1911 was built in the first place, you have an all-steel Combat Commander by (sort of) another name.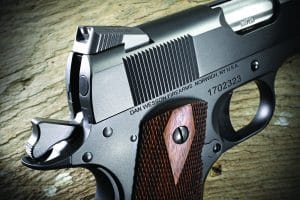 On Target's test sample came out of the box with a pleasing and smooth, if not fancy, dull blue-finish and nice looking checkered walnut stocks in the diamonds-around-the-grip-screws pattern of the original 1911 Colt. Also original to the Colt Commander, though not the first 1911s, is the arched mainspring housing first seen on the 1911A1 service pistol of the 1920s. The first 1911 had a long trigger, which a majority of today's manufacturers have returned to by popular demand . . . the first Commander circa 1950 had the short trigger of the 1911A1 . . . and on the A2 Commander, Dan Wesson seems to have split the difference. In the same sense that one of us might say "it's partly cloudy" and the other might say "it's partly sunny," we can debate whether the trigger on the A2 Commander is "medium" or "medium-short" in length, but I'll say this: it fits my "average size adult male hand" very, very well, and will be suitable for most folks with shorter fingers than that, too.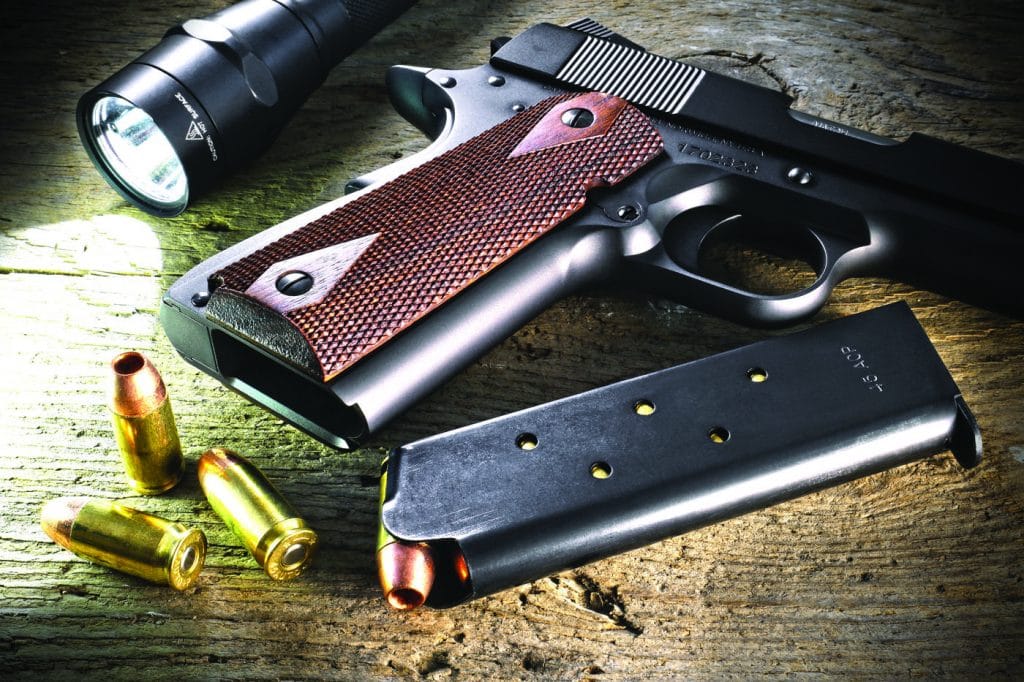 Sights are fixed, big enough to see well, with the popular "three white dots" embedded. The magazine well is chamfered to speed up reloading. A larger-than-GI thumb safety is for right-hand manipulation only. The grip safety is the currently (and deservedly!) popular beavertail, with a slight flare at the bottom, not a true "speed bump" or "memory bump." In my hand, it did not always release with a "high thumb hold" that put the thumb atop the safety. This will vary shooter to shooter, depending on hand geometry; try one in the gun shop, and if it works for you dry it will probably work for you live fire.
On the Firing Line
I've often said that trigger control is "the heart of the beast" for good shooting, and that was certainly true in this test. Measured at the center of the trigger with a Lyman digital trigger pull gauge, the A2 averaged 83.7 ounces, which translates to 5.23 pounds of pull weight. This is a good, safe trigger pull for a 1911 used for serious business under stress, by any standard. Subjectively speaking, there was the light take-up you want in a defensive handgun, and a slow, smooth, short "roll" after reaching the "wall" of firm resistance, followed by a sweet break with no significant backlash.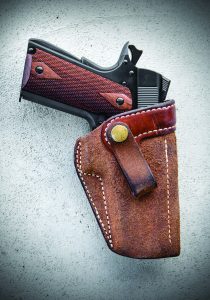 The thumb safety was stiff to work at first, but broke in during the course of testing, which encompassed both dry fire and live fire. Subjectively, the pistol simply "felt good in the hand," even though most of the testers were more accustomed to 1911s with flat-back mainspring housings instead of this arched one, and triggers with longer reach than the Dan Wesson A2 Commander's.
Recoil was what you would expect from a pistol of this size and shape: manageable if you know how to shoot a .45. This writer has spent most of his life shooting full-size 1911s, and some of it carrying lightweight Commanders and even shorter models, but going back to the 1970s found that an all-steel Commander with a 4.25" barrel like the A2 seems to hit a "sweet spot" for balance and "feel." And, yes, that is a very subjective analysis, so weigh it as you will.
From a Caldwell Matrix rest on a concrete bench at 25 yards, I shot the A2 Dan Wesson Commander with 200- and 230-grain loads, measuring each 5-shot group once overall (good test for "human engineering" where there is no stress and the gun is artificially steadied) and again for the best three hits, which objective testing has shown me will closely duplicate what the same gun and load will do from a Ransom Rest, which most of our readers don't have. The results, presented here in alphabetical order, were most pleasing.
Federal HST 230-grain jacketed hollow point has proven itself superbly "on the street," and from the Dan Wesson this standard-pressure load put all five shots into 1.95", the best three in 1.35".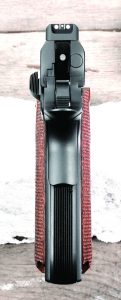 Hornady 200-grain XTP hollow points put the quintet of holes in 1.50", and its best three in 0.60", the tightest group of the test. These JHPs are designed for deep penetration while still offering substantial expansion.
Winchester 230-grain full metal jacket practice ammo in its "white box" USA brand exemplifies "GI hardball," and because it is so widely distributed through stores like WalMart is probably the most popular load today in caliber .45 ACP. It turned out to give us the best 5-shot group of the test, 1.35", with its best three hits in 0.85″.
This is unusually good accuracy for a 1911 .45 pistol in this size and format, in terms of grouping ability. But there is another element of accuracy that has to be assessed with each individual pistol: point of aim vs. point of impact. Most people don't know how often production firearms don't hit anywhere near where they are aimed when they come out of the box to their new owner. With center hold at 25 yards, this Dan Wesson pistol put every shot in the maximum-point ten-ring of the Shoot-n-C bulls-eye targets we were using. The fifteen bench rest shots described above would have scored a 100%, 150 out of 150, with their three 5-shot groups, had it been a contest instead of just a test. This tells your reviewer that someone took the time at the factory to sight in the gun . . . and, in terms of quality control and trusting a product as it comes out of the box, that means a lot! I give my "compliments to the chef" to Dan Wesson and CZ.
Reliability
Contrary to what you see on some internet gun forums, today's modern 1911s can indeed be reliable. This is certainly true of Dan Wesson 1911s. I've had several go through the classes I teach, and their owners tend to shoot their 500 rounds without malfunction and graduate, usually in the upper tiers of the scores. The On Target test sample Dan Wesson A2 Commander .45 certainly lived up to that. We put a good number of rounds through it, from GI hardball to wide-mouth hollow points, and using the single magazine from Dan Wesson that came with the test gun as well as Wilson Combat magazines. We never experienced a single malfunction of any kind.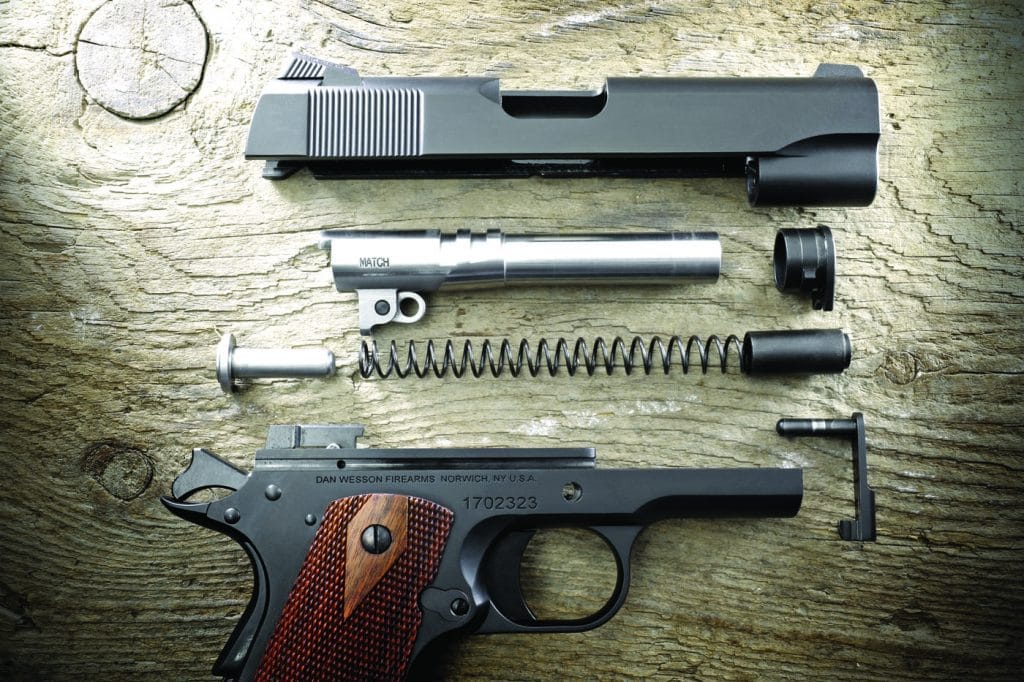 Bottom Line
There are always things I don't like about test guns. On this one, I wish the bottom edge of the grip safety was more "pronounced" than it was, for those who use high-thumb grasp or still follow the old paradigm of a light grip. I wish it had come out of the box with an ambidextrous safety: a defensive handgun should be workable with either hand, quickly and ergonomically.
That said, though, I was very impressed with the accuracy of the A2 Commander. At $1,363 MSRP, it's a solid value. Hell, if I hadn't already accumulated more 1911s than I should ever need, I would have bought the test sample. See the new A2 1911 line at your nearest dealer, or for more information, contact Dan Wesson, Dept. OT; Tel.: (607) 336-1174; Web: www.danwessonfirearms.com
Source Article from http://ontargetmagazine.com/2017/05/dan-wesson-a2-commander-1911-45-auto/