A heavy hitter that embodies custom, boutique-build qualities…just not the price tag.
Daemon Defense, LLC is a Service Disabled Veteran owned small business based right here in the White Mountains of "Live Free or Die" New Hampshire. A semi-custom builder that has become renown for their top-quality OPR-15 direct-gas-impingement operated AR rifles and pistols chambered in 5.56 NATO and .300 Blackout.
The OPR-15 is the embodiment of all the knowledge and experience with the AR platform gained by U. S. Army Special Forces during countless combat operations, and is an AR built, spec'd, tweaked, modified and equipped to Special Forces standards of performance, reliability, durability and accuracy, and that's why it earned a 2015 On Target Editors' Choice Award.
Building on its success with the OPR-15, Daemon Defense has just introduced a 7.62 NATO chambered big brother called the OPR-16 ($1,899 in black; $2,148 in Kryptek Winter camo shown). The OPR-16 is, by and large, an OPR-15 scaled up to take the 7.62 NATO (.308 Win.) cartridge. The upper and lower receivers are precision CNC machined from aerospace-grade billet aluminum, with the upper being an A4-pattern flat top with integrally machined, 17-slot Picatinny top rail. An enlarged, winter-style trigger guard is also integrally machined with the lower receiver, which features an enhanced, flared magazine Well. Both receiver halves are Type 3 hard anodized.
Type 3 anodizing is many times deeper and harder than the Type 2 anodizing used on some price-point ARs. The Type 3 finish renders the aluminum "non-reactive" so that other metals—like steel—that are in contact with it cannot create a galvanic reaction in the presence of an alkali like saltwater. It's also highly scratch and corrosion resistant.
The OPR-16 is fitted with an 16-inch, heavy-profile barrel machined 416 stainless steel, rifled at a twist rate of 1:10". The muzzle is threaded and is fitted with a very simple and short but effective CV muzzle brake that has two large side ports and two smaller top ports that together reduce both perceived recoil and muzzle rise. An adjustable gas block is positioned on the barrel about two inches aft of the muzzle, and allows fine-tuning for sound-suppressor use.
The rifle's 15-inch handguard features a full-length, 37-slot Picatinny top rail that aligns perfectly in both axes with the upper receiver's top rail. It includes seven KeyMod flats around its circumference, each with 16 KeyMod slots, for a total of 112. If you can't find enough KeyMod slots for all your stuff on this one, then you've got too much stuff! Our evaluation rifle was equipped with 5-slot steel Picantinny rail sections mounted on the vertical KeyMod flats on both sides.
Controls consist of Geissele Super Dynamic Enhanced trigger group, ambidextrous safety selectors, a bolt release and a magazine release, all located in their usual positions. The OPR-16 is a equipped with a super-strong and super-reliable FailZero nickel-boron bolt carrier group, a BCM Gunfighter Mod. 4 7075 aluminum charging handle with extended latch lock and a heavy-duty H2 buffer.
Furniture consists of a 6-position Magpul STR collapsible buttstock with enhanced cheek weld, twin tubular battery compartments, latch lock, rubber butt pad and dual QD sling swivel receptacles. A Magpul ASAP sling plate is mounted on the buffer tube at the aft end of the lower receiver, but we ended up forgoing this and using the buttstock's integral QD mount out back, and a QD KeyMod attachment on the forend to mount our Blue Force Gear (blueforcegear.com) Vickers Padded sling in Kryptek Tyoon camo. The pistol grip is a textured rubber Ergo Grip with internal storage compartment. Our evaluation OPR-16 weighed 8 lbs. 13 oz. empty and without magazine or optics. It comes with one 20-round Magpul Gen M3 PMAG.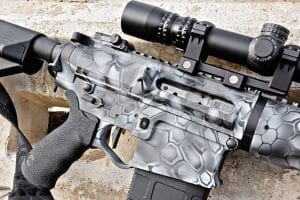 The rifle's Geissele Super Dynamic Enhanced 2-stage trigger—which for our money is the best trigger you can put in any AR—deserves a paragraph of its own. The first-stage pull weight averaged 1 lb. 15 oz, and the second stage consistently measured an additional 1 lb. 0 oz., for a total average pull weight of 2 lbs. 15 oz. It exhibited absolutely zero creep, stacking or over travel—truly a world-class trigger that would set you back $250 if you bought it separately.
For reliabilty and function testing we installed a Nightforce NXS 1-4×24 Compact Riflescope in a Nightforce X-Treme Duty Ultralight Unimount on the top rail and layed down 200-plus rounds on steel-plate targets. Reliability was 100% with the new-manufacture 168 and 175-gr. loads, but spotty with some 20-plus-year old 147-gr. Military surplus ammo. We're not sure if it was the aging ammo of overseas origin or if it was the gas-block setting, but lacking the time for a diagnosis, our money's on the ammo.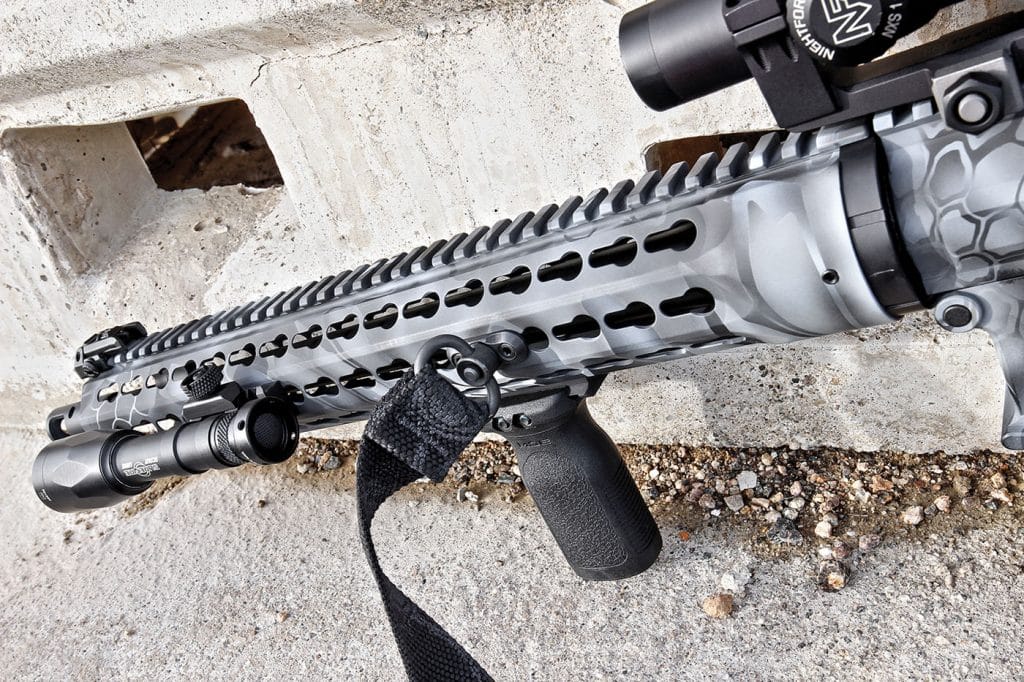 To see what the OPR-16 was capable of at 100-yards from the bench, we removed the 1-4x Nightforce optic and replaced it with a 4-14x Nightforce SHV for a close up view of our targets. AR-10-style rifles have a reputation for producing outstanding downrange precision, so we were holding high hopes for the Daemon Defense. We weren't dissapointed; using Black Hills' 175-grain BTHP Match load—which also has a reputation for precision—we printed a 0.53" three-shot group, just barely missing the ½-MOA threshold. All other loads—ranging from 147 to 175-grains—were able to break the one-MOA mark, but the OPR-16 showed a distict prefference for this particular Black Hills load. Overall, we couldn't ask for greater precision form a .30-cal. Defensive carbine.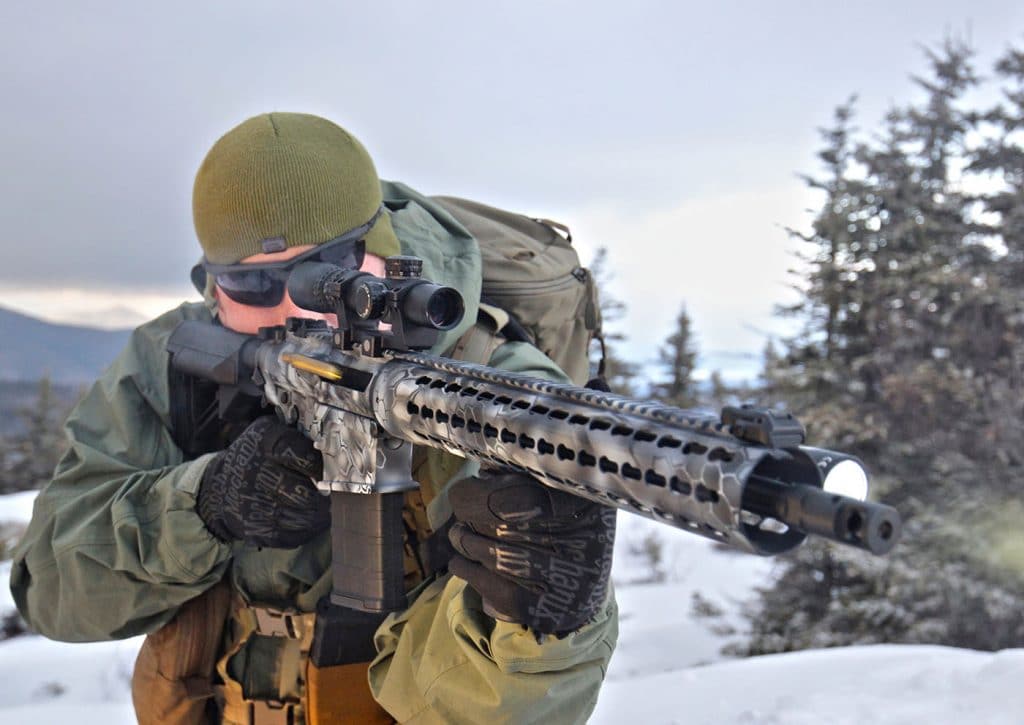 Daemon Defense doesn't publish a dealer list on their website yet, so you'll have to call or e-mail them to find out where you can get your hands on an OPR-16. Contact Deamon Defense, LLC, Dept. OT; Tel.: (571) 234-1773; E-mail: sales@daemoninternational.com; Web: www.daemondefensellc.com
Source Article from http://ontargetmagazine.com/2016/06/daemon-defense-opr-16-7-62-nato-rifle/