By Tatiana Whitlock
---
The king of affordable pistol-caliber carbines?
Opening the crisp brown box from CZ, I was pretty excited at the chance to put some rounds through the faux-suppressor, folding-buttstock-equipped version of the CZ Scorpion—the EVO 3 S1 Carbine. This gun is a remarkably soft shooting, 9mm blowback, semi-auto, polymer version of a submachine gun. The Scorpion has a 16.2" cold hammer forged barrel with it's muzzle threaded 1/2" x 28 TPI and is offered from CZ with either a compensating muzzle brake or a faux suppressor built specifically for CZ-USA by SilencerCo.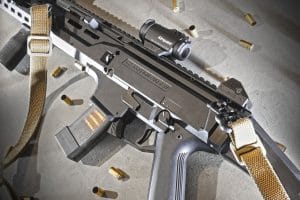 For those who love to run suppressed, this gun is ready to go! If you are still waiting for your BATFE paperwork to clear, the place-holder SilencerCo faux suppressor serves to aesthetically complete the gun before you're able to hit the mute button for real.
Functionally, the difference in these two variants is entirely aesthetic—both shoot beautifully and with surprising accuracy. Both models come equipped with a folding adjustable stock and ambidextrous controls, and their non-reciprocating charging handles are swappable, making these carbine a southpaw shooters dream. Not only was the Scorpion intuitive and accurate to shoot, lightweight and affordably priced, it was definitely a conversation starter at the range!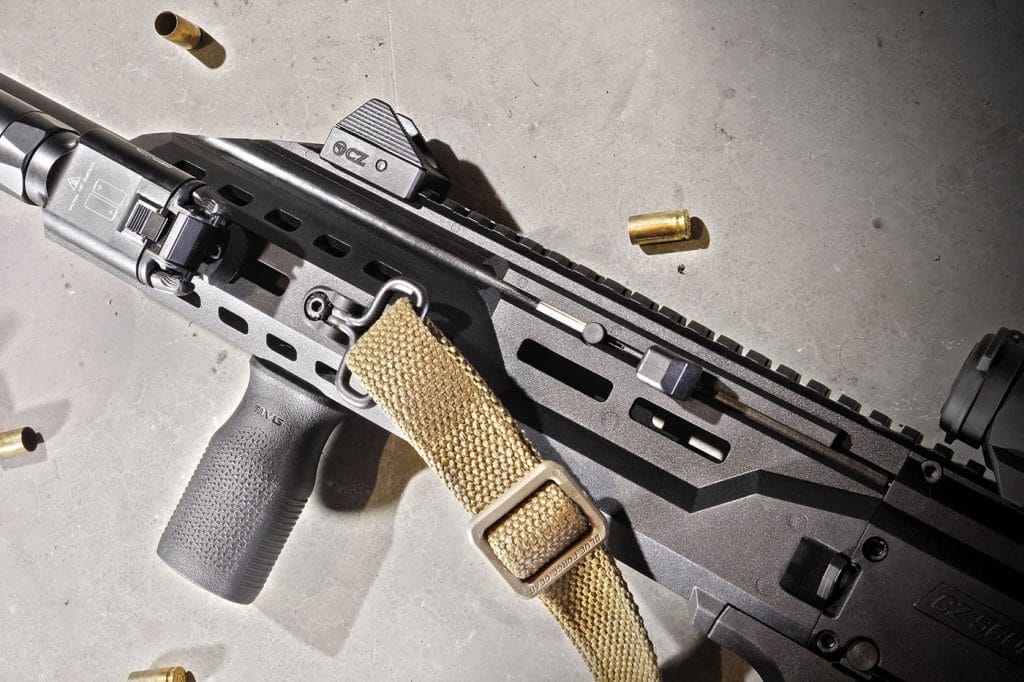 Origin & Evolution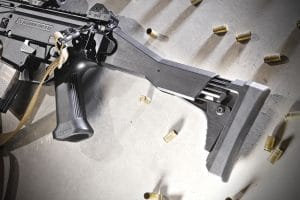 The name of this carbine originates from CZ's long discontinued, 1950s designed, .32 ACP Skorpion vz. 61 submachine gun pistol. The original was woefully inaccurate and cumbersome, unlike its current incarnation. CZ reintroduced the Scorpion in a semi-auto pistol version with a 7.72″ barrel and no stock in 2015. The popularity of this gun was immediate and immense, largely due to its ability to be converted from a pistol to an SBR carbine (legally of course) by replacing some Czech parts with U.S. made ones in order to meet Section 922r compliance.
CZ has the Scorpion classified for home defense, and with some aftermarket additions, it certainly fits the bill. Add a quality optic on the top Picatinny rail and weapon-mounted light on the Scorpion's M-LOK forend, and this gun is ready to go. The factory folding adjustable stock on the Scorpion—held ingeniously in the open position by a magnet—makes it backpack-ready and easy to transport discretely and a suitable bug-out-bag or vehicle gun. Given how light (just shy of 7 lbs.) and how remarkably soft shooting this gun is explains why I'm seeing so many at the range.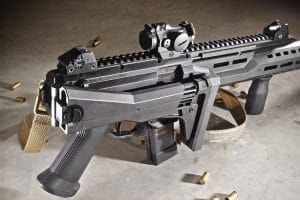 The Scorpion is chambered in 9mm Luger and comes with two translucent-smoked, 20-round magazines. Want more than just 20 rounds? CZ also offers a 30-round variant. Both are ridiculously inexpensive ($18.00 and $19.95, respectively) and have proven utterly reliable. In the scope of pistol-caliber carbines, this is a huge win for the Scorpion.
Being chambered in 9mm means an affordable gun to train with, even at pistol-only rated ranges, and is easily upgraded for home defense with self defense ammo—I tried 147-gr. Federal HST, which it has no trouble feeding. At the end of the day, the best home and self-defense gun is the one you are most proficient with under stress, and for a lot of gun owners, a 9mm-chambered carbine may be just the ticket.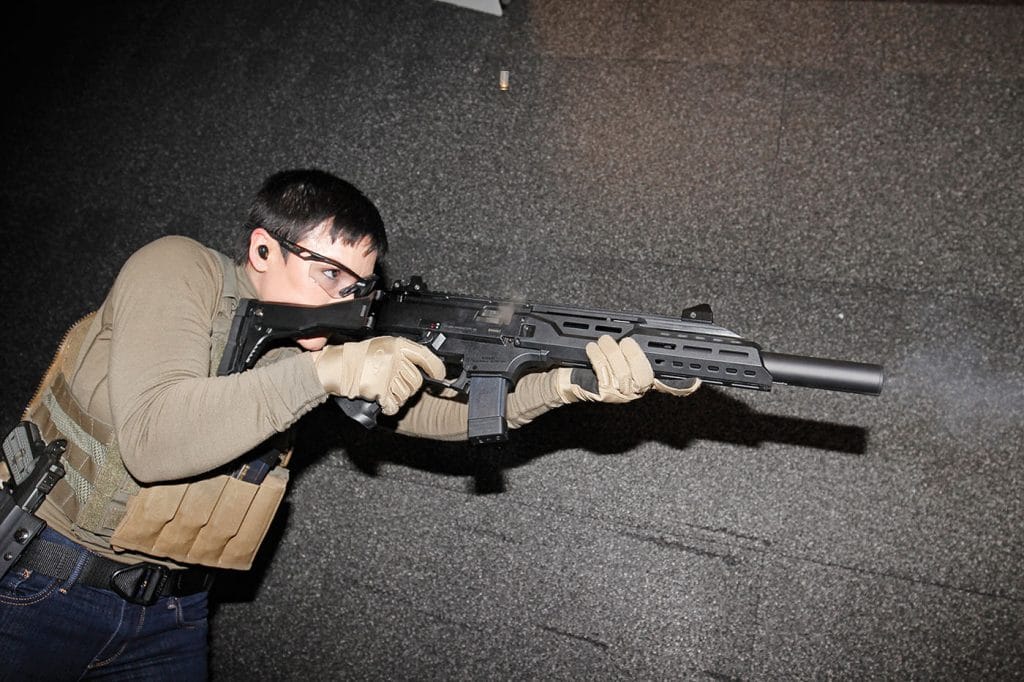 Shooting Experience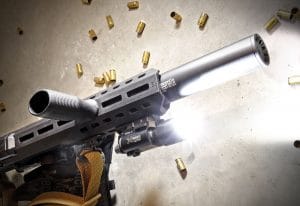 First impressions are always important, and the Scorpion did not disappoint. For a lightweight polymer gun weighing less than 7 lbs., it doesn't have the toy-like feel like of so many of its peers in the market. I give credit to CZ's well-proportioned design and overall balance for that win! If you are expecting to experience a relatively soft shooting AR-esque carbine, prepare to be happily underwhelmed. Recoil? It was there, but barely.
The low-profile, fully adjustable, ghost-ring rear sight features four different aperture sizes with an adjustable front sight.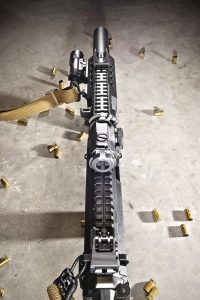 If you love ghost-ring irons you are going to love what you see when you bring this gun on target! Similar to the HK MP5, the Scorpion's charging handle does not reciprocate and is engaged by a straight pull back and an upward push to lock in place on the left side of the receiver.
Unlike the MP5, the Scorpion's bolt locks back on the last round. To load, simply insert magazine and give the charging handle a solid downward smack and you're good to go. This alone increases the fun-factor of shooting the Scorpion by a multiple of 10!
Regarding ergonomics, the selector switch digs into the hand a bit, but a slight adjustment of hand placement and grip pressure solves that issue. I am personally a fan of ambidextrous thumb safeties and was quite surprised to see that this aftermarket upgrade was already included on the Scorpion. Another feature falling into the ergonomics category is the Scorpion's adjustable grip, allowing the shooter to tweak the reach to the trigger to best fit his or her hand.

The only feature on the gun that I wasn't totally in love with out of the box was the rough, 9-lb. factory trigger. My initial impression was that it felt stiff, plastic and gritty. But let's face it; this is getting quite picky about a part that most change on factory carbines anyway.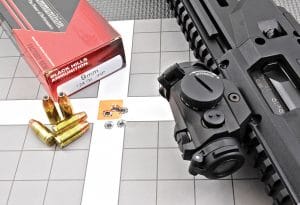 CZ does sell an enhanced trigger pack replacement if you feel the need to stay brand loyal. That being said, after a few magazines to get in sync with the gun I really complained less about it's factory trigger. Sometimes it takes an investment of time and ammo to properly familiarize yourself with the gun before passing judgment.
To test the Scorpion's downrange precision at 25 yards, an Aimpoint Micro H2 red-dot optic was mounted to the top rail. Working through a variety of hollowpoint and ball ammunition from Black Hills, Hornady, Federal and Winchester, the CZ carbine proved itself easily capable of 1.5-inch or less 5-shot groups. Its best group of the day came with the Black Hills' 124-gr. JHP load, printing an impressive 0.84-inch cluster. Tough to complain about that! Reliability was also 100-percent, with no malfunctions whatsoever.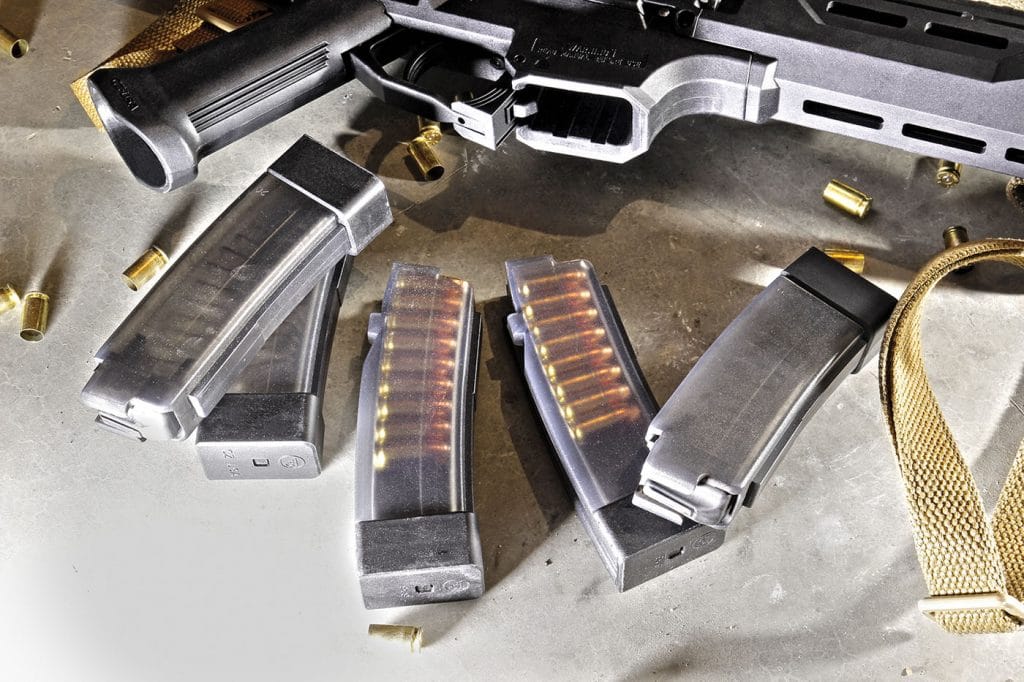 Final Thoughts
The CZ Scorpion EVO 3 S1 Carbine is a cost-conscious carbine that does not sacrifice quality in manufacturing, components, accuracy or overall effectiveness. With the advent of pistol caliber carbines joining the competition world, and rejoining the home defense arena, the Scorpion has risen to the top for good reason. The Scorpion is a seriously fun gun for the seasoned shooter and an ideal platform with which to introduce to new shooters to carbines. CZ-fanboys/girls have not been disappointed with this evolution of the CZ Scorpion EVO 3 S1 Carbine, and I expect to see more shooters become CZ fans after experiencing the Scorpion for themselves. Because I certainly  have!
Check out the Scorpion lineup at your nearest dealer, or for more information, contact CZ-USA, Dept. OT; Tel.: (800) 955-4486; Web: www.cz-usa.com
________
SPECIFICATIONS
Chambering: 9mm
Barrel: 16.2 inches
OA Length: 34.75 inches
Weight: 6.9 pounds
Stock: Folding, collapsing
Sights: Adjustable rear, post front
Action: Straight blowback
Finish: Matte black
Capacity: 20+1 or 30+1
MSRP: $1,049
Source Article from http://ontargetmagazine.com/2017/08/cz-scorpion-evo-3-s1-carbine/