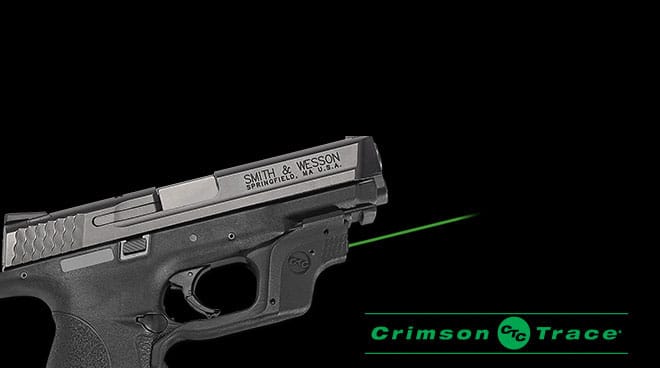 Crimson Trace has a new Laserguard laser sights for Smith & Wesson's M&P pistols as well as a new set of Lasergrips for the Bersa Thunder CC, a popular concealed-carry handgun that admittedly could use a hand in the sights department.
Like the majority of Crimson Trace laser sights, both use the company's "Instinctive Activation" switches that turn on when the gun is drawn, ensuring that the laser sight isn't yet another thing for gun owners to think about in dangerous situations.
The Laserguard and Lasergrip feature integral pressure switches that automatically activate instantly when gripping the gun. The M&P Laserguard fits over the trigger guard placing the switch on the frontstrap of the grip while the Bersa Thunder CC Lasergrips replace the standard pistol grips and place the switch on the backstrap for palm activation.
Both options work essentially the same. Pick up the gun and the laser sight turns on. It's completely natural.
The new M&P Laserguard, the LG-360G, is based on proven designs but uses an enhanced high-visibility green light laser suited for all lighting conditions, including bright daylight. Earlier M&P Laserguard models have red light laser modules.
Since the new LG-360G is patterned off existing laser sights that means there is already a good amount of holster support on the market. The suggested price is $299 and real-world pricing is going to be notably less than that.
The LG-360G is designed for full-size and compact M&P pistols and reflects Crimson Trace's dedication to the M&P series. Crimson trace also recently announced red and green Laserguard laser sights for the new M&P Bodyguard, an updated version of Smith & Wesson's polymer-framed pocket chambered for .380 ACP.
Both red light and green light lasers have their advantages and disadvantages. Green light laser sights are easier to pick up in broad daylight or any other bright light environments, while red light laser sights are more energy-efficient and have better battery life.
Because red light lasers last longer they can be trained with more, requiring fewer batteries. Even though laser sights make shooting a lot easier that doesn't mean they completely eclipse skill and experience. Everyone who depends on laser sights can benefit from extra range time.
Another advantage of red light laser sights is the price. Red lasers are universally more affordable than green lasers and the LG-646, for the Bersa Thunder 380 CC, is a wallet-friendly option for people looking for enhanced laser sights.
That makes the LG-646 a good match for the Bersa Thunder 380 CC, a very attractively-priced .380 that has proven to be extremely durable and reliable. Bersa's reputation is unmatched in the world of low-cost firearms and the Thunder 380 CC is a great pistol for anyone on a budget.
While the design offers a handful of improvements over the standard .380 models, including a slightly larger magazine capacity, the integral 3-dot sights leave something to be desired. The Thunder 380 CC is capable of great accuracy and a set of Lasergrips is a sure way to take advantage of the gun's fixed barrel.
As a bonus, the laser sight replaces the factory grips, meaning that they're compatible with just about any Bersa Thunder 380 CC holsters out there. The MSRP for these is $249 and street pricing will be less as well.
Whether you're interested in a bright green laser sight for your tactical home defense pistol or looking to upgrade your everyday carry piece these new laser sights are appealing upgrades for across the board. If you're thinking about moving up to laser sights head over to the Crimson Trace website for more information.
Source Article from http://www.guns.com/2014/12/01/crimson-trace-intros-new-mp-bersa-380-cc-laser-sights/