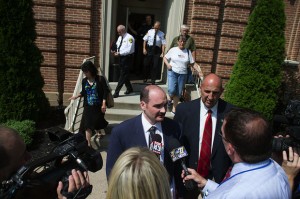 By Chris Eger
Perry County Sheriff Carl Nace, red tie, flanked by his attorney, Joshua Prince, speak to reporters following arguments in the lawsuit by county auditors to compel him to turn over CCW records. (Photo: Penn Live)
A Pennsylvania court this week tossed out a lawsuit by county auditors to force a sheriff to disclose the personal information of concealed carry permit holders.
The suit, filed in June by auditors for Perry County, was to obtain the names and addresses of local permit holders to crosscheck and verify permits issued and money paid with the individual to whom the records indicate the permit was issued. Citing state law that holds all information for a license to carry a firearm is confidential and free from public release, Sheriff Carl Nace refused to turn his files over, which led to the auditor's suit that was dismissed Monday.
"A plain reading of the statute reveals that county auditors are only required to conduct a financial audit," held Judge George N. Zanic for the Perry County Court of Common Pleas in his four-page ruling.
Zanic explained the scope of the financial audit covered receipts and expenditures, not performance or quality control.
"Had the legislature wished to provide county auditors with the additional duties, or if the legislature had intended for auditors to have access to additional information in the possession of those county officials subject to an audit, those requirements would have been spelled out in the County Code," Zanic wrote.
The judge contended that since the auditor could have accomplished the revenue verification by using records with concealed carry permit holder's information redacted but did not even attempt to, "The complaint appears to be nothing more than a fishing expedition for information unrelated to the Plaintiff's statutory duty to audit."
The saga over the protection of his files by Sheriff Nace had sparked support from his community, who crowded county board meetings and formed Facebook pages to voice their feelings both for Nace and against the auditor's insistence to obtain personal records. In addition to this grassroots movement, Nace also found the Pennsylvania Sheriffs Association, a U.S. Congressman, 26 state lawmakers, and 14 gun rights organizations including the National Shooting Sports Foundation standing publicly behind him.
"We're obviously pleased with the judge's decision, and it was the correct decision under the law," Nace's attorney, Joshua Prince, told Penn Live. "We're still kind of stymied as to why the auditors even sought this action in the first place."
Few publicly supported the auditors' request with the exception of the Shippensburg Sentinel, who argued in a Sept. 6 editorial that not only should the records be available to the auditors, they should also be public record.
Attorneys for the auditors have stated that they are disappointed with the court's ruling but have not decided whether to appeal the decision.
The post Court throws out lawsuit against 'fishing expedition' over CCW permit records appeared first on Guns.com.
Via:: Court throws out lawsuit against 'fishing expedition' over CCW permit records