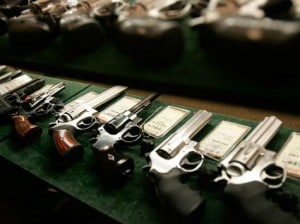 By Chris Eger
A California appellate court on Tuesday ruled that a federal gun prohibition applies even if a domestic violence victim is only slightly touched.
The case was a reversal by a three-judge panel of the Fifth District Court of Appeals of a lower court's decision to allow Scott James to legally own a gun again following a plea bargain to a battery charge against his wife some 18 years earlier.
James since then has been denied a position as a reserve sheriff's deputy and refused gun purchases due to this conviction, for which he petitioned a lower court to restore his rights. Although the battery conviction was not classified under California law as a misdemeanor domestic violence charge, the appeals court held in a unanimous decision that it was under their interpretation of federal firearms laws.
In its interpretation, the court wrote that Sen. Frank Lautenberg (D-NJ), in his 1996 remarks on the Senate floor urging passage of the Domestic Violence Offender Gun Ban, called for the act to be a "policy of zero-tolerance" and therefore would include even the "slightest touching."
"A zero-tolerance policy is not promoted by requiring agencies (and ultimately courts) to differentiate between, for example, a slap and a punch, or a poke to the chest and a poke in the eye," wrote California Justice Jennifer Detjen for the panel in its 15-page decision made public Monday.
James pled no contest to the battery charge in 1996 after an incident with his wife that included "slight offensive touching" and was sentenced to two years probation. He was not aware that the plea would later be considered by the state as a domestic violence conviction until he applied for a reserve sheriff's position in 2008 and the resulting background check found that he had been stripped of his rights to possess firearms.
James' attorney secured his original petition to have his rights restored and plans to seek further appeal of this new ruling.
"My office is studying the opinion from the 5th DCA," Leonard Herr of the firm representing James in the case told Guns.com. "It is at odds with an opinion from the 2nd DCA. Given the significance of the constitutional rights affected by this decision, I anticipate seeking review with the California Supreme Court."
The previous case Herr references dealt with that of a deputy sheriff who was fired in 2009 by the Los Angeles County Sheriff's Department after he was convicted of a misdemeanor battery charge on his girlfriend. The deputy sued to get his job back and lost in a trial court, but that judgment was later overturned on appeal. The state then tried to take that case up to the California Supreme Court without success.
Meanwhile, other legal scholars see this week's ruling as having bigger implications. Adam Winkler, UCLA law professor and noted Second Amendment researcher, felt that the new, if conflicting, opinion from the court in the James case is important and could save lives.
"The best predictor of future violence is past violence," Winkler told Guns.com "People who commit domestic violence have proven themselves dangerous and should not be trusted with firearms. Domestic violence is one of the leading causes of firearm-related violence. Guns should only be for responsible people with the self-control to avoid violence."
Gun rights advocates in the state see this week's ruling as a potential threat to otherwise law abiding firearms owners and welcome clarification on the now split decision by California's courts.
"The James decision stands for the proposition that gun owners can be disarmed for life under domestic violence laws without actually being convicted of a crime of domestic violence," Brandon Combs, executive director of the Calguns Foundation told Guns.com. "With such a serious conflict within the Court of Appeal, this case seems ripe for Supreme Court review."
Until then, with the split decisions by California's courts on just what constitutes domestic violence as it pertains to federal firearms possession, the final outcome of this case and futures one like it are literally open to interpretation.
The post Court: Permanent gun ban applies after any domestic violence conviction appeared first on Guns.com.
Via:: Court: Permanent gun ban applies after any domestic violence conviction