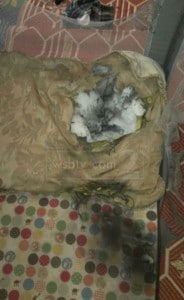 The toddler's face ripped open and he received a large cut on his chest, after the flash bang landed on his pillow while he was sleeping. (Photo: WSB-TV)
The family of a toddler who was severely injured after a flash bang landed in his crib during the execution of a no-knock warrant in Atlanta is frustrated and disheartened that the county now refuses to help pay for the child's medical bills.
"Everyone's sleeping. There's a loud bang and a bright light," said the boy's mother following the incident in May. "The cops threw that grenade in the door without looking first, and it landed right in the playpen and exploded on his pillow right in his face."
Bounkham Phonesavah was just 19-months-old at the time and has since spent weeks in two separate hospitals recovering after initially being put into a medically-induced coma.
The boy has since come home, but now the medical bills are piling up – to the tune of $500,000 – and the boy's parents are asking the county to help fit the bill, with no such luck.
The county issued a statement, saying: "The question before the board was whether it is legally permitted to pay these expenses. After consideration of this question following advice of counsel, the board of commissioners has concluded that it would be in violation of the law for it to do so."
Muwali Davis, the family's attorney, told reporters, "The family reaction is utter disappointment and shock."
According to Davis, an investigation revealed that authorities used questionable information to obtain the warrant. An informant told authorities he had bought methamphetamine from Wanis Thometheva at the house. Thometheva was not home at the time of the raid, but was later arrested at a nearby house.
Authorities claim they had no way of knowing that a child was in the home at the time of the raid.
"There was no clothes, no toys, nothing to indicate that there was children present in the home. If there had been then we'd have done something different," said Cornelia Police Chief Rick Darby right after the incident.
Apparently the Phonesavah family had just come to stay in the home after their house in Wisconsin burned down.
The family also has no medical insurance to help cover the costs.
Nonetheless, Darby said, "You're trying to minimize anything that could go wrong and in this case the greatest thing went wrong. Is it going to make us be more careful in the next one? Yes ma'am, it is. It's gonna make us double question."
Davis said the family is not finished fighting.
The post County refuses to pay medical bills for toddler injured by flash bang during police raid (VIDEO) appeared first on Guns.com.
Via:: County refuses to pay medical bills for toddler injured by flash bang during police raid (VIDEO)