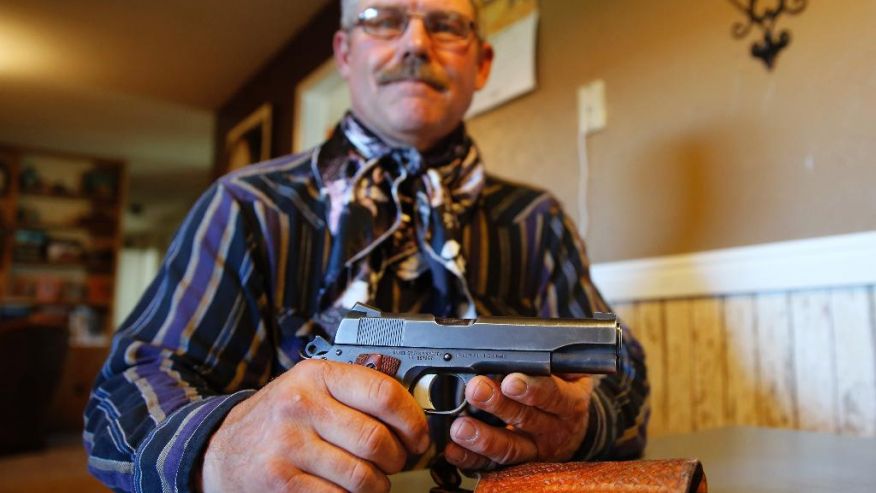 Arkansas coroners, state tobacco regulators and cattle theft investigators in Wyoming are the latest groups to stand behind their recent participation in the Department of Defense's surplus property program.
The DoD program, officially the Law Enforcement Support Office, but better known as the 1033 Program, was set up in 1997. Run by the U.S. Army, it allows federal, tribal, state, and local law enforcement agencies to request excess equipment from the military's stockpiles. The items available range from vehicles and aircraft, to office equipment and weapons.
In recent weeks there has been increased attention drawn to 1033 participants following scenes of heavily armed and armored law enforcement personnel in Ferguson, Missouri.
According to an investigation by the AP, several unlikely agencies have received a myriad of arms and gear courtesy of the DoD. In Wyoming, the state Livestock Board received no less than seven surplus M1911A1 .45ACP pistols, even though its agents, tasked with investigating cattle theft, are already issued Glock handguns.
"I guess primarily because I can't stand Glocks," Livestock Board senior investigator Kim Clark said.
According to an article in the Wyoming Tribune Eagle, cases of cattle theft, the only felony that the Livestock Board investigates, typically average one or two a year prior to 2014.
The cattle rustler squad is not alone in lining up for giveaways. In Arkansas, Sharp County Coroner Doug Wortham signed up for a Humvee, an M16 rifle, and a M1911. The vehicle is to respond to calls in the Ozarks while he explains the weapons are because, "I just wanted to protect myself."
Although coroners in Arkansas have arrest powers, they rarely carry firearms openly. In 2012, when the coroner of Pulaski County sought to open carry on the job, he had to check with the state for guidance on if he and his assistants had to become certified law enforcement officers first.
Meanwhile, the state's tobacco control agency picked up five surplus shotguns, advising the AP they need them to combat cigarette smugglers who may have ties to terrorism. However, on the agency's website, it states that a primary tasking is enforcing the ban on tobacco sales to minors.
The recent public debate over the 1033 program has some in Congress and even the U.S. attorney general's office calling for more oversight and review. In opposition is the National Tactical Officers Association, the lobby group for the country's SWAT teams, who argues that the program is essential to saving lives.
Essential or not, questionable acquisitions, such as when a Tennessee sheriff obtained 161 firearms for his 31-deputy department through the program, are gaining attention.
In recent months the San Diego Unified School District picked up a military-surplus Mine-Resistant Ambush Protected (MRAP) armored vehicle through the 1033 Program while additional campus law enforcement agencies have taken possession of rifles and other equipment. Last month, the Los Angeles Unified School District agreed to return an unused grenade launcher to the military but insisted on keeping its MRAP and 61 M16s, just in case.
Some agencies admittedly state that they have little use for the equipment. The Mississippi Department of Transportation, an agency separate from the State Highway Patrol tasked with regulating motor carriers, typically only break out their 1033-provided M14s on special occasion.
"We don't actually shoot them or anything. They're basically used as props during our ceremonies," said MDOT representative Kenny Foote.
Source Article from http://www.guns.com/2014/10/07/coroner-and-livestock-investigators-defend-military-surplus-guns/