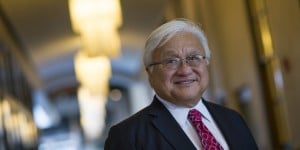 Southern California Democratic Rep. Mike Honda kicked off the 114th Congress by delivering three bills that would ban body armor and regulate home-assembled firearms in an effort to stop gun violence.
Honda's package of legislation would prohibit the sale and possession of certain levels of body armor by anyone but first responders, ban the sale of incomplete lower receivers and certain parts kits, and require that all homemade guns have serial numbers obtained from licensed gun makers.
"These bills are sensible, reasonable measures to limit the damage that can be inflicted by guns and those who mean harm with them," Honda said in a prepared statement. "We have seen too many people injured and killed by guns to just stand by and do nothing. These bills will modernize our gun laws to reflect how weapons are currently getting into the wrong hands."
Honda's public safety package, which he terms as a modern progressive reform, consists of three measures, House Bills 376, 377 and 378, which were all introduced Wednesday.
The Home-Assembled Firearms Restriction Act, entered as H.R.376, would prohibit the sale, manufacture, import or marketing of incomplete firearm receiver castings or blanks as well as certain gun parts kits. This could make the current trade in so-called 80 percent lowers illegal. Further, it could threaten the future import of demilled firearms from overseas that are currently brought in for parts and sold on the surplus market.
The Homemade Firearms Accountability Act, entered as H.R.377, would change the language of the current federal firearms regulations to mandate that all home built firearms have a permanent unique serial number and are reported to the Bureau of Alcohol, Tobacco, Firearms and Explosives so that they can be traced if recovered by law enforcement. The number would have to be obtained from a federally licensed manufacturer before construction of the gun is begun.
Currently, the ATF recommends that home-builders apply a serial number on DIY guns, but does not require one and has no reporting mandate for such guns.
The bill is a rehash of a similar one Honda introduced last session that died in committee. Similarly, a California state senate measure endorsed by Honda, famously dubbed the Ghost Gun bill, became one of the few gun control items ever to see Gov. Jerry Brown's veto pen.
The Responsible Body Armor Possession Act, entered as H.R.378 is a another repeat of Honda's from the last Congressional session. It would place a ban on what it terms "enhanced body armor." This type of armor as referenced in the bill's language would include any wearable armor including helmets or shields that offer a ballistic protection of Type III or above as determined using National Institute of Justice Standard–0101.06. The only exceptions to the prohibition would be for law enforcement, military and government agencies.
Since 2002, it has been illegal under federal law for convicted felons to possess body armor of any sort. The only well-documented case of an active shooter wearing body armor, that of the North Hollywood Shootout in 1997, involved two known career criminals who ended a four-year armed robbery spree with a gun fight outside a Bank of America branch.
Efforts to tie more recent criminal use of body armor in Honda's previous attempt at regulating the safety equipment brought quick backpedaling and correction from the Congressman's office.
Gun control advocates including the Violence Policy Center and the Brady Campaign to Prevent Gun Violence are praising the pending legislation.
"Representative Honda's bills would fill gaping holes in our nation's gun laws that make it far too easy for mass shooters, gun traffickers, and common criminals to build homemade military-style firearms and acquire military-grade body armor," says VPC Legislative Director Kristen Rand.
Honda's proposals have garnered a number of co-sponsors to include Rep. Alcee Hastings, D-Florida, and Illinois Democrats Danny Davis and Robin Kelly. However, in a chamber dominated by a 247-188 Republican majority, the bills will take significant GOP support to pass. Concurrence by a Republican-controlled Senate would then become the next hurdle to overcome for the far-reaching gun control measures.
All three of Honda's bills have been referred to the House Committee on the Judiciary for review.
Source Article from http://www.guns.com/2015/01/16/congressman-introduces-bills-to-restrict-body-armor-homemade-firearms-nationwide/