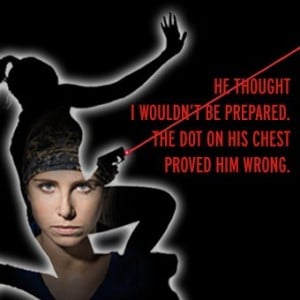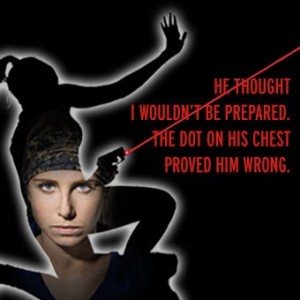 (Wilsonville, OR)– Crimson Trace, America's leading brand of laser sighting systems and tactical lighting products for firearms, has launched Condition Crimson™, a consumer focused, multi-platform campaign that urges consumers to do everything within their power to be prepared. To live in Condition Crimson is being able to protect self, home and family by being prepared as much as possible for a wide range of personal protection situations. Whether that preparation is obtaining a CCW permit, or completing range practice or a certified NRA firearms class, today's gun owner is not fully prepared without the clear and undeniable advantage a laser-equipped firearm provides.
The new Condition Crimson advertising campaign will highlight numerous customer groups. In addition to the "Core Consumer/gun enthusiast," today's "Gun Culture 2.0″ marketplace has numerous categories. Those include an aging population along with new, younger and female gun owner groups, plus protective mothers and fathers – all representing the face of today's gun owner, regardless of age or experience level.
"As the industry leader, we've taken on the challenge of speaking to every segment of today's personal protection firearm owner," said Kent Thomas, Crimson Trace Director of Marketing. "We're very proud of the new campaign and its arresting personal and visual imagery with a clear, direct and bold voice. Today's new gun owners find that practice, classes and training gets them only so far, but they're never fully and completely prepared until their personal protection firearm is equipped with a laser sighting system. That's the message of Condition Crimson."
The main theme of the Condition Crimson campaign is: "This is Condition Crimson…and in Condition Crimson we stand." Foregoing traditional product photography or professional models, the campaign features normal armed citizens – each with a tie to the growing individual segments of the concealed carry/personal protection marketplace. More details on those citizens and who they represent will be released at a later date.
The Condition Crimson advertisements have begun appearing in magazines and will be on the pages of more publications in the months ahead, including: The NRA's American Rifleman and Shooting Illustrated magazines, GunUp, Guns &Ammo, Outdoor Life, SHOT Business, FMG's Guns, Harris' Concealed Carry Handguns and others. There will also be numerous online and social media channels utilized to support the program.
Crimson Trace's new campaign encourages viewers to ask, "have you done everything in your power to defend yourself and what's yours?" In Condition Crimson, we stand. For more details, visit www.conditioncrimson.com or call 800-442-2406. All Crimson Trace products are proudly Made in the USA.
ABOUT CRIMSON TRACE:
Crimson Trace-based in Wilsonville, Oregon-is the acknowledged industry leader for laser sighting systems. The company's many innovations, include: Lasergrips®, Laserguard® and Lightguard™ — all with Instinctive Activation ™–plus the Defender Series™ and Rail Master®. These products are engineered and manufactured in the USA. To reach Crimson Trace, visit www.crimsontrace.com or call 800-442-2406.
Via:: Condition Crimson Campaign Launches