The best thing to ever happen to 7.62x39mm?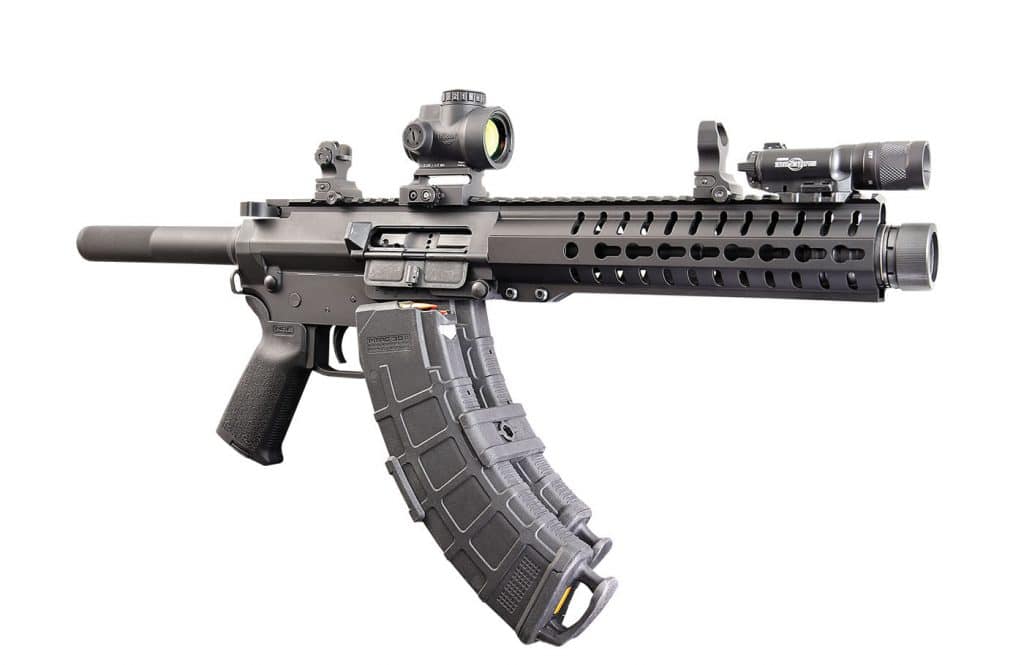 Trying to marry the AK-47 and AR-15 platforms has been a challenge for many rifle builders. The two most popular carbine platforms, they each have their respective strengths and weaknesses. While shooters dedicated to either platform see any attempt to mate the two as profane, many others have been hoping for years that some innovative firearms manufacturer would pull it off. A number of attempts have been made with varying degrees of success by modifying the AR-15 to fire the AK's 7.62x39mm round, but the first and only company to create a "ground up" design is CMMG, Inc. with their Mk47. Now, with their new Mk47 AKS8, a pistol version is also available.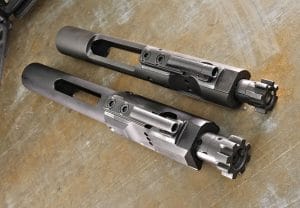 Priced at $1,549.95, the Mk47 AKS8 is basically CMMG's Mk47 AKS13 rifle fitted with a pistol-length (8-inch) barrel and no buttstock mounted on the buffer tube. Like the rifle version, the Mk47 AKS8 is built on a modified version of CMMG's Mk3 (.308) receiver and employs a modified version of the robust Mk3 .308 bolt carrier group to harness the power of the 7.62x39mm cartridge.
The 8-inch, medium profile barrel is rifled at a twist rate of 1:10", and the muzzle is threaded at 5/8" x 24 TPI for installation of a suppressor. It comes from the factory fitted with a 1.5-inch diameter by 3.25" long Krink flash suppressor. The forward one inch of the Krink muzzle device protrudes from the handguard, while the balance of it is hidden underneath. CMMG designed the Krink specifically to reduce muzzle flash rather than to reduce muzzle rise and/or perceived recoil, although it actually does a admirable job at reducing all three.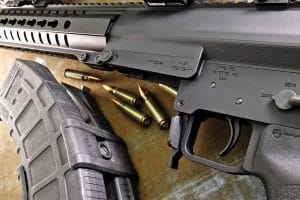 The 9.25-inch long, CMMG RKM9 handguard is machined from aerospace-grade aluminum alloy, and is finished in matte black, Type III hard anodizing to match the finish on the receivers. The handguard features a full-length, 23-slot Picatinny top rail, plus flats a the 3, 6 and 9 o'clock positions, each containing eight KeyMod slots for mounting accessories like a forward grip, laser, white-light illuminator, etc.
The upper and lower receivers are more blocky looking than an AR, and the push-type, AK-style magazine release mounted on the front of the integrally machined, square trigger guard further contribute to different appearance. Rest assured, however, that the Mk47 AKS8 has all the same guts as an AR. As noted, the upper receiver and bolt-carrier group are visibly beefed up, and the mag release is repositioned, but otherwise operation and functioning are identical to any direct-gas-impingement AR. The Mk47 AKS8 uses a standard AR-style charging handle and Mil-Spec trigger group, and includes a standard AR safety lever, shell deflector and ejection-port cover. With the exception of removing the magazine, the process of disassembly and reassembly are identical to that of any AR.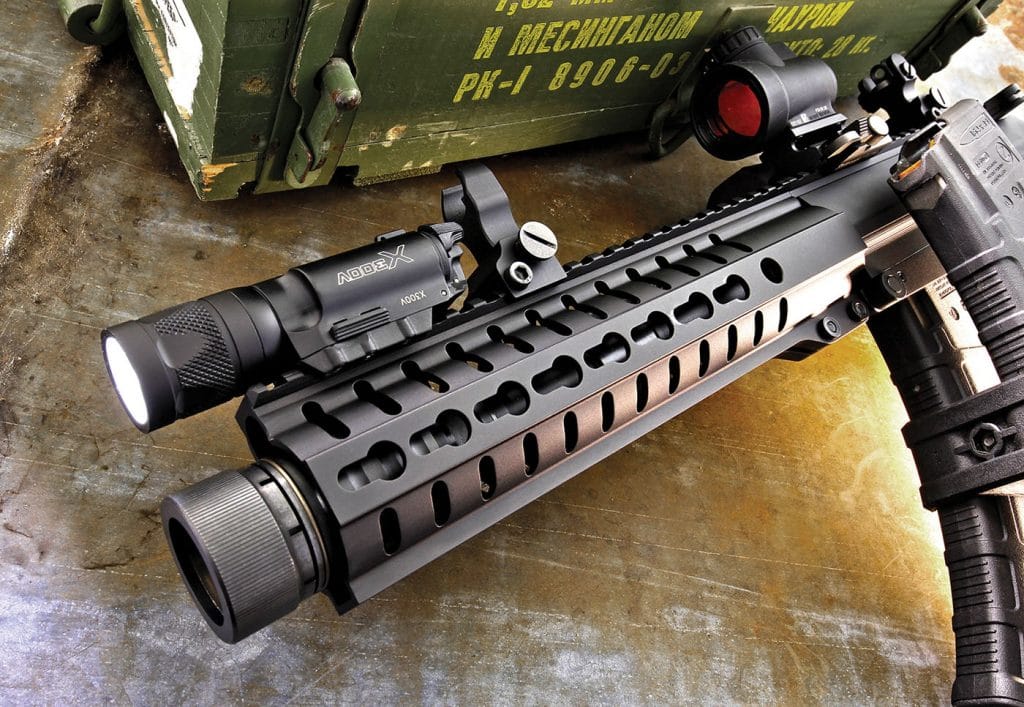 Like an AK, there is no mag well protruding from the lower receiver, as this gun uses standard AK magazines. That fact alone sets the Mk47 AKS8 apart from the competition, in that it was designed from the ground up to provide super-reliable functioning using AK mags. One Magpul PMAG 30 AK MOE comes with the pistol, as does CMMG's lifetime guarantee.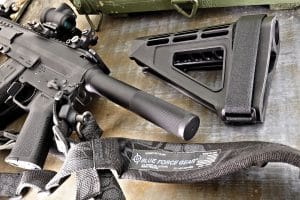 Other notable features include upper and lower receivers machined from billet 7075-T6 aluminum alloy, a 15-slot Picatinny top rail machined into the upper receiver, pinned gas block, Mil-Spec AR trigger group, Magpul MOE pistol grip, ambidextrous sling attachment plate at the rear of the lower receiver and a knurled 6.5-inch buffer tube.
During testing the Mk47 AKS8's Mil-Spec trigger group proved smoother than typical. Average pull-weight measured 7 lbs. 12 oz. on our Lyman digital trigger-pull gauge—a bit heavier than we would prefer, but acceptable nonetheless—with a barely perceptible amount of take-up and no stacking or over-travel.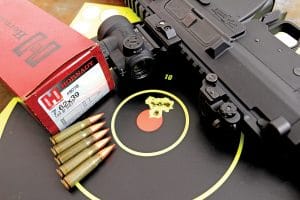 The Mk47 AKS8 measures 25 inches in overall length and weighs 6 lbs. 2 oz. empty, without magazine or optics. The PMAG 30 AK MOE loaded with 30 rounds of 123-grain 7.62×39 adds another 25.1 oz., and depending on your choice of optic, overall loaded weight could easily top eight pounds. If you plan on shooting this pistol offhand, you might want to consider adding an SB Tactical (sb-tactical.com) pistol stabilizing arm brace and approiate-diameter buffer tube. This ATF approved device does a great job of taking the shakes out of holding up an 8-pound pistol—even using both hands. Some shooters have been known to use a stabilizing arm brace to shoot from the shoulder, but doing so turns the pistol into an unregistered SBR ("Short Barreled Rifle") and will put you in a world of hurt with the G-Men if you get caught doing it. It does work outstandingly-well for a solide cheek weld, however.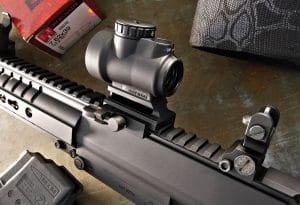 For testing we mounted a Trijicon MRO ("Miniaturized Rifle Optic) 1x25mm red-dot optic in and MRO low mount ($629; www.trijicon.com) on the upper receiver's top rail using the new QR Trijicon MRO quick-detach base from Samson Manufacturing ($99; samson-mfg.com). We tested for accuracy and reliability from a bench rest at 50 yards, using an optional 5-round magazine in place of the 30-rounder, which protrudes 7.5 inches out of the bottom of the lower receiver.
Testing ammunition included inexpensive Russian fodder from Tula and Wolf, mixed with premium Hornady steel-cased ammo loaded with 123-grain SST bullets. We have yet to test a 7.62x39mm firearm in the past three years that hasn't given us its most-precise results with the Hornady load, and this time was no different. The Mutant Pistol turned in some impressive 5-shot groups using the with the Hornady ammo—the best of which was a neat little cluster measuring 0.78-inches. Better yet, every single group fired with all of the ammunition tested never produced a group-size larger than two-inches. Just goes to show what 7.62x39mm—oftentimes considered an inherantly inaccurate cartridge—is capable of when launched from a precise AR-type platform.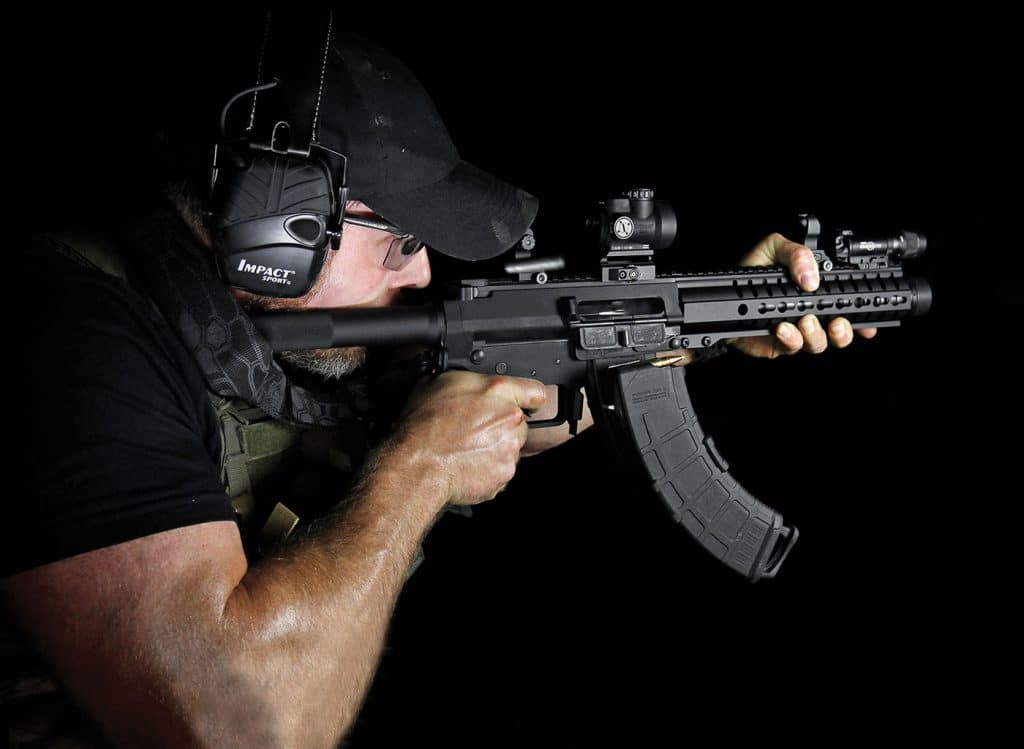 The Mk47 AKS8 proved to be a rugged, reliable and accurate AR pistol that packs a big punch. With the 30-round magazine installed you've got 45,240 ft. lbs. of kinetic energy on line, which should be more than enough to dispatch a car load of RIJs ("Radical Islamic Jihadists"). See the Mk47 AKS8 at your gun shop, or for more information contact CMMG, Inc., Dept. OT; Tel.: (660) 248-2293; E-mail: sales@cmmginc.com; Web: www.cmmginc.com
Source Article from http://ontargetmagazine.com/2016/11/cmmg-mk47-aks8-pistol/